February 2007
Smart ForTwo Passion Cabriolet
The second generation ForTwo's looks are slightly more aggressive than previously
February 2007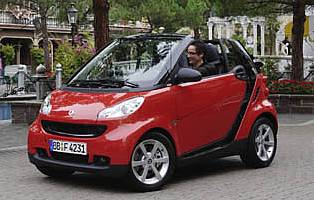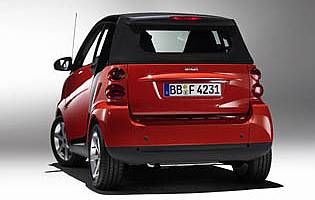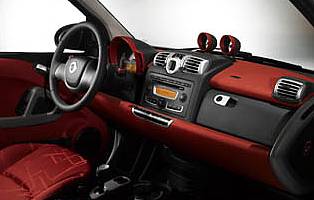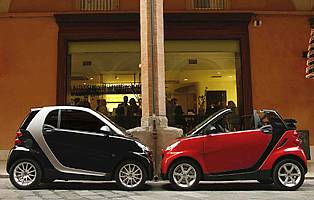 Overall rating

Likes:
Retains character of original Smart car
Great fun to drive in the city
Exceptionally long service intervals
Should become congestion-charge exempt in future
Gripes:
Interior quality appears to have dipped
Automatic gearbox still far from perfect
UK doesn't get 80mpg diesel version
Susceptible to strong winds at motorway speeds
As Smart learned to its own cost with its Roadster and ForFour models, messing with the original Smart Car's simple formula can only lead to disaster. Now that Smart is a one-car brand once again it has concentrated its efforts on returning to the principles that made the ForTwo such a clever solution to urban motorists' needs in the first place.
Though the ForTwo has grown, it's not by much - just under 20cm. Its one-box design, two-colour and two-material concept, with the famous tridion safety cell all remain. The increase in length isn't noticeable from the seating positions but contributes to improved pedestrian and rear impact protection and ride comfort. It's still not a car to pull handbrake turns in, but does feel marginally more planted because tracking width is also slightly increased.
The basic design remains essentially the same, though new headlights and grille give a marginally more menacing appearance - as menacing as it's possible to be in a Smart, anyway. Like the exterior, the interior remains largely true to character, though it feels much more as if it has been built with a keen eye on costs. Some of the plastics are not of the best quality and the influence of Swatch watches that was felt in the original Smart has given way to a rough approximation of funky lightweight instrumentation.
One of the many paradoxes you encounter when driving the ForTwo is that despite being the smallest, lightest car on the road in any significant numbers, it feels like one of the safest. That's partly because visibility is so good that you feel confident that you know everything that's happening around you, partly the knowledge that you are so small and nimble that most potential dangers can be avoided and also because the tridion safety cell makes up such a large part of the surface area. Effectively, you are driving around in an extremely tough roll cage.
At its best in crowded city streets, this is the perfect car for sniffing out rat runs and stealing parking spaces. Though it is capable of 90mph, the power steering tends to be too sensitive at high speeds and a long haul in a Smart can be a wearying journey.
Our verdict on the Smart ForTwo Passion Cabriolet
The Smart ForTwo is entering a very different marketplace from the one it encountered first time around. The Smart was able to sell at a premium because it was trendy, new and unique. In the intervening years we've seen the Mini plus a new breed of cheap but good quality city cars such as the Toyota Aygo, Daihatsu Charade and Chevrolet Matiz that provide extra seats for less outlay.
Costs
Back when it was the last words in urban chic, buyers were happy to pay a premium price for the cachet of Smart ownership. That is no longer the case and the Smart ForTwo is beginning to look a little overpriced. Against that though, are exceptionally long service intervals, excellent fuel economy and the likelihood that Smarts will be exempt from congestion charges in many parts of the UK.
Space and practicality
The luggage compartment can now hold 220 litres - 70 litres more than before - and when loaded to the roof there is space for up to 340 litres. The familiar twin-section tailgate is retained. The lower part can be used as a little platform and facilitates loading and unloading. When folded down it can take a load of 50 kilograms, which makes it unsuitable for use as a bench. In cabriolet models, the rear roof struts can be dismantled and stowed in the boot, which puts the Smart ahead of the Citroen C3 Pluriel.
Controls and display
The instrument panel is no longer curved in an S-shape towards the passenger side but is now straight. This is partly to comply with US crash regulations, and makes everything else feel a little more conventional. The ignition lock behind the shift lever takes some getting used to, as does the gear selector itself. Instrumentation doesn't seem quite as classy as it used to and appears to be built from cheaper materials.
Comfort
It is a common misconception that Smarts must be cramped because they are so small. But with only two seats to squeeze in and no need for bulky transmission tunnels or heavy-duty suspension components, the cabin is actually rather roomier than most small hatchbacks, save for the odd case of elbows brushing against each other. Ride is firm but not harsh and noise only becomes intrusive in excess of 50mph.
Car security
Central locking with radio remote control comes as standard. Smarts in general and cabriolets in particular will always be more vulnerable to intruders than other cars, if only because their lightweight presence seems to suggest that they will be easy to break into and because owners tend to be the sort of people who are likely to have an iPod or mobile phone left on display.
Car safety
The most important standard features include the tridion safety cell, front airbags, seat belts with belt tensioners and belt-force limiters and safety seats with integral seat belts. Further features that are unique in the standard spec of vehicles in this class include ESP, ABS and an integrated brake assistance programme. Head and side airbags offering extra protection in the event of a side crash are available as an option.
Driver appeal
The cabriolet version is still the most fun of all and actually makes a very practical, fun city car. With the roof down, speeds seem to be doubled and the roof can be operated automatically at any speed, making it ideal for Britain's changeable weather conditions. If it does look like it's set fair, the roof bars can be removed and stowed in a special compartment in the tailgate. The electric power steering of more expensive models can be too intrusive. A car of this weight doesn't really need it. The unassisted steering of humbler models is rather more enjoyable.
Family car appeal
While clearly not cut out to be a main car for a large family, the Smart ForTwo can serve a useful support role as a low-cost second vehicle, particularly if a family lives in or near a congestion charging zone.
First car appeal
No other car has a younger clientele than the Smart ForTwo - 85 percent of buyers are under 40. It would seem that it would make a perfect first car, but that is not necessarily the case. For a start, learning to master a manual gearbox is a useful skill for novice drivers and the Smart's automatic transmission rapidly makes gear changing redundant, although there is an option to change manually. Plus, a Citroen C1 or Volkswagen Fox allows the owner to give more than one friend a lift at a time.
Quality and image
Despite the company's claims to the contrary, the Smart is no longer the style icon it once was. When expected hybrid and fully-electric versions of the Smart ForTwo arrive, it may well regain its competitive advantage. Until then, it will have to fight harder than ever to prove that it's still the definitive urban runabout.
Accessibility
Accessibility is comparable to the front rank of seats in a conventional car, though the Smart's slightly smaller door apertures mean larger motorists may have some problems gaining access. The split rear tailgate compensates for the fact that the loading lip is relatively high up.
Stereo and ICE (In car entertainment)
A decent CD player comes as standard with the opportunity to upgrade to a more powerful unit with subwoofer. A socket for plugging in an MP3 player is located in the small glovebox. In a car that sells on fashion as much as this one does, it is one of the more important on board features.
Colours and trim
Despite making great play about the changeability and customisable possibilities of the body panels, few owners bother with such fashion-victim practices. The simpler the better as far as colours are concerned, with white panels a surprisingly fetching combination with the metal safety cell. Some of the patterns used on the nylon-rich fabrics are nasty, making the plain colours of some variants greatly preferable.
Parking
There is no easier car to park than a Smart, which will fit into a space not much larger than that required for a motorbike. But despite the advertising, remember that it is illegal in the UK to park a Smart at ninety degrees to the kerb and doing so is likely to get your car towed away. Your reflectors need to be visible to oncoming traffic.
Spare wheel
Repair kit is provided with all models - no onboard spare.
Range information
Petrol engines: 1.0-litre (61bhp, 71bhp and 84bhp). All engines are linked to an automated manual five-speed transmission. Trim levels: Pure, Pulse and Passion.
Alternative cars
Toyota Aygo Three or five doors and lots of fun at a bargain price
Daihatsu Copen A tiny drop-top that looks like a proper cabriolet
Mini One Convertible Costs more, but easily outdoes the Smart for fashion
Volkswagen Fox Semi-premium badge plus loads of room for a modest outlay