February 2005
Skoda Superb 1.9 TDI 130 Comfort
It's called the Superb and lives up to the name
February 2005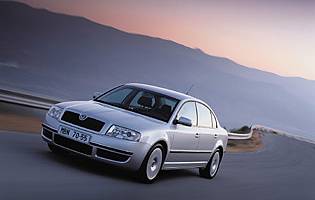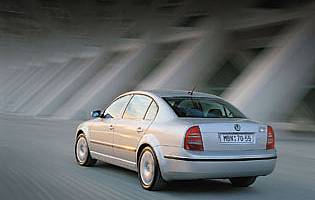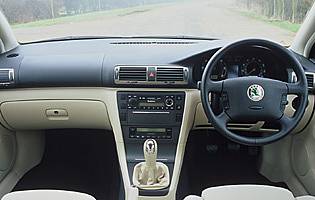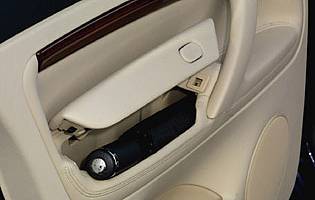 Overall rating

Likes:
A lot of classy car for the money
Generous specification in all levels
Top models feel genuinely luxurious
Marvellous attention to detail
Gripes:
External styling quite conservative
Length can make parking tricky
Might be mistaken for a taxi
Depreciation
The sceptics were in the majority when Skoda launched the Superb. Not only was the idea of an 'executive' Skoda heresy, but the company was tempting a thousand bad headlines by daring to give it a rather boastful name. But the bad headlines never appeared for the simple reason that the Superb comprehensively justifies its moniker.
Based on a lengthened version of Volkswagen's Passat platform, the Superb represents one of the best value buys in any market sector. It's no exaggeration to say this is an everyman limousine, a car with a smooth ride, high levels of refinement and a general air of class that would normally cost much, much more. It also explains why it has quickly become a favourite among taxi drivers.
The exterior design is restrained rather than showy, to the extent that it can seem a little anonymous. However, look more closely and you'll notice how well the Superb hides its extra length. One benefit of the understated treatment is that the Superb is ageing very gracefully.
Cheaper Superbs are good value but the more expensive ones represent an even better deal as they come loaded with luxurious extras and plenty of kit - all of it sourced and built to impeccable Volkswagen Group standards. Some commentators have even voiced the suspicion that these days Skoda build quality is actually superior to Volkswagen's.
On the road the Superb is silky smooth, helped by its long wheelbase and comfort-oriented suspension settings. It may not offer the sporty edge of the Audi A6 or BMW 5 Series, but for clocking up motorway miles in comfort it is unbeatable. It's worth remembering that those aforementioned rivals cost almost twice as much. The main rivals on price are cars like the Ford Mondeo and Vauxhall Vectra.
Our verdict on the Skoda Superb 1.9 TDI 130 Comfort
The Skoda Superb isn't just a cut-price alternative to established executive models. It's a cut-price alternative that in most respects is just as capable, comfortable and practical. Of course what it lacks is a prestige badge - ironically, the cheapest component with no actual function makes all the difference to many buyers.
Costs
Whichever way you look at it, the Superb represents stunning value for money. List prices are well below any comparable model once the full specification is taken into account and running costs are low in all but the V6 petrol. Modern Skodas also boast one of the best reputations for reliability among any European manufacturer.
Space and practicality
The large luggage compartment is equipped with four chrome lashing eyelets and two tilting hooks for hanging shopping bags, a simple but frequently useful feature. A ski sack is standard in Comfort and Elegance models, and features a removable bag accessible from the boot. An optional extra boot system called CargoFlex is a foldable system that sits behind the rear seat backs and can be loaded with smaller items within its foldable partitions, but despite its ingenuity it's not a must-have extra.
Controls and display
As all the instrumentation is closely related to the Passat's, it feels classy and beautifully designed. A Skoda innovation is CatVision, activated in conjunction with the dashboard and interior lighting system. When the exterior lights are switched on, CatVision gently illuminates the interior of the car, working through two LED diodes in the courtesy lights, and around the door handles. At night it's great at creating a soothing ambiance in which everything is still clearly visible.
Comfort
It's appropriate that the Superb's mid-range model is called Comfort. The rear passenger seat area is exceptional for a vehicle in the upper-medium sector. Rear seat passenger comfort is enhanced by two vents in between the front seats, which deliver heat and air conditioning. It's equally easy to settle into a comfortable position up front thanks to the tilt-and-rake adjustable steering wheel and height-adjustable seats with lumbar supports. There's even a climate controlled glovebox to keep your refreshments ice-cold.
Car security
Skoda scores top marks with a comprehensive standard security package. An immobiliser, VIN code label on the windscreen frame, and alarm system that monitors the interior of the car are all provided. Like all UK Skodas, the Superb is automatically entered in the International Security Register (ISR). A unique locator number is etched on all the windows which makes the vehicle traceable at any time. Access to the register comes as part of the overall package provided and is free for the first three years.
Car safety
Standard equipment in every Superb includes six airbags - front airbags for the driver and passenger, side impact bags and curtain airbags, providing a safety curtain between the car's occupants and the side windows. Additionally, all rear seats have head restraints and fixtures for two Isofix child seats are standard. The hidden safety systems comprise an Anti-lock Braking System (ABS) and Electronic Differential Lock (EDL). Model dependent features include Anti-Slip System (ASR) and Electronic Stability Programme (ESP).
Driver appeal
Long wheelbases provide comfort and stability but not immediacy. As a result, the Superb is at its best gliding along smooth surfaces, not negotiating twisty or uneven surfaces. The automatic gearbox available with both V6 engines is a boon to the mega-mileage motorist, but the standard manual is good as well, if a little loose. Acceleration is modest thanks to the extra weight the Superb carries. If arriving at your destination feeling fresh and unruffled sounds attractive, the Superb could be for you.
Family car appeal
The family fashion these days is for MPVs and SUVs, but there was a time when a roomy saloon was considered a proper family car. A Superb could reasonably be used as a tool for a high-mileage worker during the week and a family car at weekends. That said, an Octavia estate would probably make a better family vehicle.
First car appeal
While a Fabia would make a good first car, a Superb probably would not, unless your first job is as a taxi driver. It's just too large and, frankly, not trendy enough to suit youthful tastes.
Quality and image
Proving that quality and image are not one and the same thing, the Superb is one of the best quality cars you could hope to drive but also one with a peculiar public image. Everyone knows Skodas are good these days, but people only seem able to accept smaller vehicles like the Fabia and Octavia. The Superb is just as good, but remains something of an underground hit. Unless you've actually driven one, it's hard to let others know just how good it is.
Accessibility
The classic saloon set-up is fine for adults, though kids and the elderly may find a people carrier or hatchback easier to access. But among saloons, the Superb fares well. The rear doors are enormous and open very wide, the boot has a good degree of assistance and seats are easily adjustable to maximize their bottom-friendliness.
Stereo and ICE (In car entertainment)
An impressive eight-speaker sound system with single CD player comes as standard. Intriguingly, Comfort models also have a cassette deck. At this level you also get a six-CD changer. Overall, the sound quality is good, but it's in the audio department that the true executive models in this sector have the Superb licked.
Colours and trim
Superbs are much more generously equipped than equivalent Passats. Standard features include climate control with additional vents to the rear seats, front and rear electric windows, electronically adjustable and heated external mirrors and multi-function computer. But step up to Comfort level if you can to gain even more goodies including alloy wheels, improved upholstery with a leather-wrapped gear knob, gaiter and handbrake and steering wheel stereo controls. A nice gimmick is an umbrella built into the rear left hand door. Elegance trim has virtually every creature comfort you can imagine and turns the car into a sort of poor man's Volkswagen Phaeton.
Parking
You don't even need to go to the top of the range to gain rear parking sensors on the Superb - Comfort and Elegance models both have them fitted as standard. They come in quite useful, too, as the long wheelbase and the saloon-style boot makes judging the distance to the rear bumper quite tricky. The front's no problem though, thanks in no small part to the cleverly shaped bonnet.
Spare wheel
A full sized steel spare wheel is provided..
Range information
A range of six engines - three petrol and three diesel. The diesels are 1.9 (100bhp); 1.9 (130bhp) and 2.5 V6 (155bhp). Petrol units are 1.8 turbo (150bhp); 2.0 (115bhp) and 2.8 V6 (193bhp). Cars are badged Classic, Comfort or Elegance, with both V6 models available with optional Tiptronic automatic transmission.
Alternative cars
Toyota Avensis Byword for reliability
Ford Mondeo Still the keen driver's choice
Honda Accord Another car knocking on the executive door
Vauxhall Vectra Uncharismatic but dependable