June 2007
Skoda Octavia Scout 2.0 TDI PD
Four-wheel drive tackles loose gravel with ease
June 2007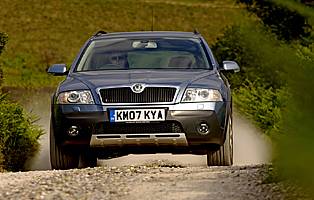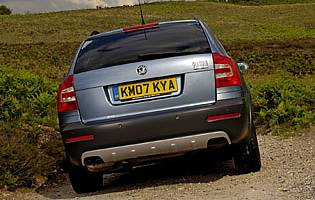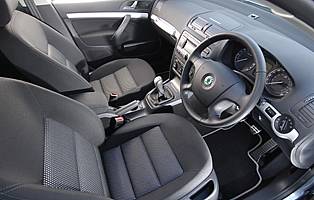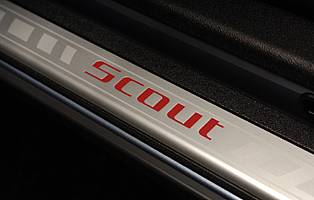 Overall rating

Likes:
Effective four-wheel drive system requires no driver input
Hill Hold Control system is very useful
Interior space unaffected by four-wheel drive system
Diesel engine is superb off-road
Gripes:
Slightly plastic exterior appearance
Noticeable lack of turbo assistance at low revs
Ground clearance not quite sufficient for the biggest ruts
No visual display to inform when in four-wheel drive
Skoda now has a rough and ready variant of its Octavia model with a choice of two-litre petrol or turbo diesel engines. The jacked-up, four-wheel drive Scout estate is aimed at drivers who want a practical and economical road-car that won't be upset by the occasional off-road experience. The Octavia Scout slips neatly and affordably into that category.
Not to be confused with the Octavia 4x4, the Scout is an new version of the Octavia and features some revised equipment. Rather than a driver operated switchable system or permanent four-wheel drive, the Scout uses a clever and unobtrusive blend of mechanical and electrical engineering to automatically switch between front and four-wheel drive.
The Scout's system uses sensors to detect wheel slip then connects the rear wheels to the drivetrain using a light-weight propshaft and second generation Haldex clutch. A wheel slipping by 10 degrees is enough to engage the system: slip by twenty degrees and the Electronic Differential lock will begin to transfer the engine torque to the wheels that have maintained grip and keep the car moving.
The result is a car that's frugal under normal driving conditions but perfectly capable of hauling itself over rougher ground when called upon. The really great part is that it's completely independent. There's no low-range to select and no infinite diff settings to confuse. You simply choose a suitable gear on the six-speed box and carry on as normal, letting the car's brain do most of the thinking for you.
The rest of the car has been beefed up in-line with its sturdier transmission: plastic bodywork surrounds shield the paintwork from shrubbery and sump and sill guards protect the underside from rocky outcrops. The Scout's ride height is 17mm greater than the 4X4 model and a 40mm taller than a standard Octavia, so the car has few issues with ground clearance.
Our verdict on the Skoda Octavia Scout 2.0 TDI PD
A car for all seasons, it's hard to find fault with the Octavia Scout's ability on or off road. A more practical family car and load-lugger is hard to find, and the four-wheel drive system offers the best of both worlds without the bother of having to read the manual. Combined with the proven reliability of its stable-mates, it deserves to be a big success.
Costs
The 2.0-litre 150bhp FSI model manages undercut more established 'soft-roader' cars in terms of price, which is impressive considering the Octavia's generous specification. Skoda expects to sell considerably more two-litre TDI diesels however, which results in car taxation obviously offer greater economy.
Space and practicality
As a go-anywhere, five-seater with a big boot the Scout's practicality is unquestionable, more so when you consider it's less expensive to run than a proper SUV. Pop the rear seats down and there's a cavernous 1,620 litres of boot space to be made use of. Even with the seats up you'll squeeze in a decent flat-pack furniture haul or a couple of dogs, depending on you persuasion.
Controls and display
The Volkswagen Audi bloodline is apparent when it comes to the controls, dials and displays, which is clearly no bad thing. The centre console is a particularly neat and user-friendly design and the switchgear and dials are well placed and intuitive.
Comfort
Comfort is the right word; not luxurious but very well specced. The seats are firm and supportive and the ride is smooth with a minimal wind, road and engine noise. Dual zone climate control is standard on the Scout as are electronic, heated door mirrors, cruise control and height adjustable seats - all of which add to its ease of use.
Car security
Remote central locking with Skoda's SAFE system and an alarm with interior monitoring are standard on the Scout. Windows are also laser etched with the car's registration details.
Car safety
Four-wheel drive aside, the Scout comes with projector headlights, ESP and ABS with braking assistance to avoid accidents and driver and passenger front and side airbags in the event of one. Also present is Skoda's automatic disc drying system that activates when the windscreen wipers are on and automatically pulses the pads gently against the discs to keep them dry and primed.
Driver appeal
A relaxing and comfortable experience more than anything else, the Octavia Scout doesn't suffer on road for its off road abilities. A slightly higher driver position is a bonus as the six-speed gearbox for motorway work. The raised ride-height does add some body-roll in the corners but not enough to affect confidence. It's off-road where the Scout really proves its potential. The four-wheel drive system engages quickly and silently and gets on with the job until it's no longer required. Repeated attempts to catch it out failed miserably; floor it on loose gravel and the car pulls away completely unflustered, sending power to the rear the moment the front tyres start to give-up. The diesel unit seemed particularly well suited to off-road duties.
Family car appeal
With an impressive collection of safety features, not least of which is the four-wheel drive system itself, the Octavia Scout is a good choice for parents who want a robust, practical, flexible and safe car to carry the kids. A relatively low on-the-road price combined with viable running costs and a good reliability record also work in its favour.
First car appeal
Unless you're firmly of farming stock the Octavia Scout is unlikely to appear on your first car wish list. Young drivers desperately in need of a four-wheel drive vehicle will probably find a Fiat Panda to be more up their street.
Quality and image
The plastic guards on the front and rear bumpers, arches and sills serve a purpose but, being plastic, look plasticy. The Tonka toy appearance might not be to everyone's taste but those that genuinely need it will be appreciative. The interior feels particularly robust. The hard-wearing Scout cloth manages to avoid a Transit van ambience and from the drivers' seat everything looks and feels as crisp and modern as any of the competition.
Accessibility
The fact that the Octavia Scout sits 40mm higher than the standard saloon or estate is a real bonus for ease of access. It's at just the right height to slip into without having to climb aboard, SUV style, and you'll certainly not be required to parachute in like a sports car. Front and rear passenger doors are a good size and open to a more than adequate angle and the boot door provides un-hindered access with only a couple of inches of lip to contend with.
Stereo and ICE (In car entertainment)
Adequate, but not lavish, the standard equipment for the Scout is still better than the lesser spec Octavia models. A six-disc CD changer is included although its location in the boot means see pre-journey planning is required. The single slot CD-player integrated into the dash is capable of playing MP3 CDs and the centre sound system and has a modern and clinical design that's simple to navigate. Also tucked away under the front arm-rest is a jack that allows an iPod or MP3 player to be attached and play through the sound system using the auxiliary setting.
Colours and trim
Frankly, the Octavia Scout looks at its best with a healthy dose of dirt splashed up the sides. Should you not be won over by brown as a colour choice, you can choose from any of the exterior colours available for the rest of the range. Inside the Scout has it's own unique trim named, well. Scout. Hard-wearing black and grey seat fabric is in keeping with the cars rugged credentials but there's a hint of luxury with leather on the wheel, handbrake and gear lever gaiter.
Parking
Visibility is very good all-round and the Octavia Scout should be no more difficult to park than a standard Estate, despite the revised bumpers and additional plastic mouldings adding 15mm in width and 9mm in length. Regardless, the Scout comes with rear parking sensors with an audible warning as standard. Manoeuvring or parking on hills is made particularly easy thanks to the Hill Hold Control system that prevents the car rolling backwards on hill starts by automatically holding the brakes on until the car begins to move forward.
Spare wheel
Full size steel located under the boot floor.
Range information
Petrol engine options - 1.4-litre (80bhp); 1.6-litre (115bhp); 2.0-litre (150bhp); 2.0-litre (200bhp). Diesel engine options - 1.9-litre (105bhp); 2.0-litre (140bhp); 2.0-litre (170bhp). Transmission options: choice of five or six-speed manual gearbox, standard or DSG automatic depending on engine and trim level. Trim levels: Classic, Ambiente, 4X4, Sport, Elegance, Scout, Laurin and Clement, vRS.
Alternative cars
Volvo XC70 Similar in appearance, spec and driving but considerably more pricey
Audi A6 Allroad A premium product but with a premium price tag
Subaru Forester The farmers' favourite may prove a tough nut for Skoda to crack
Fiat Panda 4x4 It doesn't have to be big to be good off-road: Panda is half the size but half the price