February 2011
Skoda Octavia Greenline II
Few exterior clues to mark out Greenline II model
February 2011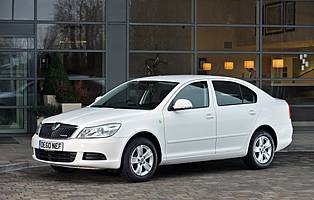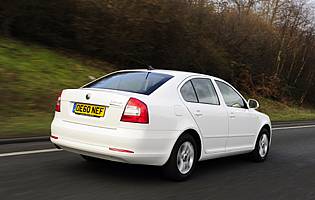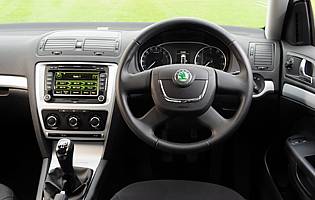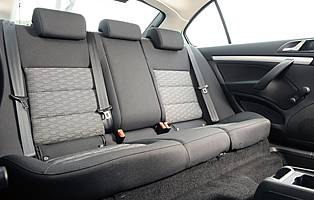 Overall rating

Likes:
Straightforward and undemanding driving experience
Spectacular economy and emissions performance
Good specification
Excellent value for money
Gripes:
Exterior design beginning to look a little dated
Firmer suspension brings slight reduction in ride quality
Small wheels do little for appearance
Estate inevitably brings fractional increase in consumption and emissions
The Octavia has been one of the key cars contributing to Skoda's revival in the UK, and across its range the Greenline models have added appeal thanks to their exceptional fuel economy and emissions performance. Now the second generation of Greenline models has been introduced, with the Octavia Greenline II likely to be one of the most popular.
The Octavia uses the might of the Volkswagen Group to good effect, taking a broad range of mechanical elements to create a highly-appealing hatchback. Underpinning the Octavia is a chassis similar to that which appeared on the last generation Volkswagen Golf, but crucially the Octavia benefits from a larger bodyshell to create cabin space close to that offered on cars in a class above.
The VW parentage also allows the Octavia to benefit from a choice of mechanical components. A range of petrol and diesel powerplants with sophisticated turbocharging for high efficiency mated to manual and dual-clutch gearboxes means there is a configuration for a wide range of needs and budgets, but it is the Greenline II models that make the most of this.
The previous Greenline models used a variety of measures including low-friction lubricants, low rolling resistance tyres and improved aerodynamics to produce surprisingly low fuel consumption figures, but the latest Greenline II models take that one step further to achieve even more impressive results.
Energy recovery manages the car's electrical system so that the battery is charged only when the car is decelerating, and a stop-start system appears for the first time giving big improvements in consumption particularly in urban traffic. Alongside this the Octavia Greenline II uses similar aerodynamic aids and low-drag tyres to maximise efficiency gains.
Our verdict on the Skoda Octavia Greenline II
As a car in its own right the Octavia is hard to fault due to its good specification, highly competent all-round driving experience and impressive practicality. Yet the Greenline II version adds in exceptional economy and emissions performance with little sacrifice in terms of comfort or performance. As a rational and thrifty purchase it is unquestionable sound.
Costs
For a car of this size the Octavia Greenline II should be exceptionally cheap to run. The sub-100g/km emissions level means zero vehicle excise duty for the first two years under current regulations, while anyone exploiting the economy performance to the full will go a very long way between fuel stops.
Space and practicality
The Octavia scores very well in this department, making the most of its substantial footprint to give good space for passengers and plenty of room for luggage too. There are sufficient storage spaces throughout the cabin and for those who need still more space the Estate version offers even more capacity.
Controls and display
The Octavia benefits from the improved white-illuminated instruments and display already seen in the Superb, and this brings clarity and an extra dose of class. The climate controls are also improved, and are easy to understand and operate, while the display between the instruments offers a lot of useful information.
Comfort
This is an area where the Octavia scores well, with all passengers accommodated in good comfort. Both front seats are height adjustable and have lumbar support, and the steering wheel has a wide range of movement, so drivers of all sizes can get a good position. The ride sits neatly between sporty and soft, although it can't match the comfort of the non-Greenline models due to the firmer suspension.
Car security
All models have remote central locking and an engine immobiliser, while Greenline II models and above now have an alarm system with interior monitoring for added security.
Car safety
All Octavia models come with a large haul of safety kit, including ESP as standard. Four airbags and a passenger de-activation switch are also included, as are Isofix fittings for three of the four passenger seats.
Driver appeal
Although the 1.6-litre diesel unit has a modest power output it is the good swell of torque available that makes swift progress possible in the Octavia. Both the top speed and acceleration is more than adequate for most needs, and even with the long gearing for economy it is a relaxing car to drive. When driven with vigour the slightly lowered suspension and relatively skinny tyres make for good feel through the steering wheel and a surprising degree of composure for a high-economy car.
Family car appeal
For families who like to get out and about, the Octavia has sufficient space and practicality to cope. It makes a strong case for itself in comparison with some MPVs, and although it only has five seats, the generous boot and accommodation makes it suitable for most eventualities.
First car appeal
While relatively large for a first car, the Octavia is easy enough to pilot that even inexperienced drivers could use it without fear. The price tag may be out of reach for most first-time buyers, but there is nothing here to intimidate a novice.
Quality and image
The Skoda brand is now more commonly associated with reliable and understated products than anything else, and this is largely due to the great strides it has taken in terms of its product quality. The Octavia's image reflects this: it is a car for buyers who are less bothered about image and more about ability.
Accessibility
Decent door openings front and rear make entering the car straightforward, though with the steering wheel set low it is possible to catch a knee on the bottom of the steering column. The chrome interior door handles are large and easy to use, as are the exterior handles.
Stereo and ICE (In car entertainment)
Octavia Greenline II models come with a large touch-screen audio system with CD player and tuner, plus an SD card slot for MP3 files. As well as a slick interface (including a display between the instruments) sound quality is good despite being one of the lower-end systems thanks to the eight speakers around the cabin.
Colours and trim
Although mostly grey and black the Octavia's cabin is clearly well constructed from decent quality materials. Unfortunately there is little capacity on the options list for brightening the cabin. The choice of exterior colours is good too, although the small wheels mean that anyone choosing white may be left with something a little too close to a private hire taxi.
Parking
Good visibility all round makes parking the Octavia a cinch, and although parking sensors are a cost option many drivers could manage perfectly well without.
Spare wheel
Greenline II models come with a tyre repair kit as standard.
Range information
Petrol engine options - 1.2-litre(104bhp); 1.4-litre(79bhp and 120bhp); 1.8-litre (158bhp); 2.0-litre (197bhp). Diesel engine options - 1.6-litre(104bhp); 2.0-litre (138bhp and 168bhp). Transmission options: five-speed manual gearbox, six-speed manual gearbox, DSG dual clutch automatic gearbox. Trim levels: S, SE, Greenline II, Elegance, Scout, Laurin and Clement, vRS.
Alternative cars
Volkswagen Passat Bluemotion In-house rival is considerably more expensive
Ford Mondeo Econetic Slicker driver and smarter looks come at a price
Vauxhall Insignia Ecoflex Pleasing alternative with attractive design
Kia Cee'd Ecodynamics A fraction smaller than Octavia but with impressive value for money