August 2010
Skoda Fabia Fabia vRS
Subtle bodykit enhances the Fabia's already classy appearance
August 2010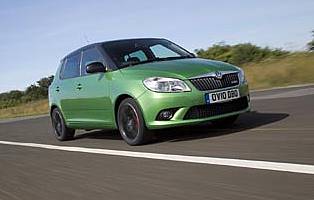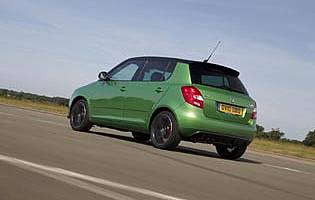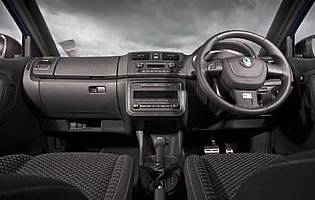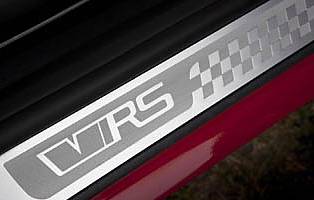 Overall rating

Likes:
Accommodating and spacious cabin
Strong performance from turbo engine and DSG gearbox
Impressive build quality
Good value for money
Gripes:
More linear power delivery would be appreciated - especially in the wet
Below par sound system
Suspension can struggle with poorly surfaced urban roads
Inside there's little to tell the vRS apart from a regular Fabia
There's no question that Skoda's Fabia has come on leaps and bounds in its latest guise. It continues to offer considerable value for money over its closest rivals and is one of the more practical and versatile models available in the compact hatch market. Skoda's second generation vRS performance variant only adds to this already attractive package.
Initially an odd choice, the first-gen Fabia vRS was diesel-only in a bid to stand out from the competition. That it did, and succeeded in challenging the preconceptions of many cynical observers. Brisk, economical and fun to drive, it was a surprise hit.
With this second iteration, Skoda has opted for petrol power and decided to focus more on the performance side of the car. Offering a convenient tie-in with the maker's global rally programme, this Fabia vRS makes promoting the motorsport activity much easier. And powered by a 180 horsepower turbo and supercharged 1.4-litre motor shared with Seat's Ibiza Cupra and VW's Polo GTI, this Fabia is in good company.
Coupled with a seven-speed direct shift DSG gearbox as standard - there is no manual option, the Fabia vRS aims to blend high-tech with genuine hot hatch thrills. A firmer suspension set-up helps to realise this aim, while sharper responses all-round should please enthusiastic drivers. With plenty of traction in the dry plus a pleasingly unobtrusive stability control system for when its wet, the Fabia vRS might pack a lot of power it's useable.
Another thing in this Fabia's favour is its practicality. Tested in five-door hatchback guise, it offers growing families a good balance of fun and versatility. Folding the rear seats further boosts the car's carrying capacity, while the estate variant - a rare option in this class - is predictably even more capacious.
Our verdict on the Skoda Fabia Fabia vRS
Although its profile might be lower than some rivals, Skoda's Fabia is a car you grow to appreciate quickly. Spacious, refined and good value, the hot vRS model further boosts appeal. Easy to drive day-to-day, when the conditions are right it's also capable of blistering performance, thanks in part to its unusual engine and gearbox combination. A genuine dark horse - unless you opt for one of Skoda's bright metallic colour choices.
Costs
Offering value for money cars has been Skoda's stock in trade for as long as it has been in existence. The vRS in particular delivers hot hatch thrills for a modest outlay. Factor in sensible running costs, compact hatch practicality and a lively used market and it's hard not to be impressed.
Space and practicality
The Fabia's tall body means there's plenty of headroom fore and aft, while width hasn't been compromised ensuring plenty of elbowroom. Legroom in the back is also good, and it's possible to fold the rear seats and free up a sizeable quantity of space not available in many of the Fabia's rivals.
Controls and display
The Fabia's controls and displays might be a little too conventional compared to some of its more outgoing rivals, but there's no denying that clarity and functionality is first rate. Large buttons are clearly marked and levers and switches adhere to norms. For the vRS, the inclusion of paddle-shifters behind the steering wheel and an easy to use gearlever should please keen drivers.
Comfort
As befits a car at the sporty end of the spectrum, the Fabia vRS boasts a noticeably firm ride but the flipside is a welcome lack of excessive pitch and roll when cornering. Road and wind noise is kept to a discrete minimum most of the time, although the engine can be hard when worked hard.
Car security
As you would expect, remote central locking is standard on the vRS and there's a comprehensive anti-theft system to deter thieves. The factory supplied audio sits low down in the fascia to minimise detection, while for added peace of mind you could add a steering lock as a visual deterrent.
Car safety
The Fabia vRS comes with the usual array of airbags as standard along with anti-lock brakes an electronic stability control system that's pleasingly unobtrusive when you're pressing on. Pedestrians are also protected by a deformable bonnet.
Driver appeal
The regular Fabia is a competent car but the vRS variant raises the bar a few notches higher. This second generation model's switch to petrol power has added a newfound urgency to its performance, while the inclusion of a direct shift DSG gearbox means progress - if you choose - can be blisteringly quick. A firm but composed ride, comfortable driving position, accurate steering and good brakes round off what is a hugely entertaining package.
Family car appeal
Despite its sporting pretensions the Fabia vRS is no less a capable and sensible small family car than its less powerful cousins. The rear will seat three small or two older children comfortably, making it a sensible stepping stone to a larger vehicle in the future. The car's boot will take a decent grocery shop and possibly a pram, at a stretch.
First car appeal
In standard form the Fabia is a great choice as a first car. It combines strong value for money with a practical, safe, and extremely easy to drive package. The vRS model is a lot more powerful and would be best treated as something you move onto after gaining some experience.
Quality and image
Parts sharing with its Volkswagen Group stable mates ensures quality and, while the Fabia can't boast the same kerb appeal as some of its competitors, it does mark the owner out as a savvy purchaser of cars. The vRS is smarter still, with its exterior changes and offering hot hatch levels of performance for a modest outlay. Skoda's image has come a long way and the Czech manufacturer is now a respected manufacturer of affordable quality vehicles.
Accessibility
Thanks to a tall body and five large doors that open to a wide angle, it's relatively straightforward to get in and out of the Fabia. The height adjustable front seats also make it easy to find a position that's comfortable to exit from and enter into, even for the less agile.
Stereo and ICE (In car entertainment)
The audio unit in the Fabia is a little lacking in depth and on some frequencies the volume must be turned up high to be heard at motorway speed. Regardless, the single slot CD system is easy to use, while aux socket makes it possible to add an audio player.
Colours and trim
Keen to exploit the car's sporty character, Skoda Fabia vRS boasts Mini-like bold body and contrasting roof colour options, plus attractive-looking alloy wheels. Inside, there's a modest nod to the vRS with tweaks to the upholstery and seats alongside the standard dark plastics.
Parking
From the car's large glasshouse, neat shape and raised driving position, the Fabia also benefits from conveniently light steering at low speed and a respectable turning circle.
Spare wheel
Full size spare wheel fitted as standard.
Range information
Petrol engine options - 1.2-litre (60bhp, 70bhp, 85bhp, 105bhp); 1.4-litre (180bhp). Diesel engine options - 1.6-litre (75bhp, 90bhp, 105bhp). Transmission options: five-speed manual gearbox, seven-speed direct shift DSG automatic gearbox with manual over-ride (optional for 1.2 105bhp, standard for 1.4 180bhp). Trim levels: S, SE, Elegance, vRS (1.4 180bhp only).
Alternative cars
Ford Fiesta Popular alternative lacks truly hot hatchback variant
Vauxhall Corsa Stylish and appealing - VXR model is no slouch
Volkswagen Polo GTI shares powertrain with the Fabia but boasts a more mature personality
Seat Ibiza Cupra The other VW Group member offers a more hardcore experience than the Polo or Fabia