August 2004
Skoda Fabia 1.2-litre Classic Hatchback
Fabia has a classy front end
August 2004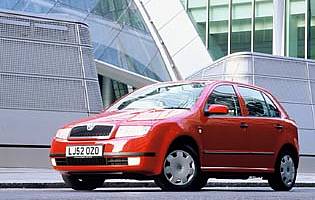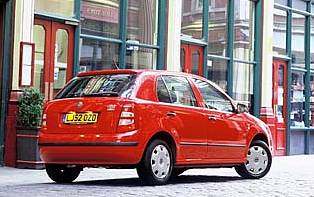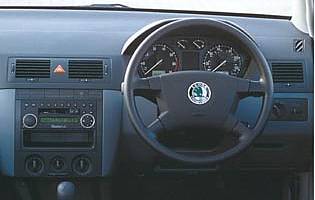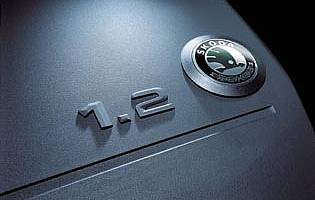 Overall rating

Likes:
Exceptional value means buyers could potentially save thousands of pounds
Proven reliability and build quality will provide peace of mind
Low insurance groupings will keep premium costs to a minimum
Good levels of fuel economy will reduce running costs
Gripes:
Lack of kudos evoked by badge will put off some buyers
Front seats lack bolstering and aren't terribly comfortable
Standard stereo is tinny and there isn't a CD player
Certain items are omitted from safety kit list when they should be standard
The quality, reliability and style of the latest generation of Skoda cars has impressed everyone. Nowhere have these virtues been better displayed than in the Fabia hatchback. It is light years ahead of much of the competition and a good bit cheaper, too.
Skoda's current model line-up is among the best value and most reliable of any of the major manufacturers. The sensible, mature look displayed by the Czech firm's cars has won over many buyers and the fact that they all represent a bargain buy has also helped the cause.
The Fabia hatchback is an important model for the company, and also happens to be the cheapest. Sharing a platform and much of its technology with the Volkswagen Polo and Seat Ibiza, the little car has a large reputation to live up to and some stiff competition to fend off.
It isn't only rivals from the same stable that the Fabia has to worry about. The ever-popular Ford Fiesta and Renault Clio also lie in wait to poach away potential clients from the bargain VAG group offering. Does the Fabia do enough to convince a sceptical public of its quality and ability or will it play just a bit part in the supermini market segment?
The answer has to be yes, as the Fabia is every bit as good as its rivals and in most cases a fair bit cheaper, too. It may not be quite as good looking as the Clio or create the same kind of impression as the Polo, but it is a solid, reliable city car that will be cheap to run and insure.
Our verdict on the Skoda Fabia 1.2-litre Classic Hatchback
Excellent value, unsurpassed build quality and more than a smidgen of style makes the Fabia one of the best superminis around.
Costs
Buying a Fabia is, in comparison to the competition, extremely cheap. Given the high level of specification and build quality one should feel a bit guilty as you drive away from the dealership. An entry-level insurance grouping of 1E should keep down the cost of premiums, even for those people living in inner city areas. 47mpg on the combined cycle will also mean that trips to the pumps are mercifully few and far between.
Space and practicality
The cabin is spacious for a car in this segment with plenty head and legroom for four adult passengers. Five will fit, but somewhat less comfortably than just four. With the rear seats folded the Fabia provides enough room for flat pack furniture and the like. The boot itself is adequate and will easily swallow a couple of full sized suitcases. For those caffeine addicts among you, there a couple of cup holders in which you can deposit your early morning coffee cup or tin of juice.
Controls and display
All of the controls and displays are exactly where one would expect to find them. The various buttons and rotational dials feel weighted and connected. Some sections do feel as though they have been made out of budget materials, however. The main instrument binnacle isn't the most elaborate or extravagant ever designed, but, again, it is functional and straightforward and will neither confuse nor confound. The gear change is slick and fairly sophisticated for a car in this price bracket.
Comfort
Engine noise can become intrusive at motorway speeds, but in comparison to other cars in this class the Fabia is a civilised cruiser. Wind and road noise are impressively suppressed. The front seats aren't terribly comfortable as the bases are too hard and there is insufficient bolstering to stop you from shifting about. However, the small car's surprisingly spacious cabin offers lots of head and legroom for both fore and aft occupants.
Car security
No alarm or deadlocks available on the bottom of the range hatch, but buyers can expect to find an immobiliser and visible Vehicle Identification Number (VIN) if the worst should happen. Remote control central locking is available as a cost option. The standard kit should be sufficient, however, as the Fabia isn't exactly the most sought after vehicle among the car thief fraternity.
Car safety
Dual front airbags, side impact protection and a trio of three-point rear seatbelts are all you can expect as standard in the Fabia. Side airbags and a front passenger airbag deactivation device are available, but only at extra expense. Base models gain ABS, but further up the range other systems such as ASR and EDL come into play.
Driver appeal
This is by no means a 'driver's car'. The 1.2-litre engine copes well with the pace of city traffic, but anything over and above it is likely to leave the Fabia looking underpowered and exposed. The vRS's 1.9-litre TDI PD engine with its 130bhp and 310Nm of torque is definitely the hottest hatch in the Fabia line-up. It manages the sprint to 60mph in less than 10 seconds and has a 128mph top speed, so your inner boy racer needn't go entirely unnourished. Overall though, the Fabia range is built for economy and practicality rather than performance.
Family car appeal
Surprisingly, the Fabia is so generously endowed in the space department that it would make a more than adequate family car. Those with a whole tribe of kiddies may still have to take on an MPV, but two children and all of their various accoutrements will fit comfortably. Most of the monthly shop will fit in the boot and the cabin has a few cubbyholes in which to place your knick-knacks. The rear seats can be folded to accommodate larger items.
First car appeal
Many first time buyers might not be aware of the resurgence of the Skoda brand and may still turn their noses up at the Czech firm's badge. This would be a mistake, as the Fabia represents excellent value for money and will probably run for years without any major problems. Large windows and a decent seating position aid parking and performing tight manoeuvres. Three friends and their weekend bags will fit (albeit snugly) in the back and if you get one in vibrant blue or snazzy red then it may even turn a few heads.
Quality and image
Quality, perceived and actual, isn't a problem here. Everyone is aware of the Volkswagen connection and as most people believe that VWs are among the best-built cars on the market, the Skoda brand can also bask in this perceived robustness. But rather than rely on people's perceptions the Czech firm has also made sure that its vehicles are built to the highest possible standards. Image presents a bit more of a problem, as many people cling to the stereotypes of the past and dismiss Skodas as cheap and nasty. Nothing could be further from the truth, but public perception is a notoriously difficult thing to alter.
Accessibility
A nicely elevated ride height and large forward door apertures make for easy access to the front two seats. The rear door openings are necessarily slightly smaller and as such will restrict access for the less limber passenger. However, children will manage to gain entry easily. A comfortable driving position is easy to achieve as a rake and reach adjustable steering wheel is fitted as standard throughout the range.
Stereo and ICE (In car entertainment)
Standard '202' RDS radio/cassette unit sounds a bit tinny with its meagre four speakers. A CD player unit with eight speakers is introduced to Comfort and Elegance models, which delivers a far better quality of sound. Satellite navigation is available on Comfort, Elegance and vRS models, but only as a cost option. Cruise control, too, remains on the extras list, but is available for any model.
Colours and trim
The Fabia features some of the most elaborately entitled upholstery ever, including: Flamenco, Starship and Mystic. Base Classic models get Flamenco, which is dark and tasteful. VRS trim is the sportiest-looking of the lot with flecks of colour and embroidered logos. Leather is not an option on any model in the range. All the dashboard trim feels solid and there are no visible misaligned seams.
Parking
Parking sensors aren't available on base trimmed Classic models, not even as an option. However, this shouldn't cause too much consternation among buyers as the Fabia's steering is very light and all round visibility is good. The car's small size also aids multi-storey parking manoeuvres.
Spare wheel
Full sized spare wheel fitted as standard on all models.
Range information
Six engine options: three petrol and three diesels. Petrols include 1.2-litre (six and 12-valve with 54 and 64bhp respectively); 1.4-litre 16-valve (75bhp) and 2.0-litre (115bhp). Diesels include 1.9-litre non-turbo (64bhp); 1.4-litre turbo diesel (75bhp) and 1.9-litre turbo diesel (100bhp). All versions can be fitted with either a five-speed manual or four-speed automatic gearbox. VRS models feature a six-speed manual 'box. Trim designators are Classic (base), Comfort, vRS (performance) and Elegance (top of the range).
Alternative cars
Volkswagen Polo German stable mate has more desirable badge - and much bigger price tag
Seat Ibiza Spanish sibling is slightly sportier, but again is more expensive
Renault Clio French offering has va va voom and plenty of street cred
Ford Fiesta Blue Oval's baby still takes a large slice of the market share