February 2012
Skoda Citigo Elegance
The Citigo is the first Skoda to feature new front end styling
February 2012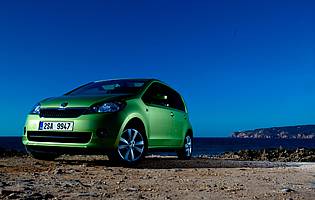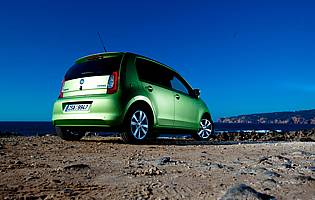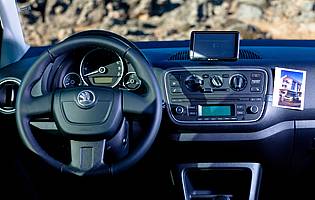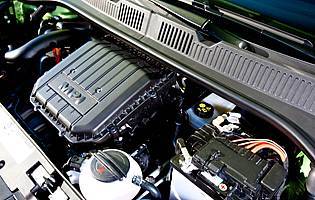 Overall rating

Likes:
Characterful engine allows smooth, frugal progress through town
Excellent ride quality for such a small car, even over cobbles
Deep rear boot affords surprising amount of luggage space
Practical interior touches make everyday life easier
Gripes:
Satellite navigation system could be more reliable
Downshifts necessary in order to make it up hills
Minimal pedal feel at clutch biting point
Needs to be worked hard to keep pace out of town
The Citigo is Skoda's most important car in years, launching the brand into a new sector of the market; one that's growing rapidly. It's an open secret that the Citigo shares its innards with the Volkswagen Up and the Seat Mii, but the Citigo has its own practical touches inside that are aimed at young buyers.
The Citigo sits beneath the Fabia in the range, and marks a turning point for the wider Skoda stable, being the first to wear a new Skoda badge and new front end styling that will eventually migrate to the rest of the range. It's a simple car, with one engine available in three outputs and three trim levels to choose from.
Apart from its obvious rivals in those two cars that share its DNA, the Citigo will go head-to-head in three- and five-door guise with cars like the Toyota Aygo, Citroen C1 and Peugeot 107; three cars that also share a platform, and the Fiat Panda. It's a difficult sector of the market but the Citigo has plenty going for it.
It's designed to be as cheap to own as possible, with several impressive safety and security features included as standard to keep insurance ratings low, while lightweight and efficient engine technology helps to keep fuel costs low. Inside the cabin there are ample clips, hooks, nets and storage bins that have clearly been well thought out.
Skoda has invested a lot of time and effort into the development of the car's finer points to make it stand out from the increasingly crowded city car pack. Sales across Europe are expected to have a 60 percent bias towards five-door models, with the majority of people choosing the middle trim level.
Our verdict on the Skoda Citigo Elegance
The Citigo benefits from the same small size as its VW and Seat cousins, but has even more practical lifestyle solutions built in. Its looks compared to its rivals are a matter of taste, but it represents extremely good value for money and is a very fine car to drive around a city thanks to a combination of small dimensions and excellent ride characteristics that belie its size.
Costs
The Citigo will be among the very cheapest cars to run, with an economical engine especially in road tax-evading 'Green tec' guise, low insurance costs and cheap servicing expenses. Fleet buyers on, for example, local councils will find the Citigo a very cost-effective option. With a modest asking demand is likely to be high so residual values should be good.
Space and practicality
Few cars have so many useful interior features. There are net pockets on the seat sides for drinks or snacks, a specifically designed holder for a smartphone sits ahead of the gear lever and the glove box handle has a fold-out hook for a handbag or shopping to prevent things rolling around. Clips on the windscreen and dashboard can hold parking tickets. The boot also has nets, although while it's surprisingly deep and expansive at the bottom, access is more restricted at the top.
Controls and display
The instrument cluster features a large central speedometer with a small rev counter and a small fuel gauge towards the bottom corners of the cluster. All the dials are a mix of grey and white, and are really quite dull in comparison to the rest of the car. In particular the small size of the rev counter makes it harder to read. The controls conform to VW Group standard and are exceptionally easy to locate and operate.
Comfort
It's unlikely that the Citigo will be used for very many long motorway journeys or fast A-road treks, so its suspension has been tuned for low-speed comfort, where body roll is less relevant. The engineers have done a remarkable job, though, and even over cobbled roads the Citigo rides much more comfortably and quietly than you'd expect. The seats are simple items but they're well shaped and largely go unnoticed - the sign of a good job well done.
Car security
As well as more typical security devices, the manual Citigo features a novel mechanical gearbox lock, which when activated would effectively prevent anyone stealing the car without the key. A point against the car goes for its large windows which, although providing great visibility out of the car also offer a good view in. Therefore, valuables and bags should be kept out of sight.
Car safety
One of the 'firsts' that the Citigo can claim is that it features the first head-thorax-side airbags ever fitted to a Skoda. These long airbags cushion an impact evenly all the way down the body. As an option a system can be specified that automatically brakes hard if it senses an imminent collision at up to 19mph.
Driver appeal
The main purpose of this car is to excel in busy surroundings, and it's through towns and suburbs that buyers will want it to be at its best. The controls are balanced in such a way as to make driving relaxed, and the characterful thrum of the three-cylinder engine is easy on the ears. The drivetrain picks up quickly for brisk, smooth getaways. It's a delight through crowded streets and makes very light work of stop-start traffic.
Family car appeal
This class of car, known as the A-segment in the market, is one of the most popular for short-distance duties. In this class cars need to be designed to cope easily with children, so while the Citigo has large enough windows to be able to see past rear passengers, the rear seats are also raised a little higher than the fronts so that kids get an improved view. The plastics are a balance of stylish and utilitarian and should be relatively hard wearing.
First car appeal
With other financial pressures taking precedent, more people than ever are buying used cars until later in life when they pick their first new one. But older and younger new car buyers alike will find the Citigo immensely appealing with its combination of cleverly-used space, economical engines and cheap ownership costs. It's also very easy to drive and very safe, which adds to its suitability for new drivers.
Quality and image
Skoda has, since it was taken over by the Volkswagen Group, gone from strength to strength as a brand that effectively offers cut-price VW cars. Some people see that as a positive and others as a negative, but either way Skoda is an established mainstream brand with loyal customers. The Citigo uses some hard plastics that are not the nicest to touch, but it manages to better most of its competitors for material quality.
Accessibility
The five-door model has very short doors that make it very easy to get in when in a tight parking space. The rear door aperture is quite small and adult passengers may have to adopt a certain technique to get out with dignity. Accessing the boot is made a little more difficult than it could be because the angled seat backs create a narrower entry point, and the very large load lip makes lifting heavier bags out more difficult.
Stereo and ICE (In car entertainment)
The CD player and radio in the range-topping Elegance model operate independently of the satellite navigation system, using buttons and a small LCD display as the interface. It's perfectly simple and fuss-free, and while the system does not have as much adjustability as some it works well. The removable tablet device that integrates sat-nav could be better, though. It can be slow to respond to touch, attempts to pronounce names phonetically and incorrectly describes some junctions.
Colours and trim
Small cars tend to be better able to carry off bright colours than larger ones, and given that Skoda are trying to appeal to young drivers there are several bright tones to choose from on top of the more usual selection of subdued, reserved ones. The interior trim is functional but stylish enough to appeal to most people, and the exposed painted metalwork on the doors can brighten things up.
Parking
Although the Citigo has a short wheelbase in its favour, its steering lock is not remarkable meaning that overall its turning circle is good rather than exceptional. It's helped by a short bonnet, narrow width and great visibility all round, and is on the whole very easy to park safely. The small, high tailgate means that leaving huge amounts of room behind the car in order to get at the boot when bay parking is not always necessary. Parallel parking is also easy.
Spare wheel
Reduced size steel spare wheel and tyre supplied as standard.
Range information
Petrol engine options - 1.0-litre (59bhp, 74bhp). Transmission options: five-speed manual gearbox, plus optional automatic gearbox. Trim levels: Active, Ambition, Elegance.
Alternative cars
Fiat Panda New for 2012, the Panda's high seating position wins fans
Volkswagen Up Skoda's parent company's smallest car is more stylish but pricier
Toyota Aygo Cute looks and easy to drive, but mechanically less advanced
Seat Mii The other direct competitor offers a similar overall package