September 2009
Seat Ibiza SC Ecomotive 1.4 TDI
Hard to tell that this styish Ibiza SC is the frugal eco model
September 2009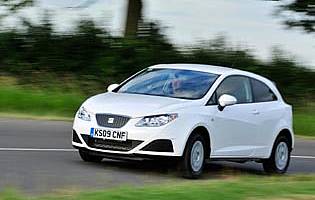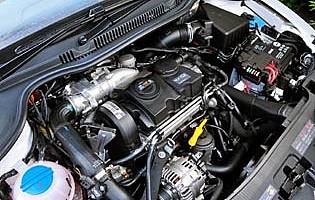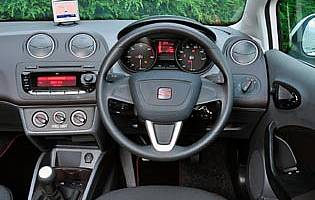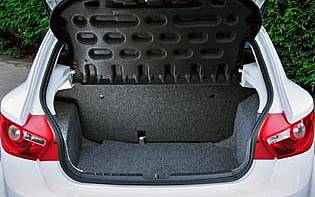 Overall rating

Likes:
More distinctive than your average three-door hatch
A-pillars not as obstructive to visibility as other Seat models
Despite Eco-centric positioning, good equipment levels as standard
Gripes:
Interior plastics remain behind the best in class
Ride is a little firm for a non sporting car
Tailgate opens to reveal modest size boot
Cabin ambience might be a little too gloomy for some
Seat has opted out of the conventional three-door naming policy for this generation of car, instead calling this model the Ibiza Sport Coupe. With its sleek design and sporty appearance, the name is apt, and one the Spanish firm hopes will attract greater interest from younger buyers. It's also making its frugal Ecomotove model available in this sporty three-door trim, a move that should boost the car's appeal.
No longer the company in the mighty Volkswagen empire to be last in line for the latest technology, this model uses a brand new platform - one that's been charged with injecting some much needed refinement and competence into the Ibiza experience. This might seem at odds with the Ecomotive variant's task of lowering fuel consumption and running costs, but Seat believes this move will help distance the car from the usual dowdy image of such fuel misers.
Sharing more than previously with the headline-grabbing Polo BlueMotion, this Ibiza boasts a 98g/lm CO2 rating and an equally impressive official fuel consumption figure of 76.3mpg. The raw figures will no doubt pleae those ken on saving money, but the car's on road performance has also improved. Gone is the rather agricultural drone of the engine, replaced by a more modern 1.4-litre TDI diesel hum.
The new Ibiza platform is both longer and wider than the outgoing model, giving the car more presence on the road and improved driving manners. The car's ride now feels more sophisticated, while for the average person the Ecomotive variant behaves much like any regular Ibiza model, which is how it should be. It's the same inside the car, with the newer model gaining a generous amount of standard equipement - the days of hair shirt motoring are long gone.
In aroundabout way Seat's Ibiza Ecomotive model trumps most of the rest of the range, as it's more than capable of matching similar models when it comes to everyday tasks. In three-door guise it looks good, while the five-door version is no less attractive just a little more practical. Given the car's slight increase in size, it would be easy to suggest it as a first family car.
Our verdict on the Seat Ibiza SC Ecomotive 1.4 TDI
Unlike some eco-minded cars, Seat's Ibiza Econetic doesn't resort to fancy technology in its bid to return low CO2 and fuel consumption figures. This low-cost approach obviously reflects in the car's modest asking price, but you never feel cheated thanks to the sensible levels of standard kit. The concept of an eco supermini has moved on in recent years. Once astripped out tin box, the move to ensuring the consumer doesn't have to compromise in terms of value, driving experience or comfort has been a welcome one, and one the Ibiza demonstrates well.
Costs
Even in standard trim the Ibiza makes a strong case for itself in the eyes of the budget buyer. The Sport Coupe might look and feel racy but it's also very competitively priced. Factor in the Ecomotive's talents and it's hard to resist the car's charms. A tax-busting CO2 rating plus a high mpg figure combine to make this Ibiza a car that's not going to hit your finances where it hurts.
Space and practicality
It would be wrong to be overly critical of the Sport Coupe in this context as it's not been designed to be a fully fledged family car.However, Seat has done a good job of providing as much room as possible inside the car. Also, the boot is surprisingly spacious despite a high sill and the front seat back are curved to offer maximum leg room for the rear passengers. Space in the rear isn't that great but it never feels cramped either. Cabin oddment storage space could be better, though.
Controls and display
Clearly influenced by Volkswagen's approach to switchgear and displays, there are two large dials with a separate screen displaying additional information right in front of the driver.And being an eco model, there's noa fully functional trip computer - not something that was present in the old car. Controls for the stereo are ideally positioned on the column, rather than the wheel itself, while the unit itself is located high up on the fascia and easy to use.
Comfort
In real terms the three-door Ecomotive model is very close to the five-door model. Road and tyre noise has been kept to a pleasing minimum, although a petrol Ibiza will always have the upper hand. In the cabin, front seat occupants will rarely feel less than comfortable, although tall adults in the back might be more aware of the car's sloping roofline than, say, a child.
Car security
It would be harsh to expect too much at this price point, but you do get remote central locking. There isn't a huge amount of covered storage areas inside the cabin, meaning valuables will need to be moved to the boot to keep them out of sight. For added peace of mind, there's always the cost effective option of a steering lock to act as a visual warning to the casual thief.
Car safety
There's little more than can be said if you've got a five-star Euro NCAP, which is the case with the Ibiza. ESP is another standard and welcome addition to the car.And this is before you factor in the regular items such as anti-lock brakes and the now manditory collection of cabin airbags.
Driver appeal
This is where the Ecomotive moel differs from its genuinely sporting relatives. With the emphasis on saving fuel, the car's gearing is longer and the handling characteristics more conservative. There's still fun to be had, but it's fair to say that the car responds better to a smooth driving approach. At least the Ecomotive's diesel engine is a lot quieter second time around and more willing to accelerate smoothly and promptly from low revs..
Family car appeal
Given the Sport Coupe's focus on fun, it's hardly the ideal choice as a family car. What's better is the five-door version, featuring similar exterior and interior styling. Those two extra doors will make a big difference to a busy family, however, as access to the rear seats is greatly improved - ideal when grappling with a toddler and a child seat.
First car appeal
Regardless of the Ecomotive's frugal behaviour, the Ibiza range has a lot going for it in the eyes of a novice driver. Young first car buyers are among the key demographic for Seat, and the three-door format is likley to appeal more to younger drivers than the five-door model.
Quality and image
There's no question that the Ibiza's youthful image is bolstered by the rakish lines of the new model. The design boasts a large amount of kerb appeal. This is all a convenient bonus for the Ecomotive variant, which by its very definition is pitched as a sensible, fuel efficient car. Build quality appears to be high, with the only let down being the slightly inferior quality of some of the interior plastics.
Accessibility
It's no surprise that the Ibiza Sport Coupe's three-door layout makes it less accessible than the five-door model. That said, if you're an agile person getting in or out of the back seats only requires a moderate amount of exertion - children won't have a problem. A small rear hatch met by a high sill means an up and over approach is required to place items in the boot.
Stereo and ICE (In car entertainment)
Drivers will find the centrally mounted audio unit easy to operate, even when on the move. There's even an auxiliary plug-in for portable music players.Even the option of an integrated Bluetooth function is available - still something of a luxury in its class. The sound system itself is capable of providing a good level of sound quality in the compact interior.
Colours and trim
Vibrant colours iare the key here - even if this is merely the Eco model in the SC range. The car's interior lags behind a little, though. There's a lot of dark plastic in the cabin which, although looks and feels durable, contributes to a more VW-like sombre ambience..
Parking
You sacrifice a little in the way of practicallity for the styling benefits of the Sport Coupe shape. As such, the car's high shoulder and slim rear window mean rear visibility isn't as good as the five-door model. By way of some compensation, the car boasts an impressively tight turning circle and doesn't feel at all cumbersome to manoeuvre.
Spare wheel
Space saver fitted as standard.
Range information
Petrol engine options - 1.2-litre (60bhp, 70bhp); 1.4-litre (85bhp); 1.4 TSI (150bhp, 180bhp); 1.6-litre (105bhp). Diesel engine options - 1.4-litre (80bhp); 1.6-litre (105bhp). Transmission options: five-speed manual gearbox, seven-speed DSG twin clutch automatic gearbox (1.4 TSI, 1.6-litre petrol only). Trim levels: E, S, SE, Sport, FR, Cupra, Bocanegra, Ecomotive (1.4 TDI only).
Alternative cars
Peugeot 207 Easy on the eye, particularly in three-door form
Vauxhall Corsa Affordable and neatly styled small hatch
Ford Fiesta Stylish and competent alternative
Volkswagen Polo Reliable and well built and now with more flair