May 2006
Saab 9-5 estate 2.3 HOT Aero
Dramatic restyle has boosted the 9-5's road presence
May 2006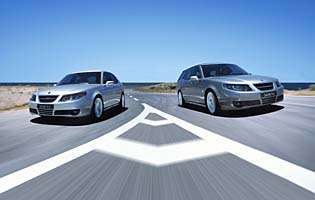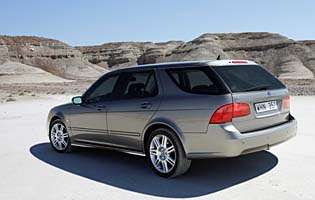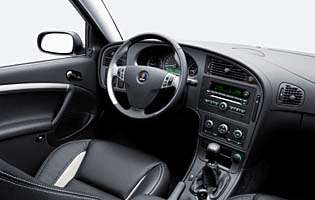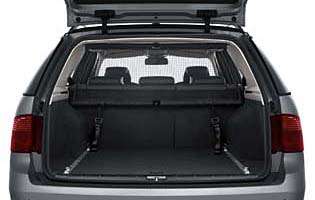 Overall rating

Likes:
You get a lot of car for the money - especially the estate variant
Seats are supportive and cabin ergonomics good
Optional touch-screen sat-nav is easy to use and responses quickly when calculating routes
Estate load space is generous and the load lip is wide and low
Gripes:
Location of ignition barrel by the handbrake can be annoying
Despite facelift, car is showing its age in the way it drives
Aero variant is thirsty when pushed hard
Chrome trim around headlamps not that successful on dark coloured cars
The 9-5 is the premium choice for people who don't find the traditional German premium offerings appealing. Swedish firm Saab has made a living out of producing cars that are a little bit different and the company's 9-5 is one of those products; the driving and ownership experience is a world apart from its thrusting, Teutonic rivals.
If this 9-5 looks familiar, it's because the car has been around for some time. Saab's 9-5 has been around longer than its rivals, although that appears to be part of its charm. While other brands have been busy reinventing themselves, the 9-5 continues to extol the virtues of sound ergonomics, good levels of cabin space and refinement.
It's difficult to miss the chrome highlights around the car's headlamps and the new nose. In a bid to keep the 9-5 looking fresh, Saab has gone down the restyle route with its mid-size executive. The look is, on the whole, successful, although the general consensus is that light exterior colours are more flattering than dark ones.
There have been changes under the skin too, this time to help the 9-5 keep pace with the opposition. It has never been a car that troubled BMW's 5 Series, but it does feel a little sharper. This could in part be thanks to useful upgrades under the bonnet. Being part of the same General Motors group as Vauxhall, Saab has access to the same impressive engines that you'll find in a Vectra - with one exception.
What really sets the 9-5 apart from the opposition is the Aero version. Boasting supercar-humbling mid range performance, this version might look tame on the outside but it's anything but when you press the accelerator. Things can get a little lary thanks to the big Saab's front-wheel drive layout, but that's part of its charm. Factor in the estate car's practicality and there's little else around for the money.
Our verdict on the Saab 9-5 estate 2.3 HOT Aero
Look past the refreshed exterior and Saab's 9-5 hasn't really changed much. There's a bit more flash interior trim, but this 9-5 behaves a lot like the 'old' one. Fans of the German opposition will instantly dismiss it, but fans of the Swedish marque have learnt to appreciate the car's many charms. Along with impressive levels of safety and sound ergonomics, the estate variant remains an attractive proposition.
Costs
Bang for buck levels are high with the 9-5. For the money you get a well-equipped and distinctive car. Opting for a diesel means even more cash will stay in your wallet, while the Aero model delivers high levels of performance for a relatively modest sum. Dealer servicing costs should also be sensible, as should insurance premiums. A popular car, residuals are good thanks to the small numbers in circulation.
Space and practicality
In estate form, the 9-5 is a very desirable car. The load space is a good size for its class, and access is made simple thanks to a low bumper line and wide opening tailgate. There's even a small amount of room below the floor to hide valuables around the spare wheel. The cabin is spacious - to a point. Front seat occupants fare much better than those in the rear, although it's only really legroom in the back that could be better.
Controls and display
Saab prides itself on producing cars with sound cabin ergonomics, and the 9-5 doesn't disappoint. Clear, legible main dials plus a centre panel with only a few cleverly laid out controls puts this car ahead of its rivals. Opt for the touch screen sat-nav and inputting a destination or controlling the audio unit couldn't be made any simpler. There's even a button to turn off everything bar the speedo - ideal at night to reduce eye strain and distractions. The ignition barrel down by the handbrake is the only niggle. It's supposed to be a safety feature but a bulky bunch of keys can get in the way down there.
Comfort
The 9-5's wide, supportive seats make even the longest of journeys bearable. Low levels of engine and road noise also boost cabin comfort levels. Head, leg and elbow room upfront is good, while those in back fare reasonably well. Rear legroom is average at best, which is a shame given the overall size of the car.
Car security
Being a desirable car, it's good to see a decent immobiliser and alarm package fitted to the 9-5 along with the usual remote locking function. There's also a sturdy cover for the rear load space, plus room under the boot floor to store a small selection of valuables.
Car safety
Safety is a big deal for Saab, and its cars consistently perform well in crash tests. You get the usual number of airbags in the 9-5 (twin front, side and curtain airbags), and the car comes with ABS and electronic stability aids. The latter is especially useful on the Aero model when the going gets slippery. Elsewhere, there are seats and headrests that help reduce injuries in a crash, while the obligatory Isofix child seat mounting points are present.
Driver appeal
While no longer in the first flush of youth, the 9-5 can still demonstrate an engaging character when driven with enthusiasm. The chassis might not feel as taught as something newer, but fun can be had - especially with the Aero variant. The car's front-wheel drive layout can prove a handful in the wet when driven hard, but elsewhere it can be fun to drive. The Aero's party trick is its performance car-rivalling mid-range acceleration, and is something that helps make overtaking manoeuvres swift and safe. The regular cars also perform well, with the diesel models especially proving quiet and refined.
Family car appeal
As a substitute for a compact people carrier, the 9-5 estate makes a lot of sense. There's plenty of room in the back for a growing family, while the boot will easily swallow shopping and pushchairs. The seating arrangement can't compete with a people carrier (save for the rear split/fold feature), but there's enough oddment space in the cabin for most people's needs. Don't forget that the plush leather seats will require looking after, though.
First car appeal
It's unlikely that a 9-5 will top the shopping list of a novice driver. That said, it's a car that's easy to drive so long as you discount the high performance Aero model. Its size might prove initially challenging to some, but it's things like running costs and insurance that will put most first time drivers off.
Quality and image
The Saab brand has always been one that's attracted buyers turned off by clinical German offerings, and those seeking an upmarket alternative to mass market cars - but not at traditional premium prices. Build quality and cabin comfort have long been Saab strong points, as has the firm's commitment to improving safety.
Accessibility
Front seat occupants will have no trouble accessing and exiting the cabin. The doors open wide and the door aperture is a good size. Although acceptable, rear seat passengers have to content with smaller doors and the subsequent smaller opening. It gets better at the back, as the estate variant's tailgate opens nice and high to reveal a low, wide load lip.
Stereo and ICE (In car entertainment)
The standard-fit radio and CD unit performs well, boasts intuitive controls and an easy to read display. This is backed up by controls on the steering wheel. Upgrades include a CD changer and sat-nav. The latter dominates the centre fascia with its colour touch screen, and conveniently includes controls for the audio unit. The system's navigation mode works well, calculates routes quickly and covers Europe.
Colours and trim
The chrome trim around the headlamps sets the tone, with light exterior colours more flattering than dark ones. Remember that a metallic shade is essential for future residual values. Inside, the cabin is largely dark, with a few chrome accents present depending on the model. The leather seats certainly look more inviting than the fabric ones, although a light colour won't wear well if you plan on working the estate hard.
Parking
Although the 9-5 is a big car, visibility fore and aft is good. The saloon's boot is easy to judge when reversing, and the estate car shape makes it even easier. Light steering helps matters, as do the large rear view mirrors. Predictably, parking sensors - where fitted - make the task even easier.
Spare wheel
Space saver fitted as standard.
Range information
Petrol engines - 2.0t (150bhp); 2.3t (185bhp); 2.3 HOT (260bhp). Diesel engine - 1.9 TiD (150bhp). Five-speed manual gearboxes are standard, five-speed auto gearboxes are optional. Trim levels: Linear, Linear Sport, Vector, Aero (2.3 HOT engine only).
Alternative cars
Volvo V70 Traditional Swedish load lugger is capacious and enjoyable to own
Vauxhall Vectra Mainstream Vectra one of the largest estates around. Good to drive, too
BMW 5 Series Touring The keen driver's choice. Styling is unusual and it can prove pricey
Honda Accord Tourer No performance variant, but spacious and well built. Sensible ownership proposition