November 2004
Saab 9-5 Aero saloon
The 9-5 Aero confidently dispatches backroads thanks to its powerful turbocharged motor
November 2004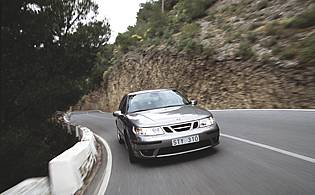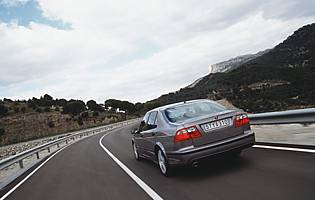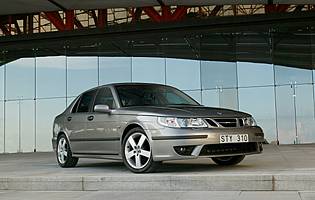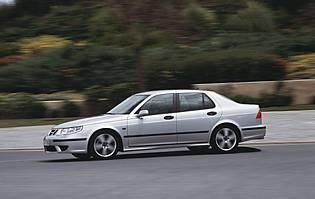 Overall rating

Likes:
Cabin ergonomics are first rate
Well equipped for the asking price and not a common sight on the roads
Aero variant delivers startling straight-line performance
Good long distance cruiser; refined, quiet and stable at speed
Gripes:
Aero's power advantage often overwhelms front-drive 9-5 chassis on twisty roads
Optional Sentronic auto gearbox not the smoothest - especially when worked hard
Rear could do with more legroom
9-5 is not a new car, and this is sometimes highlighted by the suspension's lack of sophistication
For years Saab has garnered a reputation as a maker of cars that were a little to the left of the mainstream. With the advent of component sharing and being controlled by the mighty General Motors, the Swedish firm's individuality has been diluted in the 9-3. Not so the more mature 9-5, which could well be the last of the old-style Saabs - good news if you don't fancy a BMW's 5 Series or Mercedes' E-Class.
Saab might like to think that its products are positioned at the value for money end of the premium sector, but ask the average buyer what they think the Swedish cars stand for and you're more likely to get a mixed response. To some people a Saab is an oddball choice, while to others it represents the intelligent alternative to similar cars from BMW, Mercedes and Audi.
This slightly mixed view of Saabs is evident in the firm's market share, which has never risen to a point that the Germans have lost any sleep. While it's true that Saab has managed to attract only a modest following, the customer base is a loyal one and less brand obsessive than those who aspire to own a 3 Series, E-Class or A4.
The conservative attitude of Saab buyers is mirrored by the firm's design philosophy. You won't find radical 'flame surfacing' or extrovert grille designs, but you will find common sense details that surprisingly few other car makers appear to have adopted, plus a proactive attitude towards safety that rivals Volvo's efforts.
Saab's understated outlook spills over into the cars it makes, and explains why the 9-5 has been around for what seems like an eternity. It also eschews showy, extrovert styling in favour of restrained looks but feels built to last, performs as well as its peers in most areas and is better equipped into the bargain. For many people that is reason enough to spend their own money on a Saab.
For others the attraction is the 9-5's high performance Aero variant - a car that harks back to the days of turbo lag, serious grunt and amusing handling from sending too much power through the front wheels. At a time when Saab's owner, General Motors, is trying to broaden Saab's appeal, the Aero is a car stuck in the past that will be sorely missed by fans when it's replaced by a better behaved product.
Our verdict on the Saab 9-5 Aero saloon
Not you average large premium car, but then Saab isn't your average manufacturer. Anyone seeking an alternative to the usual German executive suspects would do well to examine the 9-5. While no longer in its first flush of youth, the 9-5 does most things well and a few things better than the competition. The high performance Aero variant is typical old school Saab; delivering bucketfuls of turbocharged power through the front wheels - a real wolf in sheep's clothing.
Costs
Historically, Saabs haven't been cheap cars to run. The 9-5 will cost a few bob to keep on the road, but the strain can be lessened if you opt for a diesel model. If high performance is your thing, be prepared to spend plenty of time at you local filling station if you opt for the Aero as driving it hard will see the fuel consumption take a nosedive. Make sure you really need the extra thrust as insurance and tyres could prove costly. On the whole, if you're buying an executive car, be prepared for executive-sized running costs.
Space and practicality
The executive saloon formula has remained unchanged for years and Saab's 9-5 offers no surprises. It seats four adults in reasonable comfort, and will swallow shopping or a few suitcases without blinking. The car's door pockets could be more accommodating, but otherwise there are plenty of places to store oddments around the cabin. It's no people carrier, though, so don't be too disappointed if you want to use the 9-5 as a substitute for a proper family holdall. For that role you'll need either the 9-5 estate variant or an MPV.
Controls and display
Saab has built a reputation on designing cars with exceptional ergonomics and the 9-5 is no different. All the controls are where you'd expect them to be, and the various buttons, dials and switches are big, chunky and move with a well-oiled efficiency. The main instruments are objects of clarity, and ability to illuminate just the speedometer at night is not just a Saab trademark but also a welcome bonus.
Comfort
Sitting on big, supportive chairs boasting more than enough adjustment, front seat occupants should find little to complain about. All models provide decent levels of comfort and support but, predictably, it's the Aero variant with its figure-hugging sports seats that delivers the best performance. The car's rear seats offer similar levels of support, but the aft portion of the cabin could do with more legroom - business colleagues or clients are likely to feel the pinch on long journeys.
Car security
A car of the Saab's stature will always catch the eye of someone undesirable - despite the fact that BMWs and Mercedes' are often perceived to attract the most attention. With that in mind, it's comforting to know that the car is equipped with remote central locking and deadlocks, plus a Thatcham Category One alarm and immobiliser.
Car safety
As you would expect, anti-lock brakes are standard across the 9-5 range plus twin front and side airbags. Also standard is traction control, but not on the 2.2-litre diesel variant. Saab's electronic stability programme is reserved for the flagship Aero, V6 diesel, high-power 2.3T petrol and optional on other models. Small touches such as an auto dimming rear view mirror, rear parking sensors and Xenon headlamps may be model dependent but they all help. Unlike some premium makes, Saab at least fits steering wheel-mounted audio and telephone controls as standard.
Driver appeal
Front wheel-drive has its limitations, and the 9-5 Aero is always eager to demonstrate them to you. Forcing 250bhp through the front wheels results in a fair amount of steering 'pull' when accelerating hard - especially from standstill and when cornering. Taking a measured approach to exploiting the huge reserves of torque from the turbo engine bears more fruit. Mid-range acceleration is almost in the supercar league, making overtaking a unreal experience. Wide, sweeping A-roads flatter the 9-5, where you'll be better able to exploit the car's potential. If you don't fancy the Aero's on-off Jekyll and Hyde personality, the V6 diesel is almost as good for most of the time.
Family car appeal
For less money you'd be able to secure a very nice full-size MPV, but if the 9-5 is to be your only car, it will happily accommodate a growing family. You'll just have to manage without the numerous different seating permutations and the benefits of a hatchback bodystyle. If it's more space you're after, the 9-5 estate is a safer bet, but it too can't match a people carrier for versatility.
First car appeal
Few young drivers aspire to own a big, executive barge as their first car, so it stands to reason that the 9-5 won't be appearing on shopping lists - even if they had the cash to buy and run the thing. If for some strange reason the car did appeal, all bar the Aero are easy to drive. Saab's performance flagship can be a bit of an animal and commands serious respect if you're new to driving quickly.
Quality and image
Saab holds an interesting position in the executive market. It can't compete with the likes of BMW and Mercedes on volume terms, but does command a loyal following around the globe. Both the design and function of the cars remains - just - different enough to warrant comment, and quality of construction justifies the asking prices. Unlike Saabs of old, the 9-5 is largely quirk-free, although the location of the ignition barrel is still down by the handbrake.
Accessibility
Large executive saloons are, by their very nature, biased towards the driver and front seat passenger. The 9-5 is no different, and offers those in the front decent levels of room. Those in the back don't fair quite so well, as legroom is modest - despite the car's size. Blame the car's boot, which in its defence is more than adequate and easily passes the golf club bag test.
Stereo and ICE (In car entertainment)
Saab supplies a decent audio unit as standard on the 9-5. The entry-level Linear model gets a four-speaker CD system while all others receive a CD/ cassette combination unit replete with seven speakers. Both not only sound good but are easy to use thanks to clear displays and sensibly laid-out controls. Upgrading to the firm's combined sat-nav and CD changer option sees the fascia dominated by a screen that's used to display a variety of functions. Unusually, the screen is touch-sensitive, and makes accessing the various functions surprisingly straightforward.
Colours and trim
With its unfussy exterior and bold shape, the 9-5 looks its best in silver or other light hues. The few subtle lines and creases in the car's sheet metal tend to be lost if you opt for a dark colours. Conversely, the big Saab's interior is predominantly dark, and oozes a fighter jet-style ambience reminiscent of the company's military aviation heritage. The dark tone is lifted by a lighter, contrasting finish for the 9-5's fascia; the exact colour is dependent on trim level. Overall quality is good.
Parking
Parking a big saloon will always be a little more problematic due to its boot extending well beyond the base of the rear window. While the Saab's steering is light at low speed and the throttle easy to modulate, parking sensors are relegated to the options list - which is a shame on a car otherwise well equipped. The 9-5's large turning circle is another bugbear, forcing you to take undue extra care in car parks.
Spare wheel
Space saver fitted as standard.
Range information
Six engine options - 2.0t (150PS) petrol; 2.3t (185PS) petrol; 2.3T (220PS) petrol; 2.3 HOT Aero (250PS) petrol; 2.2 TiD (120PS) diesel; 3.0 V6 TiD (176PS) diesel. Manual gearboxes standard across the range; five-speed auto gearbox optional on all models bar 3.0 V6 TiD. Four trim levels: Linear, Arc, Vector and Aero.
Alternative cars
BMW 5 Series Unusual looks but is the archetypal driver's car. Not cheap, though
Mercedes-Benz E-Class Costly to buy and equip, and is not as sharp to drive as a 5 Series
Jaguar S-Type After a lacklustre start the S-Type is now a sound purchase, although its exterior hasn't met with universal appeal
Volvo S80 Like the 9-5 it's an old car and can't compete dynamically with the competition. Well equipped for the price, however