June 2011
Saab 9-4X Aero
Handsome design has clear Saab styling cues
June 2011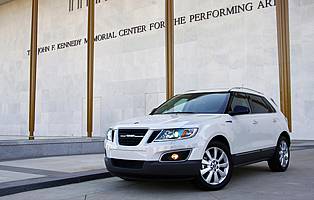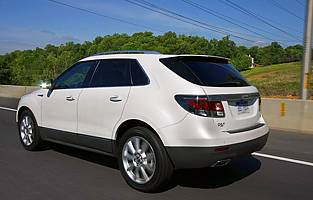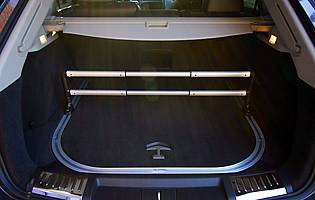 Overall rating

Likes:
Handsome, Saab-like exterior
Excellent standard specification
Good space and practicality inside
Easy-going nature on the road
Gripes:
No diesel option will put many off
Five-seater only when many rivals offer seven
Inevitable thirst from turbocharged petrol unit
Physical size won't be appreciated by all road users
Despite the travails that the company has had to face on recent years, Saab is ploughing on with a programme of new models in an attempt to re-establish its prominence in the UK. The first major step in this programme is the 9-4X, the first SUV to come from the Swedish company which represents a broader approach and one aimed at satisfying a more diverse range of customers.
Moving into new market segments is a crucial step in the future of Saab as a car manufacturer and beyond the existing range of cars, a luxury SUV is a logical next step. The 9-4X itself is also an expedient use of existing technology, as the core structure of the car comes from a Cadillac model not sold in Europe.
The 9-4X is a sizeable machine, standing comparison with BMW's X5 or the Mercedes ML-Class in terms of size. It is also recognisably a Saab despite its genuine SUV proportions and shape. Features such as the three-part front grille, 'ice-block' headlamps and the distinctive curve of the C-pillar are common elsewhere in the Saab line up and will be familiar cues to customers of the brand.
Beneath the skin the 9-4X has a mechanical layout expected in this segment with a large capacity engine up front, and drive sent to all four wheels via a an automatic gearbox. Within that the 9-4X offers XWD, a system which diverts power between front and rear axles and also Drive Sense variable damping. However, of most importance to customers is likely to be the absence of a diesel engine. Saab said at the time of launch that there are no plans for a diesel 9-4X, and despite a choice of engines that could slot in easily, at present there was no business case for such a model.
Inside the 9-4X goes for a strict five-seat layout with no option of seven seats - another factor that may disappoint potential buyers. However, the five seats on offer are generous in terms of space and comfort levels. With just one model in the range the equipment levels are very generous, with a host of features as standard.
Our verdict on the Saab 9-4X Aero
For a first attempt at an SUV the 9-4X is a capable all rounder. Well-equipped, practical, good to drive and distinctive, those seeking something a little different could be tempted. However, the market for petrol-powered vehicles at this end of the segment is very limited, which would put it on the shopping list of very few buyers.
Costs
Although initially good value compared to its rivals, the petrol-only powertrain will mean quite substantial fuel bills for the owner. Expect relatively high insurance costs too.
Space and practicality
Although the lack of seven seats will be a negative for many the 9-4X at least makes good use of the space it offers. Front and rear passengers are very comfortably accommodated and the boot is generous too. There are some clever practical touches too, like the two-level cup holder and the boot organiser which stores under the boot floor itself.
Controls and display
Saab has always placed ergonomics at the heart of its cabin design, and although there is plenty of familiar switchgear in the 9-4X it is no worse for that. The instrument display is arguably a little old-fashioned in some respects but is crystal-clear and easy to understand as a result, while the layout of the switches is easy to understand at first glance.
Comfort
A high priority in any SUV, comfort is in plentiful supply in the 9-4X with good ride quality, excellent refinement from the engine and very little noise from elsewhere. Saab has a reputation for good seats and the standard electric versions fitted here offer plenty of adjustment and excellent support.
Car security
A standard fit alarm and immobiliser are the key elements of the Saab's security package, although the quirk of keeping the starter button down by the gearlever may just fool a thief who isn't aware of this Saab tradition.
Car safety
The generous standard specification extends to the safety department too, with a full complement of airbags and electronic safety systems. Saab claims it will match or better the safety performance of its existing models which already perform well.
Driver appeal
A stress-free driving experience is usually the first choice of any SUV driver and the 9-4X does not disappoint. With so much power on offer acceleration can be leisurely or extremely brisk, while the automatic gearbox does a fine job of choosing the ratios - although this does depend on the Drive Sense mode selected by the driver, as Comfort mode can leave the gearbox hunting around and changing up too early. Should the need take you the 9-4X can hustle along very comfortably and is keen enough to satisfy most playful drivers.
Family car appeal
The 9-4X represents what many families would regard as their ideal car - assuming it is a family of five or less of course. Outside the lack of extra seating, the comfort, specification and practicality of the 9-4X make it a genuine family machine at heart.
First car appeal
It might look good on your driveway but with a substantial price tag and a considerable amount of power, the 9-4X isn't very suitable for a new driver.
Quality and image
Pushing for premium status means having the quality to back it up and the 9-4X gives a good account of itself in this respect. Although not up at the same level as Audi or Mercedes Benz, there are well chosen materials and good fit and finish throughout.
Accessibility
No problems here as all four doors open wide to leave good apertures for entry and exit, plus the ride height means that the 9-4X is comfortably raised rather than towering over its passengers. The same goes for the loadspace, with a big tailgate and a modest lip to negotiate.
Stereo and ICE (In car entertainment)
The standard equipment in the 9-4X is very impressive, with a 10-speaker Bose system incorporating touchscreen hard-drive navigation, 10Gb of music storage, USB and auxiliary connectors as well as DAB radio. Sound quality is also superb, and with rear screens fitted as standard only another source is required to keep those in the back just as happy.
Colours and trim
With such a strong visual style the 9-4X suits bolder colours, which is unusual for an SUV of this size. White looks particular good as it contrasts with the black and chrome detailing. Inside the default choice is black but as leather is standard this is no problem.
Parking
Such a large vehicle would intimidate many when it came to parking up but the 9-4X has decent visibility all round, and the standard fit parking sensors and reversing camera take all the worry out of it.
Spare wheel
Space saver spare wheel fitted beneath the boot floor.
Range information
Petrol engine options - 2.8-litre (296bhp). No diesel engine options. Transmission options: Six-speed automatic as standard. Trim levels: Aero only.
Alternative cars
BMW X5 A default choice for many with car-like dynamics and strong image
Mercedes ML-Class Very high quality throughout, peerless image
Lexus RX450h Hybrid only rather than diesel, good value and excellent specification
Audi Q7 Strong outward appearance still a little divisive but a high quality product