June 2005
Saab 9-3 Sportwagon 2.8T V6 Aero
From the front, the 9-3 Sportwagon is unmistakably a Saab
June 2005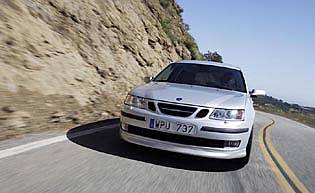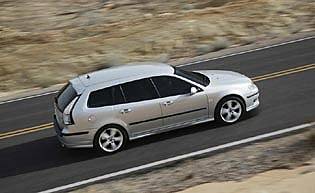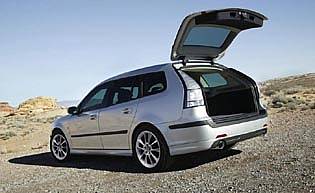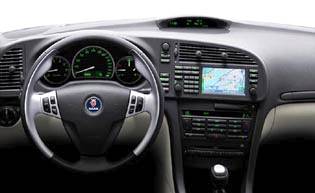 Overall rating

Likes:
Estate boot adds much-needed practicality to 9-3
Enjoyably agile with fine handling
Cheaper than the premium opposition
Equipped with a good security system
Gripes:
Frosted taillights spoil an otherwise elegant design
Doesn't seem like an out-and-out bargain
Tendency for V6 to torque steer when driven hard
Too many, too-similar engines to choose from
Saab's 9-3 Sport Saloon has been widely acclaimed as a great drive, but Britain's appetite for other body styles instead of the traditional saloon has always held sales back. The arrival of an estate variant, albeit with a 'Sportwagon' moniker, should make the 9-3 a serious proposition to a much wider selection of car-buyers.
In 2004 Europe's growing premium mid-size estate segment reached a quarter of a million units, with diesel engines accounting for 70 per cent of sales. Despite producing some of the great historical estates, Saab has had no presence in the compact estate market and a dearth of quality diesel engines.
Yet the Saab badge would seem to be a natural nominee for such a vehicle - after all, look what rival Volvo has done with its V40 and V50. At last the 9-3 Sportwagon plugs the gap, but this is no mere makeweight. It provides one of the keenest drives in its class, a good deal of functionality and offers something a little different to palates tired of BMW, Mercedes or Audi, while saving a few pounds in the process.
The traditional Saab grille, neat headlamp units, and wraparound windscreen immediately identify the 9-3 Sportwagon as a Saab, but the side and rear prospects are more interesting. The wedge-like profile with its rising belt-line looks very muscular while the disguised B and C-pillars help to maintain a good deal of elegance despite the engorged boot.
There are only one or two awkward details such as a plane-shaped handle on the boot floor that looks great but doesn't sit comfortably in the hand. Frost-effect taillights are certainly distinctive, but look too much like aftermarket additions for comfort and rob the Sportwagon of class.
This being a Saab, it's hardly surprising that the turbocharged engines are the real stars of the range. They give the Sportwagon an urgent edge and an involving drive that is completely at odds with the larger 9-5, which seems like a lumbering load-lugger in comparison.
Our verdict on the Saab 9-3 Sportwagon 2.8T V6 Aero
Now ideally configured for UK motoring tastes, the 9-3 Sportwagon should make a solid ownership prospect, provided buyers choose their exact variant with care.
Costs
Slightly cheaper than other premium compact estates, the Sportwagon's asking price still isn't low enough to make it an immediate choice. Service intervals are not particularly lengthy, and nor is servicing likely to be cheap. However, Saabs have reputation for being generally reliable and are renowned for their ability to clock up high mileages with no ill effects. A 10-year anti-perforation warranty inspires confidence, too.
Space and practicality
A compact rear suspension design frees up some useful space free from intrusions, even if it isn't exactly huge. In a nice touch, the middle section of floor hinges upwards transversely and slots into place to provide support for shopping bags and the like in a recessed sub-floor, easily secured by a cargo net. A folding passenger seat is very useful for long loads, but you have to pay extra for one. The dash-mounted cupholder is a nice piece of unusual design but is constructed from weak plastic.
Controls and display
Existing Saab fans will find nothing to scare them away. There are a few modern touches, but the layout and execution of the cabin and controls remains largely the traditional Saab treatment with a clear aerospace influence. The quality of materials used is excellent, but some potential buyers might view the non-Aero models as a little old-fashioned in their approach.
Comfort
Saab's front seats are always a joy to occupy, and the 9-3 Sportwagons are no exception. Supportive without being intrusive, they make even the longest journey endurable. Even better, the Sportwagon inherits the near-perfect driving position of the 9-3 Sport Saloon, which creates a sense of anticipation of the road ahead that truly enhances the driving experience. There's a good range of adjustability, too, though rear seat passengers do not fare so well.
Car security
Efficient 'shielding' of the locks inside the doors prevents tampering with specialist tools and deadbolts for all four doors make it virtually impossible for a would-be thief to forcibly break in. Even if a thief were to gain entry, there would be little point in removing any of the car's entertainment systems which are electronically 'married' to their original host car.
Car safety
Saab Active Head Restraints (SAHR) are fitted as standard to the front seats only. Roof-mounted airbags are installed on each side, between the A and C-pillars, in the interior headlining above the side windows. Side airbags, mounted in the outboard edges of both front seatbacks, are designed to help provide thorax protection. Volvo is the marque generally associated with active safety systems, but Saab should be mentioned in the same breath.
Driver appeal
This market sector isn't short of great drives. Jaguar's X-Type Estate and BMW's 3 Series Touring are outstanding, but the 9-3 Sportwagon can hold its own among such auspicious company. Steering is a particular treat. It will tend to torque steer in V6 form if driven hard, but in real-world conditions it's remarkably sharp and feels even more balanced with a couple of passengers, a significant load - or both - in the back.
Family car appeal
The extra space of the boot turns the executive-only 9-3 Saloon into a very competent family wagon. Some impressive safety credentials only add to its appeal in this regard, and ownership will certainly set you apart from the 'me too' alternatives in the estate market.
First car appeal
A Saab 9-3 Sportwagon is unlikely to appeal as a first car. Despite the inevitable 'active lifestyle' cues of Saab's marketing campaign, you still need to be mature in your outlook to opt for a Saab.
Quality and image
It remains to be seen whether buyers take to Saab as a full-scale premium brand to rival the established players or continue to view it as better than mass-market marques but not in the same league of the big boys. Volvo finds itself in a similar position but has the benefit of a far wider product range to help define its market position. Latter-day Saabs are still a minority choice even if they aren't as individual as they used to be. Remember, this shares a basic platform with the Vauxhall Vectra.
Accessibility
The tailgate operates easily and at last Saab provides twin recesses so that right-handed owners no longer lord it over their left-handed counterparts. Once open, some extra storage space is released by pulling on the pretty but not particularly tactile aeroplane-shaped handle in the boot floor. Rear doors are a little narrow.
Stereo and ICE (In car entertainment)
A CD radio combination comes as standard and the upgrading possibilities are virtually limitless, taking output right up to 300 watts. Sound quality is good, if not quite as impressive as the Volvo V50's optional infotainment systems, but include DVD/GPS satellite navigation with large 5.8-inch colour monitor, Bluetooth integrated GPRS telephone, wireless connection to a Bluetooth headset, WAP browser, voice recognition, and MP3 player input socket.
Colours and trim
Each trim level has two different treatments, characterised as a 'light room' or 'dark room' colour theme. Aero models are the exception and revel in generous amounts of leather and chrome, though they can tend to have something of a 1980s feel to them as a result. Build quality is good throughout the cabin.
Parking
It's not just the long front and rear overhangs that can make parking a tad tricky. The sporty nature of the steering rack means that 9-3 has a considerable turning circle, so manoeuvres need to be well planned in advance.
Spare wheel
A space saver comes as standard, although a full-size wheel is an option.
Range information
Six petrol and two diesel engines. 2.8 V6 Turbo petrol (250bhp, Aero only); 2.8 V6 Turbo petrol (230bhp); 2.0 turbo petrol (150bhp); 2.0 turbo petrol (210bhp); 1.8i petrol (122bhp); 1.8t petrol (150bhp); 1.9 TiD diesel (120bhp); 1.9 TiD diesel (150bhp). Six-speed manual and automatic transmissions according to variant.
Alternative cars
Volvo V50 Swedish rival has narrow loadspace but boasts a slick modern design
Jaguar X-Type Estate Likeable blend of modernity and tradition with all-wheel-drive variants
Audi A4 Avant Handsome interior, but you pay handsomely for the privilege
Vauxhall Vectra Estate Worth remembering that this shares a chassis and is far cheaper