June 2007
Saab 9-3 Convertible Vector Sport 2.0t BioPower
Revisions to the front end are effective
June 2007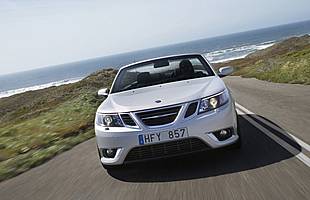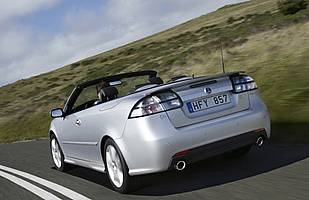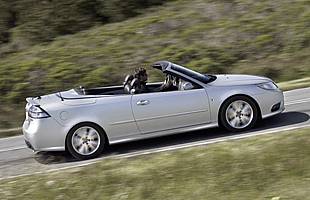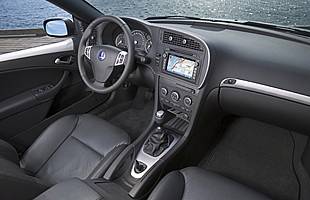 Overall rating

Likes:
Sharper looks add considerably to appeal
Soft top aids handling and acceleration
BioPower adds a green tint to the convertible market
Ownership sets you apart from the masses
Gripes:
Not as secure as folding hardtop
Bioethanol infrastructure not yet widespread
Cockpit design maybe too retro for younger buyers
Lighter steering takes edge off handling
Saab has had a credible four-season convertible in its range for more than 20 years, and the latest in the line is this the revised 9-3. As well as continuing with the traditional brand values, the latest 9-3 adds a new ingredient in the form of a 2.0-litre BioPower engine capable of running on environmentally friendly E85 bioethanol fuel.
Bioethanol infrastructure remains limited in the UK, but is growing all the time and even if you don't have a convenient pump close to home, it's not necessarily a problem as BioPower engines will run on conventional petrol as well. But the really important fact is that if you do run the car on cleaner, greener bioethanol, performance is significantly enhanced, not reduced.
A fresh front end and new rear lights enhance the 9-3 Convertible's visual appeal and actually give it a stronger resemblance to models from the past such as the 900. It doesn't possess the concentrated sportiness of a BMW or the luxury leanings of a Mercedes but adopts a visual language somewhere between the two that manages to be classy and purposeful at the same time. Buyers who want a full-strength sportscar or a posing wagon are likely to look elsewhere as the Saab's appeal remains more thoughtful and mature.
When many manufacturers are now adopting folding hardtop systems for convertible models, Saab sticks with a soft-top, available in three different colours. Having a soft-top may soon be something of a novelty in the premium convertible sector.
While the soft top helps to reduce weight and reinforces the classical look, it does make the 9-3 less secure than its rivals. In any other make it would also make it less weatherproof, but given Saab's reputation as a builder of four-season convertibles, this would be unfair.
Our verdict on the Saab 9-3 Convertible Vector Sport 2.0t BioPower
Though not an entirely new car, the latest 9-3 Convertible is another step forward for Saab. Buyers who place environmental considerations high on their list of priorities will consider the BioPower engined model, but the more conventional petrol and diesel powerplants remain the safest bets for UK buyers and are themselves relatively green.
Costs
Value for money can be rated as no better than reasonable, since the asking price of the 9-3 is not cheap by any means. BioPower cars cost even more, and buyers will not recoup the cost in fuel bills as fuel economy remains comparable with conventionally-powered models. However, residual values will remain strong, helped by the relatively small numbers of 9-3 Convertibles that appear on the roads.
Space and practicality
Front seat passengers can have no complaints at all. The seats slide back and forward huge distances. Bootspace isn't outstanding, but nor is it particularly disappointing, though you do have to make sure that taller items are laid flat if you want to operate the roof. Rear seats are better than in most direct rivals.
Controls and display
Saab's interior layouts have always been distinctive and potential buyers will either love or hate the way they do things. The cabin retains a definite cockpit feel when some rivals are moving towards more open plan approach. As a result, the driver is partially enclosed and is presented with neat rows of switches, but the transition to the passenger side of the cabin can seem abrupt and rather empty.
Comfort
The soft top means that the 9-3 Convertible is noisier than its hard-topped competitors in the rain and there is also more wind noise at speeds. Speaking of which, the optional wind deflector is a must is you intend to exceed suburban speeds with the top down without receiving a buffeting. Seats are among the best in class, nicely compromising between support and ease of access and exit.
Car security
Soft-tops are inferior to hard-tops on safety, for obvious reasons, making ownership impractical or at least considerably more expensive, for anyone without their own garage. An alarm is included but it's better to prevent a break-in in the first place than to inform you when one has taken place.
Car safety
Volvo may take most of the safety plaudits, but Saab takes safety every bit as seriously and can legitimately claim to be on a par with its compatriot in the field. Like Volvo, it makes extensive use of 'real life' crash data as well as laboratory experiments. The results are important and result in the 9-3's impressive credentials with rollover protection, seatbelt pre-tensioners, active head restraints and two-stage airbags all standard items.
Driver appeal
Though not a hardcore sporting tool, there is plenty of fun to be had on a sunny day. The 9-3 possesses a sort of rangy, effortless grace that makes driving a pleasure at real-world speeds. Steering doesn't seem to be quite as sharp as it was previously - perhaps to fall in line with American tastes - which robs the 9-3 of some fun, but the ride remains supple and the extra power of the BioPower version does make a noticeable difference.
Family car appeal
Children and adults will both find room in the back to be transported considerable distances in some comfort, but luxury convertibles like the 9-3 aren't really suitable as everyday family cars. The boot is simply too small and space too limited for the regular transport of kids and clutter.
First car appeal
Saab buyers tend to be more mature and better educated than the average motorist, so despite the 9-3 Convertible's charms, few first time drivers are likely to crave one. That's just as well, as the more muscular versions transmit a considerable amount of power through the front wheels that a novice might find difficult to control.
Quality and image
Until recently, Saab was one of those virtually indefinable companies that seemed to combine high quality with reasonable costs and an everyman ethic. That's changed somewhat so that today it is definitely a premium product with process to match, though some will still judge the Swedish companies to be less desirable than their German rivals.
Accessibility
Wide opening doors and sliding front seats make access to the rear seats fairly easy, a fact that is helped by the relatively low waistline. Front seat passengers fare even better, with lots of loom to place their legs in wide footwells. For a convertible, it is roomy, with the central area containing the handbrake and ignition the only real cramp point.
Stereo and ICE (In car entertainment)
A substantial Bose surround sound system, tailored to the car's internal architecture, is available as a costly upgrade, but most buyers will find the standard system perfectly adequate.
Colours and trim
Leather-laden Aero trim is certainly the interior to have if you can afford it, awakening memories of the outstanding 9000 of a decade ago. To its credit, Saab seems to spend just as much time sorting out the less expensive models so that they showcase some interesting fabrics and materials.
Parking
The 9-3's rear deck is modestly proportioned, especially when compared to some current folding hardtops, so reversing isn't too problematic. Shorter drivers, or those adopting Saab's preferred low-slung driving position may have some problems with the roof up, though.
Spare wheel
Space saver spare wheel fitted as standard.
Range information
Conventional engines: 2.8-litre V6 Turbo (255bhp) petrol; 2.0-litre Turbo (150bhp) petrol badged as 1.8t; 2.0-litre Turbo (175bhp) badged as 2.0t; 2.0-litre Turbo (210bhp) badged as 2.0T; 1.9-litre TTiD twin turbodiesel (180bhp); 1.9-litre single turbodiesel (150bhp). BioFuel engines: 1.8t BioPower (175bhp) and 2.0t BioPower (200bhp). Trim levels are Linear SE, Vector Sport and Aero.
Alternative cars
Volvo C70 Hard-topped archrival feels exceptionally solid
Audi A4 Cabriolet Like Saab, still retains a soft-top and elegance
BMW 3 Series Convertible Heavy but compensated for by powerful engine choice
Ford Focus Coupe Cabriolet Cheap alternative represents decent value for money