November 2009
Saab 9-3 9-3X
Familiar face of 9-3 is toughened up
November 2009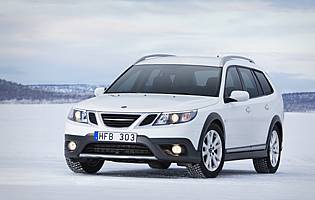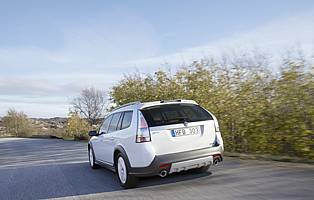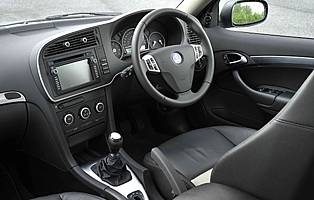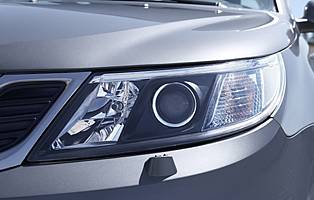 Overall rating

Likes:
Stylish exterior is practical too
Fine engine performance whether diesel or petrol
High specification as standard
Unobtrusive four-wheel drive system
Gripes:
Engine is thirsty if performance utilised
No four-wheel drive with diesel engine
Cabin space is less generous than some rivals
Value for money is questionable
Adding to the saloon and Sportwagon 9-3 models comes the 9-3X, a crossover model intended to bridge the gap between a conventional estate car and an off-road vehicle. Building on the success of the facelifted 9-3 it adds a dose of chunky style to create a distinctive car that is recognisably Saab. It also gives the firm an entrant in a very competitive market.
Building on the basis of the 9-3 Sportwagon, the 9-3X takes the design upwards and off the beaten track with to a number of significant changes inside and out. The most obvious change is the increase in ride height by 35mm on four-wheel drive models, giving the 9-3X the ability to venture off-road. To add protection to the outside there are tough new bumpers with a grey finish plus skid panels around the doors.
The traditional Saab grille, neat headlamp units, and wraparound windscreen immediately identify the 9-3X as a Saab. The wedge-like profile with its rising waist looks very muscular while the disguised B and C-pillars help to maintain a good deal of elegance despite the bigger boot. The increase in ride height has done nothing to harm the car's looks either and, although tougher in appearance, the 9-3X is still an attractive design.
As well as the styling elements there are further mechanical changes to deliver off-road ability. The top spec models benefit from the XWD system, which delivers power to the rear wheels when required but Saab claims a unique ability which diverts power pre-emptively rather than when traction has already been lost at the front wheels.
Under the bonnet, the 9-3X includes the impressive twin-turbocharged TTiD unit to give frugal fuel economy and smooth acceleration, although the diesel is only available in two-wheel drive guise. Range-topping models benefit from the impressive 2.0-litre turbocharged petrol engine that is delivered through all four wheels and offers rapid performance.
Our verdict on the Saab 9-3 9-3X
A crossover that is genuinely capable of performing a variety of roles is a car with a broad appeal, and the 9-3X certainly qualifies. It has very few compromises over the regular 9-3 yet the added versatility and off-road ability make it capable of much more.
Costs
Slightly cheaper than other premium compact estates, the 9-3X's asking price still isn't low enough to make it an immediate choice. Service intervals are not particularly lengthy and nor is servicing likely to be cheap. However, Saabs have reputation for being generally reliable and are renowned for their ability to clock up high mileages with no ill effects. A 10-year anti-perforation warranty inspires confidence, too.
Space and practicality
The boot is usefully big but not as big as some rivals, though it does offer a neat folding floor which allows a partitioned boot space for security. Space for passengers is good up front but only adequate in the rear, although the load space compensates for this.
Controls and display
The 9-3X uses the familiar Saab interior approach, with a great emphasis on ergonomics. This results in a clear and easy to use cabin. It may look complicated or even cluttered but actually works very well. The instruments also have a useful 'night panel' feature, which turns off all but the most essential instruments at night simply by pressing a button. It is beginning to feel a little dated, but the sound basic design means it is still competitive.
Comfort
Saab's front seats are arguably the best in any car and the 9-3X are no exception. Supportive without being intrusive, they are well suited to long journeys. The driving position is also excellent making the 9-3X a great car to travel in, although rear seat passengers are less well catered for.
Car security
Efficient 'shielding' of the locks inside the doors prevents tampering with specialist tools and deadbolts for all four doors make it virtually impossible for a would-be thief to forcibly break in. Even if a thief were to gain entry, there would be little point in removing any of the car's entertainment systems which as they are electronically 'married' to their original host car.
Car safety
Saab Active Head Restraints (SAHR) are fitted as standard to the front seats only. Roof-mounted airbags are installed on each side and side airbags are included to offer thorax protection.
Driver appeal
The Saab's performance is key to its driver appeal and in 2.0-litre turbocharged form it has plenty to offer. The performance is almost of a sports saloon standard, despite the off-road ability, and although there is a little turbo lag it is a refined and flexible engine. Better still, the revised suspension offers better ride comfort with bumps absorbed more competently than before, yet it still offers sharp handling for keen drivers. Venture off-road and the 9-3X delivers, within obvious limits, but for most people it will be more than capable.
Family car appeal
The extra space of the boot turns the 9-3X into a very competent family wagon. Some impressive safety credentials only add to its appeal in this regard and it cuts an impressive dash thanks to the stylish exterior. Buyers looking for a family car will find the 9-3X to be more than capable and a genuine rival to bigger SUVs.
First car appeal
The 9-3X is unlikely to appear on the radar of new drivers, thanks to the price, running costs and insurance, but it holds no fears for drivers lacking in experience.
Quality and image
The quality of the Saab is generally very good and the cabin gives across a strong quality feel. Closer examination does reveal some areas that feel a little cheap, but this is the exception. The Saab image is very strong, particularly in the UK, and the addition of the 9-3X model is bound to bring in buyers who would otherwise look elsewhere.
Accessibility
Entry to the front seats is fine, though access to the rear is not as easy as the door aperture is relatively narrow. Access to the boot is straightforward, especially with the raised ride height bringing the boot floor up to a more manageable level.
Stereo and ICE (In car entertainment)
A CD radio combination comes as standard with the option to upgrade to a powerful 300 watts. Sound quality is very good and includes DVD/GPS sat-nav with a large 5.8-inch colour monitor, voice recognition and MP3 player input socket.
Colours and trim
The 9-3X comes with a unique dark metallic finish as well as fabric inserts in the leather seats, which helps to differentiate it from regular 9-3 models as well as offering a little more luxury. The rest of the cabin is finished in plastics of decent quality, while the exterior looks at its best finished in strong metallic shades.
Parking
Although visibility is good front and rear and the 9-3X comes with rear parking sensors, the turning circle is only average and can slow things down when parking.
Spare wheel
Space saver spare included as standard.
Range information
Petrol engine options - 1.8-litre (122bhp); 1.8-litre (150bhp); 2.0-litre (175bhp); 2.0-litre (210bhp); 2.8-litre (255bhp); 2.8-litre (280bhp); 1.8-litre BioPower (175bhp); 2.0-litre BioPower (200bhp). Diesel engine options - 1.9-litre (120bhp); 1.9-litre (150bhp); 1.9-litre (180bhp) Transmission options: five-speed manual gearbox, six-speed manual gearbox, Saab Sentronic five-speed semi-automatic gearbox, Saab Sentronic six-speed semi-automatic gearbox, 5+2-speed automatic gearbox. Trim levels: Airflow, Linear SE, Vector Sport, Aero, 9-3X.
Alternative cars
BMW 3-Series No four-wheel drive option but robust and practical
Audi A4 Quattro You'll need the 3.2-litre petrol to match the Saab's pace
Volvo V50 Another functional, stylish and safe Swede
Alfa Romeo 159 Beautifully styled and with a powerful petrol engine option