October 2005
Saab 9-3 2.0t Aero
The 9-3 is Saab's offering in the sports saloon market
October 2005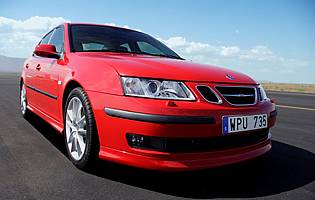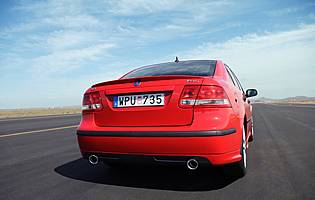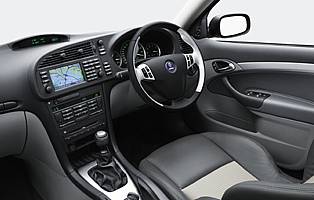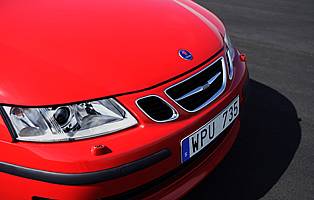 Overall rating

Likes:
Distinctive and attractive styling
Turbocharged engine is smooth and powerful
Supportive seats are a welcome addition on long journeys
Dashboard is clearly labelled and easy to use
Gripes:
Fuel economy dips sharply when performance is exploited
Handbrake lever is awkward to use
Rear passengers may feel a little cramped
Some torque steer is evident when driven hard
Always a contender in terms of premium car sales, Saab continues to offer distinctive and high quality cars for the discerning buyer. The 9-3 model is chasing small executive saloon models, while the range-topping Aero version uses a turbocharged engine to deliver thrills as well as refined long-distance travel.
Image is a key factor in the premium market, and the 9-3 displays traditional Saab strengths to its advantage. The styling has key Saab elements within it, such as the slim grille and headlamp arrangement and the high boot, which combine to give it an unmistakable appearance. A high waistline and strong rear pillars give it a substantial look also, drawing attention to its safety credentials.
Under the bonnet is a four-cylinder 2.0-litre turbocharged petrol engine, which is smooth and responsive. Delivering 210bhp, it idles in near silence. Keen drivers will enjoy the wide torque band and the lack of turbo lag, making the 9-3 Aero an enjoyable long distance or cross-country car. To match the power on tap, the Aero model has a performance braking system and sports suspension, which improve response and reduce body roll without harming ride quality.
Step inside the 9-3 and the dashboard layout instantly attracts attention. Although initially appearing as a mass of buttons, the layout is logical and easy to use, despite the large number of systems and displays. Clever details such as the information display and floor-mounted ignition lock show clever thinking.
With the comfort of passengers in mind the 9-3 Aero has sports front seats, which provide excellent comfort and support. Rear seat passengers also benefit from good design, with adjustable head restraints in the rear being a useful safety feature. Elsewhere on the 9-3, curtain airbags protect front and rear passengers, coupled with side and front airbags for front seat passengers.
Our verdict on the Saab 9-3 2.0t Aero
Understated but very capable, the Saab 9-3 Aero is a sound buy in a competitive marketplace, though some buyers may find it too discreet for their tastes. It can perform family duties without difficulty and has an enviable safety record, with only the question of running costs being an issue.
Costs
The running costs for the Saab are in line with much of the competition in the small executive sector. Fuel costs are relatively high due to the high output turbocharged engine, although the insurance grouping is reasonable considering the performance of the car.
Space and practicality
The Saab has a generous 450 litres of luggage capacity, as well as decent interior room for front seat passengers. Rear seat passengers fair less well. Although the rear bench is far from cramped, many buyers would probably swap a few litres of luggage space for a few centimetres extra legroom. Practicality however is a strong point, as the 9-3 has many clever features such as a flexible storage system, which can hold CDs or drinks cans, and windscreen wipers that can be parked vertically to avoid frosting.
Controls and display
The Saab excels in this area, with close attention to ergonomics benefiting the driver. The driving position is very good, and all of the controls fall easily to hand. Clearly printed text is used on many of the buttons rather than symbols, which makes it easy to find the required button. An information display is mounted at the bottom of the windscreen, which falls naturally into the driver's line of sight, while a 'night panel' button dims all the displays apart from the speedometer to reduce fatigue at night.
Comfort
The ride quality is occasionally compromised by the sports suspension settings, but otherwise the Saab provides a good level of comfort for passengers. The seats, particularly those in the front, provide excellent support and comfort, and make short work of long journeys. Features like climate control and air vents to the rear also improve comfort levels for all passengers.
Car security
The stereo system fitted to all 9-3 Saabs is designed to be compatible only with other Saabs, requiring electronic reprogramming by a dealer if removed. In addition, the ignition lock is mounted in the floor rather than the steering column, making it much more difficult for thieves to tamper with the system. An immobiliser and alarm are also fitted as standard, making the 9-3 a well-protected car.
Car safety
The 9-3 has a good reputation for safety, and this is borne out by the amount of safety equipment fitted as standard. A strong safety cage, multiple airbags and active head restraints are all fitted as standard, while the Aero model benefits from a performance brake package.
Driver appeal
The Aero model in particular offers strong driver appeal, chiefly because of the performance offered by the 2.0-litre turbocharged engine. It delivers its power smoothly and in a linear fashion unlike many turbocharged cars, which makes it easy to use. The gearshift is precise, the clutch pedal is pleasingly firm and the brakes are powerful, although there is an initial dead spot in the pedal action. The ride is biased slightly towards handling rather than comfort, but it still strikes a fine balance between the two. The only criticism is that the front wheels sometimes struggle to apply all 210bhp to the road, but this is a rare problem and for the most part the Saab is a fine sporting saloon.
Family car appeal
While less practical than a hatchback of similar size, the 9-3 saloon would serve as a good family car. Decent interior and luggage space plus a high specification would prove invaluable, as would the four-door configuration. Fuel consumption may dent its abilities, although its ease at covering long distances would be of great benefit.
First car appeal
Such is the Saab's ease of use that it would be far from intimidating for a newly qualified driver. Although insurance costs would be high, it would be an acceptable first car, although few young drivers would be able to afford the initial purchase price.
Quality and image
Just a few moments inside the Saab 9-3 is enough to convey a strong feeling of quality. Although there are a few minor items of interior trim that feel constructed from cheaper plastics, the overall impression is one of intelligent and attractive design. The 9-3, like the majority of the Saab range, conveys an image of being distinctive and desirable, and as a genuine alternative to more popular small executive saloons.
Accessibility
Front and rear passengers have well-sized door openings, with solid door handles that are easy to use. The boot also opens to reveal a large load area with a low loading lip, which is easy to access as the boot lid folds back beyond 90 degrees.
Stereo and ICE (In car entertainment)
The optional 13-speaker 300W sound system provides excellent sounds quality with a high volume output, either from the radio or the single slot six CD changer. Controls mounted on the steering wheel and voice activation make it easy to operate even when on the move.
Colours and trim
Standard fitment on the Aero model is part leather seats, with the option of full leather. Shades of grey and black make up the majority of the interior, with aluminium effect detailing on the door trims for a quality feel. Although quite dark, the combination of colours and trim materials is pleasing to look at and to touch.
Parking
Good visibility all round and an automatically dipping door mirror makes parking the Saab a straightforward process, with the added benefit of front and rear parking sensors. With the colour screen fitted it provides a visual as well as audible guide to the distance from any objects.
Spare wheel
Space saver spare wheel fitted beneath the boot floor.
Range information
Engine range comprises four petrol and two diesel engines: 1.8 petrol (122bhp) and 2.0-litre turbocharged petrol with three outputs (150bhp, 175bhp and 210bhp). Diesel engines are 1.9-litre (120bhp and 150bhp). Trim levels are 1.8i, Linear, Linear Sport, Vector, Vector Sport and range-topping Aero with high output 2.0-litre turbo only.
Alternative cars
Volvo S40 T4 variant boasts strong mix of looks and performance
BMW 3 Series Superior driving experience but expensive
Audi A4 Sharp styling and high quality interior, average ride and handling mix
Jaguar X-Type Sharp four-wheel drive chassis, but too expensive and dated styling