April 2012
Renault Twizy Urban
The Twizy is so striking that despite its small size it will always be seen
April 2012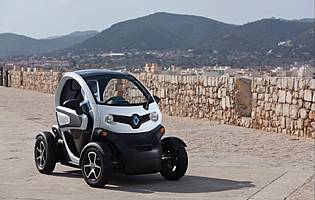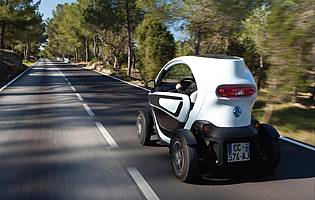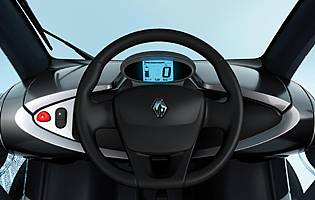 Overall rating

Likes:
Incredibly simple operation, from driving to charging
Great fun to drive, especially on sunny days
Respectable range should easily provide a day's urban travel
Modest purchase price and extremely low running costs
Gripes:
Luggage capacity suffers if carrying a passenger
Poor weather protection means outdoor clothing will be necessary
If used hard, potential range drops quickly
Approximately 50mph top speed rules out fast rural journeys
The Twizy is Renault's third fully electric car to enter the UK market after the Fluence Z.E. and Kangoo Z.E.. It's as unusual as a car can be, but it's not technically a car at all. Legally it's a quadricycle, and so conforms to a different set of rules and regulations than cars, aiming to provide something entirely different.
Targeted as an urban runabout for chic young drivers, the Twizy uses light weight to its advantage to offer a claimed range of up to 60 miles per charge, although the true figure is likely to be lower than that. The figure is meant to offer all the range and sense of mobility that most young people are likely to need in a single day.
The Twizzy has several things in common with two-wheeled scooters, carrying two people in tandem like a scooter and offering luggage capacity akin to that of a scooter with a top box. A fixed roof, designed around a frame that imitates a motorcycle crash helmet, keeps most of the elements off the driver but extremely cool scissor-type doors are an optional extra, and even then they don't have windows.
Being shorter than a Smart and little wider than the widest motorbikes, the quirky wheel-at-each-corner design allows for impressive manoeuvrability, and while in the UK it's illegal to park it in a motorcycle parking bay, it can fit into spaces that few, or perhaps no other four-wheeled vehicles can. It even allows for a reasonably high seating position giving a good view of the road ahead, along with superb front and side visibility.
It offers a surprisingly nippy and really great fun transport option, especially in warm weather. In winter the lack of doors means special warm clothes will be necessary, but the frontal weather protection, relatively fast recharging times and superior crash safety compare well with two-wheeled scooters. The limited range may also appeal to parents worried about their kids taking long road trips right after passing their tests.
Our verdict on the Renault Twizy Urban
It's fair to say that the Twizy is only a perfect fit for a relatively small number of people as their primary mode of transport, but as a second or even third car it makes a great deal of sense to a much broader spectrum of people. It's small and user-friendly in town, inexpensive both to buy and recharge, and it's very easy to enjoy.
Costs
This is undoubtedly one of the Twizy's main strengths. An affordable purchase price is backed up by cheap recharging costs, free road tax and congestion charge exemption, negligible benefit-in-kind costs for business users and much better residual values by percentage than any other electric car. Battery rental is extra, and needs to be considered on top of the purchase price, but if and when the batteries fail they are replaced free of charge.
Space and practicality
Some thought has been given to maximising the Twizy's luggage capacity, primarily with a pull-out tray at the rear that slides underneath the passenger seat. It's large enough for essentials like a handbag, an item or two of clothing or something similar. There is also a dedicated Renault bag available as an option that sits securely on the passenger seat and has quite a lot of space. Two dashboard glove boxes are standard, including one that's lockable.
Controls and display
The single LCD display takes care of speed and trip computer readouts, and while it's extremely basic it's purely functional and easy to read. The controls are traditional in the sense that the ancillary stalks function as they do in Renault cars, and the simple drive, reverse and neutral gear selector makes setting off and stopping easy. The handbrake is a little more awkward, being a lever beneath and ahead of the steering wheel, but it isn't too unwieldy.
Comfort
With no proper doors, cabin refinement and long-distance comfort lag behind every other conceivable rival. Relatively firm suspension doesn't help matters, creating a fidgety ride at speed on any less-than-smooth road surfaces. Raw seat comfort is actually very good in the driver's seat, but rear passengers may only want to be there for the relatively short journeys that are typical for the Twizy considering its limited range. It's only as comfortable as it needs to be.
Car security
Security concerns should only apply to items left loose inside. After all, motorbikes are rather more open and exposed than the Twizy and very few, relatively speaking, are the victims of unwanted attention if locked up securely. On that front, a good steering lock is an essential if it will be parked in a city environment a lot. One locking glove box provides a small amount of secure storage space.
Car safety
Safety has been given serious attention, it being one area in which Renault hopes to take sales from two-wheeled scooters. The chassis and crash cell were designed by Renaultsport to mimic the strengths of a motorcycle helmet, and importantly there is an airbag for the driver. Also, given the open sides there is an additional part to the front seat belt that restrains the driver's other shoulder. It feels pleasantly safe to drive, although there are no electronic safety systems.
Driver appeal
The charm of the underdog is something the diminutive Twizy has in spades, and its incredibly simple layout and operation reduces the amount of potential distractions, inadvertently focusing the driver more on the road and the enjoyment of the vehicle. The open sides mean a greater degree of involvement with the surroundings as well, offering the same sort of simple pleasure as a convertible car - on sunny days at least.
Family car appeal
Although on the face of it there is very little about the Twizy that suggests a family car, it's not meant to be. Where it could excel is as a second or third family vehicle that's used for quick shopping trips into town or for the kids to drive at weekends. It takes up much less space on a drive or in a garage than a conventional car, and makes a surprising amount of sense in this sort of capacity.
First car appeal
The Twizy is a potentially perfect first 'car'. Technically part way between a two-wheeled scooter and an electric quad bike, it's cheaper to own and run than just about any alternative four-wheeler, while offering superior crash safety to that of motorbikes. The limited range may appeal to parents, while the funky looks make it a real fashion statement in the right urban settings.
Quality and image
The Twizy is an integral part of Renault's move to change its image, and has had the biggest impact of any of the company's zero-emission cars. It's a bold move and a bold statement that effectively makes much of the usual talk of plastics quality and brand image redundant. The Twizy is unique in looks, and if potential buyers want it then it won't make any difference that the dashboard is hard and uninspiring.
Accessibility
With or without the optional scissor doors, the large, open sides and relatively high seating position make the Twizy extremely easy to get into and out of for the driver. It isn't so easy for the passenger, who has to place a leg either side of the driver's seat and faces a little more of a struggle to exit. Skirts are out of the question, but the open sides extend far enough back to allow relatively easy entrance and exit for passengers once out of a sitting position.
Stereo and ICE (In car entertainment)
The only form of in-car entertainment is a small LCD screen that gives a range of trip computer readouts, plus an eco-driving score to rate how smoothly and gently the driver is driving. There is no stereo in the Twizy, mainly because it's open to the elements and the wind noise would overwhelm or at least spoil music.
Colours and trim
There are three trim levels available from the basic to the more colourful, but the Twizy creates just the same amount of visual impact whatever colours or trim accessories it has. Overall people will love it, hate it or choose to ignore it, but for the more extrovert buyers the Colour trim option provides the most scope for individualisation, with a choice of body wraps and three colourful upholstery options.
Parking
Being so short and narrow, the Twizy is remarkably easy to park. The only potential issue for drivers lacking in confidence is that because of the Twizy's windowless rear end, the driver can't look over their shoulder to reverse. Instead, the large mirrors must be used or drivers have to lean out of the side. Rear parking sensors are available as a cost option, but as the charging lead is at the front, driving forwards into charging bays is best.
Spare wheel
No spare wheel supplied.
Range information
Electric motor options - 17bhp electric motor only. Transmission options - Single-speed only. Trim levels: Urban, Colour, Technic.
Alternative cars
GoinGreen G-Wiz Lacklustre to drive and not a pretty design, but fully enclosed for weather protection
Peugeot iOn Small and city-friendly, but hugely expensive even after government grants
Smart ForTwo Short and tall, the ForTwo offers excellent city ability but is pricey
Toyota iQ Easy to park and carries three people, but this petrol-powered option is costly by comparison