October 2014
Renault Twingo Dynamique ENERGY TCe 90 S and S
Third-gen car displays evolution of the Twingo design theme
October 2014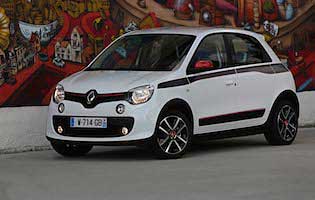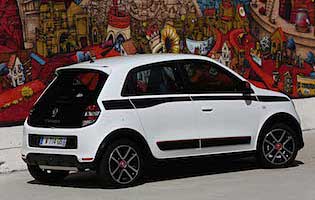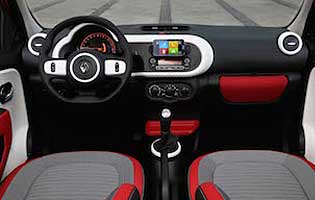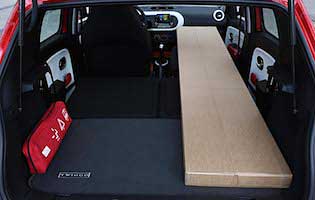 Overall rating

Likes:
Cleverly packaged cabin offers plenty of space
Unusual rear-engine layout doesn't impact on boot space
Jolly looks similar to Fiat's 500
An agile car best suited to busy city streets
Gripes:
Low power engine lacks sufficient sparkle
Boot space can get warm thanks to engine location
No storage space under bonnet, where engine would normally be
Despite city car status Twingo isn't a budget proposition
UK buyers missed out on Renault's first generation Twingo but soon caught up with the less radical second-gen model. This third-gen offering is more revolution than evolution, thanks to some radical thinking from Renault's engineers.
Shorter than the previous Twingo but longer in the wheelbase, this third-gen model promises to be a more accommodating and versatile experience. At 3.59 metres long, this Twingo is hardly bloated, and it's the car's diminutive dimensions that should endear it most to trendy urbanites.
There's more to the Twingo than its Fiat 500-like profile though. Renault's effort turns the city car concept on its head. Or, at least it does if you look under the skin of this tall but short runabout. The car rear-wheel drive and rear-engined layout hasn't been designed to please keen drivers but to liberate more cabin space - hence the five-door only bodystyle.
The thinking is that, by stuffing the engine under the boot, you create a larger cabin as there's little wasted space under the now shortened bonnet. There's no bonus storage space under the bonnet as Renault's been crafty; you can slide it down slightly to reveal the various fluid reservoirs, but that's it thus saving weight by ditching a costly and weighty opening mechanism.
Aside from the engineering ingenuity, the Twingo performs well in the real world. Renault has adapted existing petrol engines to fit under the boot floor, with a punchy 90 horsepower unit proving more rewarding than the modest 70 horsepower lump. Still, economy and overall running costs should be low despite the Twingo being pitched as a Fiat 500 rival not a bargain basic city runabout.
Our verdict on the Renault Twingo Dynamique ENERGY TCe 90 S and S
For all the Twingo's radical engineering, deep down it remains a jolly, easy to drive and surprisingly practical small car for city journeys. Although not a car to set your heart on fire from a driving perspective, the rear-engine layout works well and does much to liberate extra cabin space in what is a modest-size urban runabout. There are shades of Mini with Renault's personalisation options, and there's no denying that the car's looks raise a smile.
Costs
Opt for a car with engine stop-start and you'll duck under the magic 100g/km CO2 mark, which is obviously advantageous from a tax perspective. Even if you don't modest running costs are the norm thanks to equally modest fuel consumption irrespective of engine choice. It'll be easy to initially spend more than you think due to the wide range of extras and personalisation options, though.
Space and practicality
With a through-load facility to rival that of many larger family cars, the Twingo is more practical than it first appears. Granted, the car's boot is a little shallow, but it's big enough for urban motoring duties, while the rear bench folds easily to liberate more space when required. With the engine underneath, the laod space can get warm, though. Oddment space up front is also good, although don't expect to store anything under the fixed bonnet; there's only enough space for the essential fluids.
Controls and display
Only the super-observant will notice the lack of a rev counter, however everything else in the Twingo's cabin is as it should be. The various controls and displays are of a decent quality, although opting for the low cost sat-nav option does mean you're reliant on your mobile phone for navigation duties. The premium built-in option is better but even this can demonstrate some lag at times. Thankfully the car's steering and gearshift are slick and don't require a lot of effort to operate.
Comfort
With its long wheelbase the Twingo does a good job of ironing out road imperfections. Engine noise aside when you're pressing on, the cabin is a mostly calm and refined living space. And despite the car's compact size, two adults can sit in comfort. It's not bad in the back, either.
Car security
The small but sturdy rear load cover should ensure your valuables stay out of sight, while UK market cars get the conventional glovebox - something that's an option elsewhere. Remote locking and a robust anti-theft system complete the package of measures.
Car safety
Renault's focus on safety goes back many years and the firm doesn't cut corners even for its smallest cars. Airbags and electronic stability devices are all present, and despite the Twingo's modest dimensions it's a stable car on the road under normal conditions.
Driver appeal
Don't get too excited by the prospect of a rear-engined, rear-wheel drive city car. Renault says the layout is purely for packaging reasons, which is why the car still behaves like a front-drive car but the cabin is unusually spacious. Light steering and slick gearshift reinforce the car's urban motoring role. The 90bhp turbo motor is the one to have as the 70bhp unit lacks sufficient grunt at speed, although both sound pleasingly fruity - think Porsche 911 in miniature.
Family car appeal
Despite its four-door layout the Twingo isn't really family car material. The boot is a modest size, which could cause problems with buggies. That said, as a second car the Twingo is a reasonable compromise if you're willing to sacrifice the versatility of a larger car for ease of use and parking in town.
First car appeal
The Twingo positively cries out to be owned by a novice driver. The combination of low running costs, good visibility, light controls, impressive agility and just enough power should easily tempt those seeking something practical, stylish and a little bit different.
Quality and image
The Twingo sub-brand has generated a considerable amount of goodwill over the years, and it's likely to continue with this model. This third-gen car is a long way from the basic, low-tech cars of old, but it's good to see quality is up to family hatch levels. On looks alone this Twingo should prove appealing to a wide audience.
Accessibility
Unlike previously, this Twingo is five-door only. At last rear seat passengers can take a more dignified route to the rear seats, while those in front shouldn't have any complaints. The boot is easy to access, as is the ability to fold the rear bench.
Stereo and ICE (In car entertainment)
The basic audio provision is a good one and, as we've come to expect from Renault, is intuitive and fully featured. Buyers seeking a higher tech approach can choose from two optional infotainment systems. The low cost route involves your mobile phone a free 'app' offering sat-nav, a digital rev counter and trip computer. The experience could be better as the app can't match a built-in system, and is limited by you phone's processor speed and screen size. The built in system is better but more expensive.
Colours and trim
As has become the trend, Renault allows a modest amount of personalisation, such as stripes, different colour mirror casings and a good choice of paint and wheel combinations. This is extended to the cabin, as various trim items can be chosen in contrasting colours.
Parking
Boasting a turning circle to rival a London Black Cab, the Twingo is a cinch to drive around town. Where fitted, the reversing camera is a little redundant given the car's modest size, as visibility is good and the light steering a doddle to operate.
Spare wheel
Emergency tyre repair kit supplied as standard.
Range information
Petrol engine options - 1.0-litre (70bhp); 0.9-litre (90bhp). Transmission options: five-speed manual gearbox. Trim levels: Expression, Play, Dynamique, Dynamique Energy.
Alternative cars
Volkswagen up! Solid, dependable and conventional choice
Toyota Aygo Funky looks and fun to drive and own.
Mini One Larger, more style-led and not cheap once options are added up
Vauxhall Adam Polarising looks and snug cabin but, like many, can be personalised