July 2009
Renault Scenic Dynamique 1.5 dCi 106
Megane styling cues obvious in Scenic's appearance
July 2009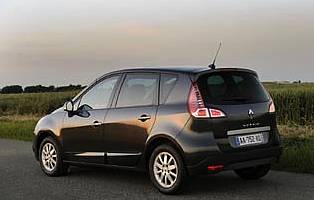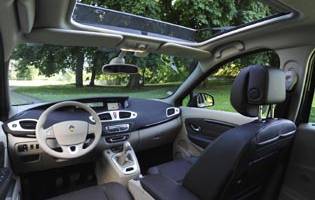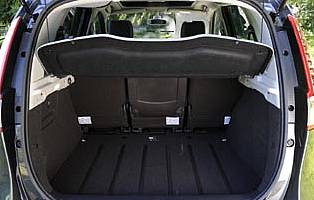 Overall rating

Likes:
Stylish appearance
Ergonomic cabin
Lofty driving position
Practical and versatile passenger space
Gripes:
Some plastics don't match the otherwise quality cabin feel
Digital instruments won't please everyone
Not a car for keen drivers
Low power petrol variants might struggle with a full load
When you're making a shopping list of compact people carriers, it's not complete if it doesn't include Renault's Scenic. This generation of the French car maker's family holdall offers fresh exterior styling, a more polished driving experience and all the practical attributes of its predecessors.
With millions of sales in the bank, you can excuse Renault for sticking with the basic concept with its third generation Scenic. The cornerstone of Renault's compact people carrier - space - remains intact, although the car's appearance has changed to reflect the connection with Megane line-up.
What was originally a ground-breaking vehicle has no been replicated by many of Renault's rivals. That said, the French firm has managed to stand its ground by offering a greater level of stylistic flair, which is not easy when you're selling tin boxes for families more interested in space and saving money than looking good.
Mirroring many of the Megane's styling cues, the Scenic is less of a box on wheels than most of its otherwise closely matched rivals. The differences in approach are also evident on the inside, with the Scenic's cabin offering a light and airy ambience, plus enough space to accommodate a growing family with ease.
This, the five-seat variant, is essentially an over-size family hatch. Yet, thanks to the combination of design flair, clever packaging, excellent use of space and storage options plus a lofty, driver-friendly seating position, the Scenic is head and shoulders above conventional family hatches but minus any major compromises size-wise.
Our verdict on the Renault Scenic Dynamique 1.5 dCi 106
The market might be more crowed now than when the original Scenic first appeared but Renault's family holdall has matured into a polished, refined and competent alternative to the default choice of a family hatchback. Factor in a range of economical and low CO2 emitting engines, and enviable safety kit provision and stylish exterior and it's easy to see the car's appeal.
Costs
A gradual increase in the amount of standard kit across the range, safety equipment improvements, more competitive pricing and the introduction of more efficient engines have all led to a general lowering of running costs - a point no doubt welcomed by families.
Space and practicality
It might lack the extra space of the Grand version but this regular five-seat Scenic still offers plenty of space for a growing family. Plus, with the rear two seats folded there's an impressively sized boot and there are plenty of storage bins and secret compartments in the cabin for storing smaller items.
Controls and display
In a departure from convention, the Scenic's main instrument panel consists of an integrated digital speed display. This multifunctional display offers the driver a clearer way of keeping track of the car's status when on the move. If selected, the TomTom navigation system provides a familiar user interface and accurate navigation instructions. Elsewhere, Renault's famed remote audio controls are a welcome addition.
Comfort
A strong focus on interior quality and space means that that the Scenic's cabin is a great place to spend time in. There's little chance of rubbing elbows with fellow occupants, and noise levels have been reduced to premium car levels - allowing conversations to be held at motorway speeds without needing to raise your voice.
Car security
Aside from the expected inclusion of remote central locking and immobiliser package, depending on the variant chosen you can experience a full 'key-less go' system for added convenience and security. With the car's plastic card remaining in your pocket or bag, it's simply a matter of walking up to the car, pulling the door handle and then pressing the starter button. All of which saves fumbling for a key in dimly lit areas.
Car safety
Renault has taken the lead in safety activities in recent years, and the family-orientated Scenic comes with a full complement of airbags and electronic stability aids. Child seat anchor points are also present, while the car's headrests have been specially developed to minimise injury in the event of a crash.
Driver appeal
It's not Renault's intention to market the Scenic as a car for keen drivers, so it would be wrong to fault it for its conservative character. Ride quality is good, however, and the car's suspension works well on poorly surfaced urban roads - its likely natural habitat. Direct steering, good brakes and excellent forward visibility all add to the mix. As do the engines, with the small capacity diesels and larger petrol motors proving especially impressive.
Family car appeal
Made for the family unit, the Scenic offers adults and children a spacious, practical and comfortable cabin environment. The child-friendly interior, abundance of safety precautions, versatile layout and modest running costs make have been engineered to appeal to those deciding between a people carrier and conventional hatchback.
First car appeal
There's no doubt that the Scenic is an easy car to drive, and while it's bigger than your average supermini a novice driver would have no problems when behind the wheel. Visibility is good and the controls are light, although a Megane might be a better first choice if the option was available.
Quality and image
Great strides have been made in recent years, with the end result a more reliable, durable and attractive Renault line-up. This is obvious in the Scenic with the presence of high quality cabin materials and a general feeling of better than average build quality - all attributes that have been welcomed by critics and customers.
Accessibility
Wide opening doors make it easy to access and egress the Scenic's cabin, while at the rear the car's tailgate might be big but it doesn't require much effort to open and close. The load lip is also low, which should make light work when transporting large items.
Stereo and ICE (In car entertainment)
The big buzz with this Scenic is the inclusion of a TomTom branded sat-nav unit. The low cost option can be ordered separately or as part of a TomTom trim level. It works as you'd expect and integrates nicely with the rest of the Renault's functions. Elsewhere, the audio system works well, as do all Renault systems now, and the audio controls on the steering column are a welcome addition.
Colours and trim
As befits a car that's moved up a notch in the premium universe, the Scenic looks good in conservative metallic colours. Thankfully it also looks good in bold, family-friendly hues. Interior trim has progressed of late, and the Scenic's cabin is all the better for its more contemporary trim options.
Parking
With its lofty driving position fore and aft visibility is very good, making the Scenic an easy car to park. This is reinforced by the car's light and accurate steering, plus the availability of parking sensors.
Spare wheel
Tyre inflation kit fitted as standard with option of steel spare.
Range information
Petrol engine options - 1.4-litre (108bhp); 1.6-litre (128bhp); 2.0-litre (138bhp). Diesel engine options - 1.5-litre (104bhp); 1.9-litre (128bhp); 2.0-litre (148bhp); 2.0-litre (158bhp). Transmission options: six-speed manual gearbox, six-speed automatic gearbox, CVT gearbox with six-speed manual override. Trim levels: Extreme, Expression, Dynamique, Privilege, TomTom.
Alternative cars
Toyota Verso Premium feel and practical cabin are standout features
Vauxhall Zafira Seven seat facility is impressive and car is dynamically sound
Volkswagen Touran Sombre interior hides a capable and durable family holdall
Citroen C4 Picasso Stylish and well equipped - good value, too