April 2004
Renault Megane Coupe Cabriolet
Stylish Megane CC is well equipped and full of useful safety measures
April 2004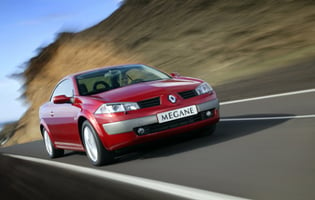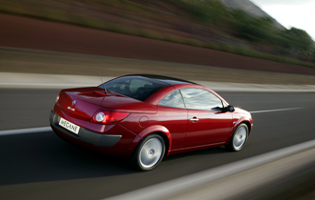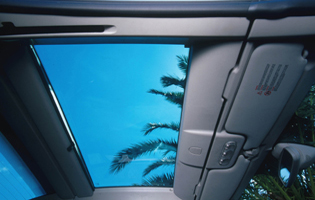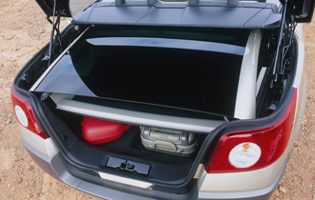 Overall rating

Likes:
Glass roof adds spacious feeling to cabin when in place
Equipment levels generous on all models
Superb security and safety compared to conventional cabrios
Rear seats more than a token effort
Gripes:
Interior lacks quality feel of other modern Renaults
Driving dynamics fail to match up to looks
Optional satellite navigation difficult to read and slow to react
Limited bootspace with top down
Notable for being the first car to offer a folding glass roof as standard, Renault's Megane Coupe Cabriolet (CC) is considerably more than a one-trick effort. Just as groundbreaking in its way is the option of a fine diesel engine, proving that glamorous drop tops and oil-burning engines are not mutually exclusive concepts.
Among the first of a new breed of car that changes to suit the prevailing road and weather conditions, the CC straddles the line between coupe and cabriolet. At the touch of a button, the transparent roof retracts and folds neatly into the long tail, allowing owners to experience the relaxed exhilaration of open-top motoring in summer while retaining good standards of security and weatherproofing in winter.
Despite being badged as a Megane, the CC has its own distinctive look - nothing from the bonnet back is shared with hatchback or estate Megane models. On the whole Renault has done a good job of creating a classy cabriolet, even if the rear deck looks overlong because of the necessity of stowing away the roof.
With the roof fixed in place - putting it back up again takes less than 30 seconds - the CC fares well, too. A huge glass panel allows a good deal of light into the cabin, though perhaps less than might be expected as a result of the filters included to prevent sunburnt scalps. Sitting beneath the panoramic roof for the first time is a novel and slightly unnerving experience, but quickly becomes natural. Despite the car's name, the shape is more saloon-like than coupe-like.
The extra weight and lack of structural rigidity caused by having the roof impairs the Megane's CC roadgoing credentials. Acceleration is sluggish and there is a certain amount of flexing through corners. It also struggles to cope with rough roads and progress through potholes is likely to be accompanied by a god deal of rattling.
Our verdict on the Renault Megane Coupe Cabriolet
Handling aside, the Megane CC has particular appeal in the UK's changeable climate, where its shape-shifting ability is perfect. Owning a cabriolet no longer needs to be an experience with extremes of pleasure and irritation. Some might view the CC as a compromise choice for people who can't decide what they want, but that is too harsh a verdict. It is a sensible way of getting a little extra fun from your motoring.
Costs
Relatively small numbers of Megane CCs will be sold, so residual values should be high and cabriolets always tend to hold their value well. Insurance costs are remarkably low, which also augurs well for repair costs. Service intervals are long and of course, there's always the diesel option to stretch out visits to the fuel pumps as much as possible. For a car with such 'added value' it is a remarkably affordable proposition.
Space and practicality
Bootspace is reasonable with the roof up but shrinks markedly when it folds away. Couples looking to take a weekend break need to remember not to fill the boot too high as a result, or they might end up with half of their load wedged into the rear seats when it starts to rain - hardly an ideal scenario. There is some intrusion from the roof's folding mechanism, too. Cabin storage space is much better with handy areas in the front armrest and doors (with lids).
Controls and display
Whether you like the designs or not, it must be admitted that Renault gives far more thought to the styling of its controls and displays these days. Everything is easy to read and clearly marked apart from the optional satellite navigation which is neither, and rapidly becomes an irritation as much as an aid. Soft-touch materials create a unified and hardwearing feel.
Comfort
Apart from the effect created by the panoramic roof, the front of the Megane CC is identical to the regular Megane hatchback. The driving position is lower by 24mm to give a slightly sporty feel, so shorter drivers may not be entirely happy with their forward view. Only the very tallest drivers will feel threatened by the top line of the windscreen. Progress can be quite loud and with the top down, everyone on board will get a buffeting unless an optional rear deflector is fitted. But this is an inelegant solution that effectively makes the rear seats useless.
Car security
Surprisingly low insurance ratings bear witness to a comprehensive and effective security package including a Thatcham category 1 alarm, deadlocking and Renault Anti Intruder Device. Renault stresses that the glass roof is almost as secure as a conventional tin-top, and it's certainly much more secure than a ragtop.
Car safety
Safety is a key consideration with any open-topped car. Renault has done its utmost to assuage buyers' apprehensions with an outstanding safety package that incorporates strengthened windscreen pillars and body sides, roll bars and six airbags including two anti-submarining airbags beneath the cushions of the front seats. As a result, it is actually safer than most conventional coupes.
Driver appeal
A car that is happier drifting along a motorway than it is winding down a country lane, the CC's handling and roadholding are inevitably compromised by its heavy frame and huge rear overhang. As a result, drivers will only tend to have the roof down when travelling at relatively low speeds. Steering feels remote but braking is good. There's always a trump card the CC can play, of course - on a hot summer's day you can drive with the top down, which is one of motoring's simplest and most enduring pleasures.
Family car appeal
The lack of boot capacity is the most serious impediment to the Megane CC's life as a family car, but not an insurmountable one. For large parts of the year, the roof will be firmly fixed in place, so reasonable room will be available. Kids would certainly love to be dropped off at the school gates in a drop-top, but small children will struggle to see much more than the sky and the back of the front seats. Probably it's not very suitable as a main family vehicle, but could see service as a fun but fairly practical second car.
First car appeal
Unlikely to feature on the wish lists of many first-time buyers, perhaps the Megane CC is a little too 'mature' for youngsters. It's certainly stylish and cleverly straddles the styling divide between 'male' and 'female' cars but is a little lacking in attitude and character.
Quality and image
The current generation Megane family (which extends from hatchbacks through performance variants and the CC to the Scenic MPVs) is much better built than previous cars to carry the name, though interiors still aren't quite up to the standards of BMW and Audi. And the better-driving, more elegant cabrio models from such makers continue to cast a long shadow over the CC and its Peugeot rival. Few people would realistically choose a CC over the classiness of an A4 or 3 Series convertible, even with its far superior practicality.
Accessibility
Despite the relatively unusual shape, entrance and egress is straightforward. The doors open very wide and seats are easy to slide back and forward to allow access to the rear rank. Accommodation in the back is a little cramped, but the Megane CC is a long way from being the worst offender in this regard. Two-way steering adjustment is a pleasant find on a car in this class, too.
Stereo and ICE (In car entertainment)
The entry level Extreme model is lumbered with a useless cassette player (though the radio with it is fine) with a paltry 4 speakers. All other models have a more realistic 6-speaker system with fingertip remote control and single-slot CD player, while those who like to get serious about the sounds can have a multichanger. Perhaps it's something to do with the dome-like roof, but the Megane CC's acoustics are remarkably good. The turn-by-turn satellite navigation is too slow to react, though.
Colours and trim
Renault has carved out an expensive reputation for itself by giving all its cars excellent specification levels. Standard across the CC range are such valuable items as fully electric windows, keyless entry, trip computer and warning system, outside temperature gauge and Thatcham category 1 alarm system. Generally speaking, the level of specification is superb. Various good-value option packs can be added to further upgrade appearance, performance or comfort. This is a long car with considerable road presence, so seems to be better suited to lighter metallic colours rather than darker colours which make it seem heavy - particularly with the top down.
Parking
Parking the CC is not as straightforward as in the Megane hatchback. The long rear deck and small rear window can make judging precise distances tricky when reversing, and parking sensors aren't even an option. For such a large car, it's not too unwieldy, but drivers do need to make plenty of use of their mirrors at all times. Be prepared for some tight squeezes.
Spare wheel
A puncture repair aerosol is provided in lieu of a spare wheel. It should be sufficient to get you to the nearest garage in the case of a minor-to-middling puncture, but anything more serious will see you effectively stranded. A tyre pressure monitor from the options list isn't cheap, but could be a useful additional piece of equipment.
Range information
Four engine choices: 1.6 petrol (115bhp); 2.0 petrol (136bhp); 2.0T petrol (165bhp) and 1.9 diesel (120bhp). Three trim levels are offered: Extreme, Dynamique and Privilege. Confusingly, Extreme is the entry-level model. While the top two designations both come loaded with kit, Extreme models have all the most essential features including the glass roof.
Alternative cars
Peugeot 307 CC better quality interior but less room in rear seats
Mazda MX-5  only two seats, but the definitive drop top experience
Saab 9-3 Convertible pricey alternative drives marginally better than Renault
Hyundai Coupe  fixed roof coupe option has loads of dash for the cash