March 2012
Renault Grand Scenic Dynamique TomTom dCi 110 Stop/Start
Distinctive Renault corporate look evident in the revised Scenic
March 2012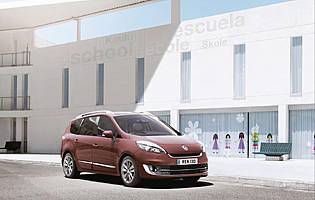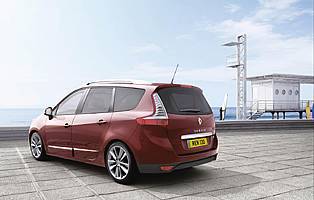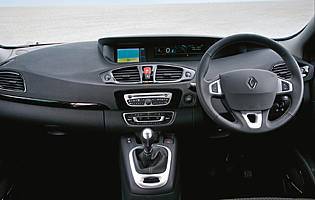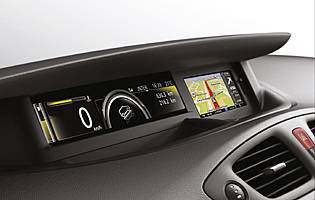 Overall rating

Likes:
Broad standard equipment list gives a more luxurious ambience
Soft suspension and tall tyres absorb bumps effectively
Comfortable seats offer good back support and look great
Large doors make access easy
Gripes:
Gear stick placed so far forward that it demands the seat be pulled well forward
Electronic instrument cluster could be more intuitive
Motorway comfort not the match of some rivals
Control layout not as user-friendly as it should be
The Grand Scenic is the larger of the two MPVs in Renault's revised 2012 range, some 21cm longer than the Scenic and available with seven seats. The dCi 110 model is a more economical version of the existing Grand Scenic, with engine stop-start technology and low CO2 emissions. Its aim is to provide families with efficient, stylish and practical transport.
Based on the same platform as the shorter Scenic, most of the extra length in the Grand Scenic is at the back to provide extra room for the boot and third row of seats. It's surprisingly compact on the outside, though, and its size makes it an excellent choice for carrying up to six passengers around town.
The dCi 110 diesel engine with a stop-start system is new to the Grand Scenic and offers the lowest emissions in the range, and therefore the lowest tax bill. It's based on the familiar 1.5-litre engine block that Renault has been using for years and is also available without the eco-friendly modifications.
For this model year the car has been given some silver exterior detailing around the front and rear light clusters and looks smarter for it. The choice of trim levels has been simplified to make choosing a suitable model as easy as possible, and standard equipment levels have been boosted to impressive levels.
The Grand Scenic rides like a smaller car than it is, which is both a blessing and a curse. It means that in urban driving it feels more nimble and driver-friendly than it might, but for motorway cruising it seems to lack outright stability. The suspension is quite soft and absorbs bumps well, but can feel a little wayward through corners.
Our verdict on the Renault Grand Scenic Dynamique TomTom dCi 110 Stop/Start
The Scenic is a car that does things differently to its rivals and while some of its features are useful or impressive in their own way, others are less so. It's a quirky proposition with a lot to offer in terms of practicality and style, and in combination with the new, more economical diesel engine it makes a great deal of sense, in an unconventional way, for larger families.
Costs
As the most fuel-efficient engine in the range the 1.5 dCi diesel offers the best combination of lower fuel bills and more affordable tax. Used with care the potential fuel economy is very good, although residual values could be better when compared with some of the car's competitors. If this was a company car option drivers could bank on cheap benefit in kind tax.
Space and practicality
This is a strong point of the Grand Scenic. The boot is large with only a small lip and can accommodate large loads even before folding the middle row of seats down. There is also an impressive array of storage solutions in the front of the cabin, with a huge central storage bin including a hidden tray for valuables, well-shaped door pockets and small, open bins for little oddments. Two shallow cupholders are sited on the floor beneath the gear stick.
Controls and display
While some may love the unusual electronic instrument cluster on top of the dashboard others will hate it, and it doesn't offer a particularly clear or effective way of displaying relevant car information. The imitation analogue rev counter refresh rate is too slow and seems old-fashioned as a result. The TomTom integrated sat-nav is clear and detailed in its mapping and offers real added value for the model.
Comfort
Low speed comfort is excellent, with soft suspension and relaxed damping combining for a notably soft ride. The front seats are shaped well too, especially at the lower back position. However, the gear stick is placed so far forward that to reach first gear most drivers will need to pull the seat too far forward and make the seat back more upright, making their legs cramped and their back less supported. It's a strange arrangement and it reduces comfort.
Car security
On top of a Thatcham category one alarm and a category two immobiliser, the Grand Scenic has a deadlocking function and Renault's RAID (Renault Anti Intruder Device) system that automatically locks the doors when the car reaches 5mph for the first time after setting off, helping to prevent carjacking after the journey has started.
Car safety
There are, impressively, eight airbags as standard including two curtain airbags for the rear passengers. Traction and stability control, understeer control and braking assist systems are all installed too. For child safety there are child seat mounts on all three middle-row seats. Automatic hill-hold assist stops the car rolling backwards when pulling away uphill.
Driver appeal
Owners of cars like this derive their driving pleasure from comfort, user-friendliness, quietness and refinement. The Scenic scores well on all counts, with the engine being quiet below 3,000rpm, wind noise seldom being an issue and the soft suspension providing a cosseting ride. It's easy and stress-free to drive in any scenario. Outright motorway stability is not among the best, but it's perfectly acceptable.
Family car appeal
This being the chief purpose of the Grand Scenic it's no surprise that it should have very strong family appeal. The day-to-day difficulties of transporting children have been taken care of admirably, and as a result this would be a stress-minimising car to choose as the family taxi. The boot is also plenty large enough to swallow pushchairs and other accessories. For comfort's sake the rear seats should only be used by smaller children, though.
First car appeal
Although possible of course, it's unlikely that a first-time car buyer would have a family large enough to fill the Grand Scenic, making it a somewhat inappropriate choice unless the large boot was key to the buying decision. It's also a little more expensive than would be typical for a first car. The low running costs and cheap road tax count in its favour though, potentially raising its appeal for people who aim to keep their first car for a long time.
Quality and image
Renault has not enjoyed the best reputation for quality over the last few years and although the company has made great improvements in recent times, it still can't match up to some of the other mainstream car makers. The Grand Scenic is actually not bad for perceived quality, but the unusual design of the interior doesn't help. On the whole it doesn't measure up as well as it might.
Accessibility
Tall and relatively short doors mean that access is very easy. Passengers will find the Grand Scenic a very comfortable car to climb in and out of thanks to a combination of that and a rear bench seat that's at an ideal height for most people. The boot needs a reasonable amount of room to be left behind it to allow it to open, but Renault has added a small load lip that stops things sliding out without being an inconvenience.
Stereo and ICE (In car entertainment)
The centre console is set far enough away from the driver to make reaching and using the stereo controls just a little awkward. The functionality itself is a quite straightforward mix of dials and buttons and takes little time to master. There are CD, auxiliary and USB input options on the front of the centre console, and fingertip-operated controls just behind the steering wheel. It's all easy enough to use.
Colours and trim
The Grand Scenic comes in a fairly narrow range of colours, but there is more than one choice for each range of hues. The car tends to suit subtle colours best and there are classy metallic options available that help to give it a more premium look. The interior trim is dominated by an expanse of dark grey soft-touch material, interspersed with gloss black trim. It's not the most attractive trim but it has the appeal of being different.
Parking
Relatively compact exterior dimensions and excellent rearward visibility make the Grand Scenic much easier to park than you might expect. This Dynamique version also comes with rear parking sensors as standard to help avoid any scrapes. The doors open in increments that are well judged for typical bay spaces on car parks. The car's turning circle is not bad for its size and should pose few problems for tighter manoeuvres.
Spare wheel
Emergency tyre repair kit supplied as standard.
Range information
Petrol engine options - 1.6-litre (110bhp); 2.0-litre TCe (180bhp); 2.0-litre (140bhp). Diesel engine options - 1.5-litre (86bhp, 106bhp); 1.9-litre (130bhp). Transmission options: five and six-speed manual gearbox depending on model, plus CVT auto gearbox (2.0-litre 140bhp petrol only). Trim levels: Expression, Dynamique, Privilege.
Alternative cars
Citroen C4 Picasso Attractive French MPV is also an accomplished real world car
Ford C-Max Good to drive, great engines and lots of scope to add options
Toyota Verso Peerless reliability and good practicality make a solid choice
Mazda 5 Clever thinking in abundance makes the 5 an underrated gem