June 2006
Renault Grand Espace 2.0 dCi Privilege
Rakish-looking Grand Espace possesses plenty of kerb appeal
June 2006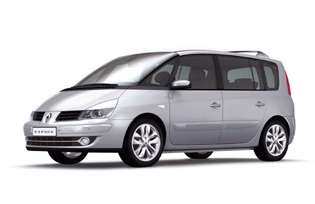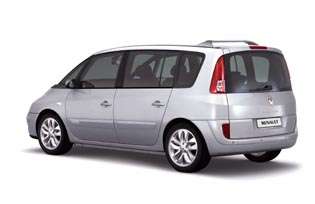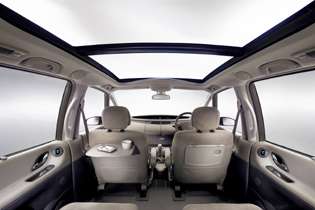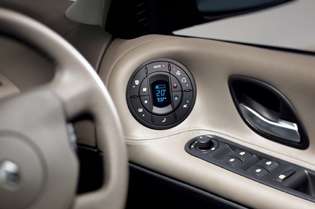 Overall rating

Likes:
Daring exterior styling won't appeal to everyone
Interior is truly huge, and it's incredibly versatile
Safety provision is comprehensive - important for families
Diesel engine range is perfect fit for the Espace's personality
Gripes:
Can be a costly choice - Renault pitches the Espace as a premium vehicle
Digital instrumentation takes some getting used to, but works well
Parking sensors should be standard equipment on a vehicle of this size
Espace ride and handling is biased towards comfort - doesn't like being hustled
It's been around a long time, but Renault's Espace has been able to reinvent itself on numerous occasions to suit the needs of the buying public. This iteration is possibly the most stylish, and the asking price reflects this. However, the more spacious Grand Espace model boasts few rivals and is, for many, the only option if you have a big family.
The people carrier has come a long way since Renault popularised the genre with the original Espace. The boxy, utilitarian approach was discarded a long time ago though, as recent Espace generations have focused more on style and comfort.
The past few years have seen a general cooling of the interest surrounding the conventional people carrier (MPV) format. Buyers seeking more class and style have often opted for premium off-roaders instead. The Espace has been one MPV that has evolved to pander to these buyers.
Inside you'll find high quality materials - especially so for Renault - and acres of space in the Grand Espace version in particular. You'll also find individual seats, a flexible layout and creature comforts that are on a par with executive saloons.
Although the Grand Espace's on-road performance is a little blunted compared to the regular car, it's still impressive. Comfort and refinement take a front seat, but performance is also good if you opt for one of the diesel engines. Factor in the commanding driving position plus the lack any pitch or wallow, and it makes more sense than a 4x4 if you never plan on going off road.
Our verdict on the Renault Grand Espace 2.0 dCi Privilege
Renault's reinvention as a maker of stylish cars doesn't always fit when the company is pushing out low cost superminis, but it makes perfect sense when dealing with the Espace range. The Grand version is the MPV to beat all MPVs; it's spacious, luxurious and drives well for a car this size. And there's no question of it being mistaken for anything else on the road
Costs
Subscribing to the Grand Espace way of life isn't cheap - you'll pay a premium over the standard model and that of the mainstream (Ford, Peugeot, Chrysler) competition. The result is a more stylish car that boasts decent residual values - there are few Grand Espaces on the road for starters. Running costs, assuming you opt for a diesel-powered model, should be reasonable, as should the main dealer servicing prices.
Space and practicality
It's your choice with the Grand Espace: fill the cabin with seven people, take a few less and their luggage or fold some of the seats flat to make handy tables. You can even turn the car into a very posh van. Oddment space is great up front, with a number of mini gloveboxes and practical door bins offering plenty of room. At the rear, with some of the seats folded, you get a capacious load bay plus a tailgate big enough to shelter under if it rains.
Controls and display
Although a little quirky at first, the instrument layout works well and is surprisingly intuitive. Placing the ventilation controls next to the driver and front passenger on the doors is a clever move. The digital instrument display is packed with information, while the column stalks and supplementary audio controls work well. The electric handbrake - effectively a fascia-mounted switch - makes more sense than a floor-mounted lever.
Comfort
The Grand Espace, with its longer chassis feels that bit more planted on the road than the regular car, which in turn boosts ride comfort. Inside, you get more space than you need, plus the possibility to modify the layout to your needs. Head, leg and elbowroom is good throughout the cabin, and the individual chairs are supportive without feeling too firm.
Car security
A comprehensive anti-theft package is standard fit on the Grand Espace, which is just as well given the car's asking price. One thing it can't do is protect the cabin from prying eyes though, which is why it's imperative to keep possessions out of sight in the many cubbyholes or under the boot's sturdy cover.
Car safety
Renault's products all perform exceptionally well in crash tests, and the Espace range is no different. You get plenty of airbags plus a good range of electronic aides to help keep you out of trouble. Isofix child seat mounting points abound, which is to be expected in such a family orientated vehicle.
Driver appeal
Space and practically are the overriding factors here, but it's good to know that the Espace handles well, too. Pitch and roll - classic MPV traits - have been minimised, while the ride is noticeably biased towards comfort - this is especially true of the long wheelbase Grand Espace as it doesn't like to be hustled along too much. One disappointment is the over-light steering, but the torquey diesel engines adequately compensate for this. The auto gearboxes could be more responsive, but the manual versions are slick and positive. The lofty driving position is a huge bonus, though.
Family car appeal
This is where the Grand Espace scores highly, thanks to its large cabin and versatile seating layout. It will easily accommodate children large and small, and makes a good investment if you want to keep it and see your kids grow up. The only drawback is the car's luxury bias - the high quality trim and seat fabrics won't mix with small, grubby, chocolate or ice cream-covered hands.
First car appeal
The larger than life Grand Espace is probably not the best first car, but if you find yourself driving one at least it won't be a difficult task. The car's steering is light, visibility is good and no one variant is too powerful. It won't be cheap to buy or run, though, if you have to have one.
Quality and image
While Renault hasn't managed to cultivate the best quality reputation in recent years, it does seem to have made an extra special effort with its luxury models. This was true of the Vel Satis, and is noticeable with the Espace. Cabin build quality is impressive, with the various materials - wood, plastics, fabrics - appearing to be a cut above what you'd find in a mainstream Renault. The Espace has always been a Renault model admired by many, and as such it's got a good reputation in terms of image. The more recent models are the most respected, if only because build quality is a huge leap forward in the last few years.
Accessibility
Unlike certain rivals, the Espace does without sliding rear doors. The car-like approach can have its drawbacks, like when you need to get out of the car in a tight car park - sliding doors would be more practical. That said, every other aspect of the Espace is good - from the wide rear load area, spacious cabin, and the fact that the seats aren't mounted too high up making access easy.
Stereo and ICE (In car entertainment)
The standard audio set-up is a good one - Renault is famous for fitting good quality systems to its cars. Move up the range and more features are fitted. One constant is the cluster of remote controls for the driver; they are intuitive and will get used often, as the main system controls can prove a little fiddly. Sat-nav is available either as an option or standard depending on the model, and is easy to use.
Colours and trim
Positioned as a premium people carrier, the cabin trim reflects this notion. Light coloured fabrics, quality leathers and wood trim all look convincingly 'up market'. The same is true on the outside, as rich metallic hues and attractive alloy wheels help to justify the car's above average asking price.
Parking
Make no mistake, the Grand Espace is a big car. That said, it is pretty manoeuvrable thanks to light steering and good all-round visibility. Parking sensors are a must though, as you'll need to take it easy in tight multi storey car parks.
Spare wheel
Space saver fitted as standard.
Range information
Diesel units: 2.0-litre (173bhp); 2.2-litre (148bhp). Petrol units: 2.0 T (165bhp); 3.5-litre V6 (245bhp). Six-speed manual and five-speed automatic gearboxes offered depending on model. Trim levels: Expression, Dynamique, Privilege and Initale.
Alternative cars
Chrysler Grand Voyager Capacious cabin and sliding doors are plus points. Cabin quality could be better
Peugeot 807 Good value, spacious, well equipped and comes with sliding rear doors.
Ford Galaxy Improved Galaxy is more upmarket but still good value for money
Mercedes-Benz R-Class Long wheelbase R-Class variant is spacious, classy and good to drive. Expensive, though