August 2011
Porsche Panamera Diesel
Familiar Porsche design cues
August 2011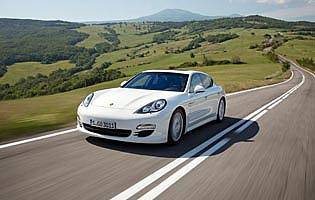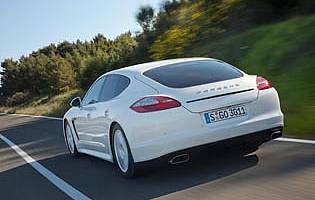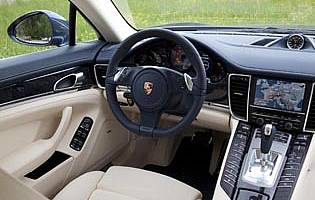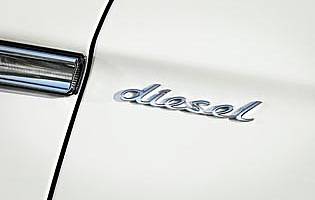 Overall rating

Likes:
Distinctive appearance is unmistakably Porsche
Surprising amount rear cabin space despite sloping roof
From inside the cabin, diesel variant is pleasingly refined at idle
Despite its size, the Panamera is an agile and rewarding car to drive quickly
Gripes:
Exterior styling is a matter of taste
Those seeking petrol V8-rivaling performance will be disappointed
Car needs a lot of room if you're to drive it enthusiastically
Conventional auto gearbox not as responsive as a DSG unit
It was only a matter of time before Porsche followed its Cayenne SUV with something for executive car buyers seeking the odd thrill. With the Panamera, Porsche offers a four-door, four-seat executive express, complete with choice of turbo power and all wheel drive. Along with a petrol-electric model the circle is complete with a fuel-sipping diesel variant.
The Panamera is not a small car. At almost five metres long it's not something that does the supercar 'thing' by half measures. At its original launch, the all-petrol line-up boasted supercar-baiting performance, all-wheel drive and a fancy direct shift gearbox (PDK).
On paper, Porsche has succeeded in delivering a 911-like experience for those who want a conventional sports coupe, but one that's more practical than the usual two-door coupe format. With its four-door hatchback layout, the Panamera offers families the chance to have the best of both worlds.
Taking this theme to its logical conclusion, it was only a matter of time before a diesel variant appeared. Reading between the lines it wasn't something Porsche had planned, but since the company's absorption into the Volkswagen fold the suitable parts were available. The 3.0-litre, 250 horsepower unit chosen delivers where it counts, with a flat torque curve ensuring fuss-free acceleration and good economy and emissions numbers considering the car's size.
Don't expect Turbo-style performance though - even Porsche is happy to admit that the Panamera Diesel is more grand tourer than supercar. As such, a 700 mile-odd range is promised along with a plush and comfortable cruising attitude. The car will 'do' corners, and displays a level of precision and competence that its rivals cannot match. You just need to work the engine hard to experience it.
Our verdict on the Porsche Panamera Diesel
With Porsche expecting its Panamera Diesel to account for around half of all European sales, it would be foolish to dismiss the car on the basis of its modest performance credentials. Viewed as a whole, the car is likely to be a popular choice for executive car drivers seeking a little more excitement, but also keen to save a few pounds in the process. The intimate but comfortable cabin and driver-centric character should help seal the deal.
Costs
Predictably the diesel Panamera will likely save you some money at the pumps and you'll pay less tax than if it were a Turbo model. Drive it hard, however, and you'll see that advantage diminish. Everything else will be no less expensive - servicing, insurance, tyres - is it's just like any other premium executive car.
Space and practicality
The Panamera boasts a good size, albeit shallow, boot under its tailgate hatch. Folding rear seats increase the car's carrying capacity, while the cabin offers plenty of space to store oddments, mobile phones and the like. Rear headroom in the strict four-seater is surprisingly good considering the car's sloping roof and it's wide enough so that you won't be clashing elbows with fellow occupants.
Controls and display
The car's main display screen located above the centre console plus the driver's main instruments are an object lesson in clarity. The auto gearshift is slick and intuitive. However, you are faced with a see of buttons on the centre console. The layout is more intuitive than you first think, though.
Comfort
Ride comfort is surprisingly good - especially on poorly surfaced motorways - despite the car's high performance leanings. You'd think that the car's sloping roof would rob rear seat occupants of headroom but that's not the case. The spacious cabin will please occupants, with its ability to allow you to relax in comfort. It's a strict four-seater, though.
Car security
It's the usual combination of remote locking and keyless start for the Panamera. What sets Porsche products apart from most other premium products is the company's widespread use of tracking systems - something that should please your insurance company.
Car safety
When the driving conditions get tricky the Panamera has been designed to keep you safe when traveling at speed. The car's electronic stability control system is both progress, which should please keen drivers, and predictable so is unlikely to surprise you. There's no all-wheel drive for the diesel model, but there are plenty of airbags in the cabin.
Driver appeal
In diesel trim the Panamera is something of a surprise. Keen drivers will lament the car's lack of outright speed, yet those seeking a less frenetic high speed cruising experience will be pleased. The rear-drive only diesel variant comes with an eight speed auto - not a PDK 'box - and boasts a flat torque curve, something that makes motorway driving a breeze. You'll need to push the 250 horsepower engine hard on B-roads, but the reward is a car that easily trumps its rivals for poise and precision through the corners.
Family car appeal
As an alternative to Porsche's Cayenne SUV the Panamera would suit a growing family. If you don't need the 4x4's go anywhere skills the Panamera offers the space and refinement of an executive saloon. The car's cabin isn't for mucky toddlers though, as the various trim materials are too good for such potential messy outcomes.
First car appeal
It would be a brave - and rich - person to choose a Panamera as their first car. Even the diesel variant is no slouch in real terms, although its size and value would likely preclude all but the wealthiest of first time buyers.
Quality and image
Porsche's reputation for building high quality performance cars is a long-held one. The move into the family sector (Cayenne) was met with initial resistance by some, and the Panamera's more conventional layout has generated a similar level of controversy. The combination of four-seat accommodation and Grand Tourer credential potential is hard to argue against, however.
Accessibility
Front seat occupants fare the best with the Panamera, thanks in part to the car's wide opening doors. The low seating position - unsurprising for a sports car - shouldn't prove a problem for the average, agile adult. Predictably you are compromised slightly at the rear, but it's no worse despite the car's sloping roof than some of the Panamera's rivals. The car's low load lip makes manhandling heavy objects in and out of the boot straightforward.
Stereo and ICE (In car entertainment)
The Panamera's default set-up is a feature-rich audio unit that's both easy to use and delivers a rounded and easy to listen to sound. It's backed up by an equally easy to use central touchscreen display. With the inclusive satellite navigation feature the large screen is a welcome bonus. Factor in a Bluetooth phone connection for the complete business class experience plus MP3 player connectivity to boot.
Colours and trim
With a big, bold-looking car like the Panamera, it pays to choose the exterior colour carefully as what might work on a 911 won't be so successful here. Traditional executive colours work the best. Inside the choice of trim materials is a wide one with some more successful than others, namely darker upholstery and light trim accents.
Parking
Although the Panamera's size might initially appear daunting to some, the car's light but accurate steering and the presence of parking sensors make life a little easier - as does the reversing camera where fitted. One downside is that the low driving position does impact a little on rearward visibility.
Spare wheel
Spare wheel fitted as standard.
Range information
Petrol engine options - 3.0-litre petrol-electric hybrid (328bhp); 3.6-litre V6 (296bhp); (4.8-litre V8 (400bhp); 4.8-litre V8 Turbo (500bhp); 4.8-litre V8 Turbo S (542bhp). Diesel engine options - 3.0-litre V6 (250bhp). Transmission options: six-speed manual gearbox, seven-speed PDK dual clutch gearbox with a switchable fully auto mode (optional on S variant), eight-speed automatic gearbox. Trim levels: S (rear-wheel drive only), Diesel, S Hybrid, 4S, Turbo, Turbo S.
Alternative cars
BMW 7 Series Polarising looks but offers plenty of cabin space and performance in diesel guise
Mercedes S-Class More cruiser than sports car, Panamera remains the sharper tool on a B-road blast
Audi A8 Successfully combines performance with comfort but lacks the Porsche's precision
Jaguar XJ Quick and responsive but cabin space is modest and looks wont please everyone