March 2013
Porsche Cayman 3.4 S
latest Cayman is visually closer to new-gen Boxster and 911
March 2013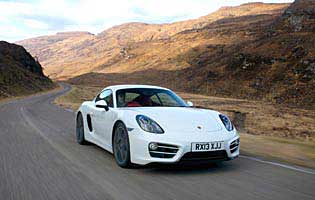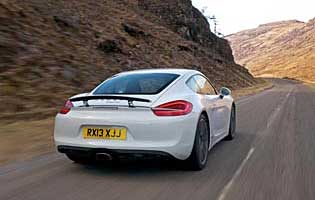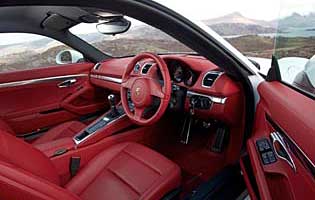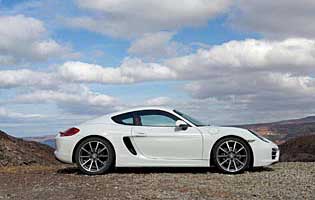 Overall rating

Likes:
Good driving position and well laid out cabin
Surprisingly practical thanks to storage areas behind the engine and in the nose
Accomplished all-rounder - supple around town yet focused at speed to please enthusiasts
Powerful and flexible engine a perfect foil to the Cayman's talented chassis
Gripes:
Price potentially too close to flagship 911 range once you start adding options
Low ride height can cause problems in urban environments
Although easy on the eye, larger than standard wheels can compromise the car's ride
Still a car that demands considerable respect when driven quickly
It's rare for Porsche to make radical changes to well established models. The German firm prefers evolutionary improvements, and so it is with this generation Cayman. Visually it's a little different and mechanically it's much improved. You just have to look closely to see and feel the differences.
Much more than just a Boxster with a fixed roof, Porsche's Cayman offers buyers the opportunity to experience a fraction of the flagship 911's potential at, crucially, a fraction of the 911's cost. While that might have been the original proposition, recent years have seen the Cayman move increasingly upmarket in terms of specification.
This latest model continues this 'upscale' trend, and while the premise of accessible performance remains the same as with the original car, the refinement and luxury elements have been noticeably improved. There's also more kit - standard and optional - part of the 'trickle down' effect from the 911.
A little bigger inside and out, this Cayman promises to deliver greater stability and speed. It's also more powerful, although Porsche continues to impress with its ability to improve both economy and emissions at the same time.
That said, Porsche's engineers haven't lost sight of the car's core aim, which is to deliver a thrilling experience in the right conditions. For all its enhanced refinement it's still more than possible to have fun thanks to the excellent feedback from the main controls, well judged suspension set up and flexible and responsive engines.
Our verdict on the Porsche Cayman 3.4 S
There's a simple reason why Porsche's products always do well in magazine tests: they're superior to the competition. This latest generation Cayman is yet another shining example of why Porsche is such a successful and highly regarded company. Despite upping the comfort and refinement levels, in the right hands and on the right road the Cayman remains a thrilling car that rewards talented drivers.
Costs
Owning and running a Porsche of any description will never be a cheap exercise. Things like insurance, fuel and servicing will amount to a sizeable annual sum. That said, with each new model Porsche has steadily improved its fuel economy credentials. On a positive note, residual values are routinely high as supply rarely meets demand.
Space and practicality
A strict two-seater, the Cayman's cabin easily accommodates two large adults. The low seating positions mean that headroom is good for those of average height, while the door bins are useful lidded compartments that conveniently hide valuables from prying eyes. The rear engine layout means there's a deep space available in the nose, while the hatchback bodystyle allows for a reasonable amount of space aft of the engine compartment.
Controls and display
Once famed for its dodgy cabin ergonomics, Porsche is now one of the best proponents of clear instruments and intuitive switchgear. The Cayman's main dials are good, and there's the added bonus of a digital speedometer. The same ease of use is true of the centre console controls. Other thoughtful touches include front and rear boot releases down by the driver's seat, and in manual gearbox guise a light and short gearshift.
Comfort
Despite its focus on performance, the Cayman is a surprising comfortable car to ride in. Granted, large surface imperfections can trouble the car's suspension, but most roads are confidently dealt with. The sports seats are supportive and road and wind noise is modest by performance car standards.
Car security
Remote locking is standard on the Cayman, along with an alarm and immobiliser package. Given the car's high desirability factor, a tracking device would make a sound investment. Don't be surprised to find some insurance companies making it a mandatory addition before they agree to cover you.
Car safety
As you'd expect at this level, standards are high for both active and passive safety provision. Alongside plenty of airbags, there's a range of intelligent traction and stability programmes to counter the car's potentially wayward antics when in the wrong hands. While you can switch them off for total control on, say, a racetrack, they offer a sensible balance between keeping you pointing the right way and allowing you the opportunity to safely exploit the car's abilities.
Driver appeal
It might share visual clues with the Boxster but the Cayman offers a more focused driving experience. AS a testament to the car's talents you don't need the high output engine to have the most fun, although the added power is nice to have. The rear-drive Cayman demands respect, but driven intelligently it rewards the committed driver. It's also refined, making regular driving duties equally enjoyable.
Family car appeal
Unless you're contemplating using the Cayman as a second car, it's not going to do the job. Luggage space fore and aft won't be enough, and that's before you factor in the car's two-seater layout.
First car appeal
The Cayman is a powerful machine and doesn't boast the same levels of fore and aft visibility as a regular car. These are mere niggles though in the face of a considerable purchase price and potentially astronomical insurance bills for newly qualified driver.
Quality and image
The Cayman's interior materials feel and look good, and are a notch above that of the cheaper opposition. The ownership experience remains a special one, and there's considerable brand loyalty among buyers thanks to Porsche's strong reputation
Accessibility
If you're not limber or flexible, you will struggle to exit and enter the cabin - especially the former as you fight gravity - thanks to the low seating position. The car's doors open wide, which is good for access but less helpful when in a tight car park.
Stereo and ICE (In car entertainment)
The standard set-up is a good one - although you don't get any steering wheel-mounted controls. The main colour screen is easy to use and can be improved with sat-nav plus a variety of connectivity options. Upgrading to a multi function steering wheel results in the useful addition of controls for the audio unit.
Colours and trim
Porsche offers a modest palette of exterior colours, although personalisation is available at a price. Yellow is good if you want to stand out, but more subdued hues are better if you don't want to turn heads or lose any of the car's appealing details. Inside the standard cabin is predominantly black, although customisation (carbon fibre, coloured leather) is possible.
Parking
Care is required when parking the Cayman. Not all of its long nose can be seen from the cabin, making it important that you get to know the car's extremities well. At the rear the over the shoulder view is partially blocked by the thick rear pillars, while the car's wide arches and expensive wheels means care needs to be taken to avoid kerbing the attractive alloys.
Spare wheel
Emergency tyre repair kit supplied as standard.
Range information
Petrol engine options - 2.7-litre (275bhp); 3.4-litre (325bhp). Transmission options: six-speed manual gearbox and seven-speed PDK auto gearbox. Trim levels: no specific trim levels.
Alternative cars
Nissan 370Z Cheaper to buy and it shows. Cost aside, delivers similar performance but lacks polish
BMW 4 Series Need to pick wisely but experience lacks the Cayman's emotional appeal
Mercedes-Benz SLK-Class Folding roof a bonus but can't match Cayman for driving appeal
Audi TT Visually arresting sight although more for show than go