February 2015
Porsche Cayenne S Diesel
Subtle exterior changes mark out the revised Cayenne from its predecessor
February 2015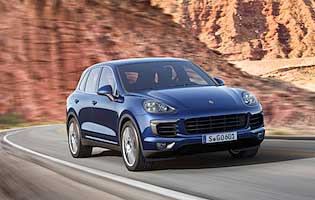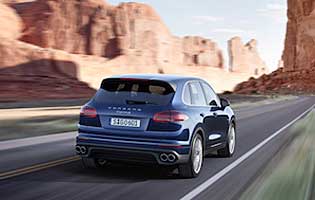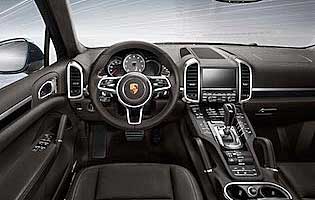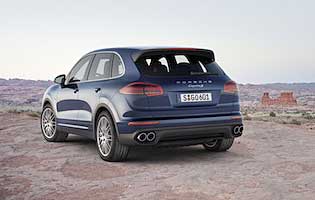 Overall rating

Likes:
Visually more appealing as styling changes have become more sophisticated
Five-seat cabin is spacious and well appointed
S Diesel performance leaves you wanting for nothing
Despite performance image, Cayenne is also performs well off road
Gripes:
Cabin ergonomics could be better
Base specification could be more generous
Despite the S Diesel's power advantage, noise and refinement could be improved
For a large SUV, the five-seat only cabin might be a deal breaker for some families
There's no harm in saying that the original Cayenne was a calculated risk for Porsche. Its first SUV, it upset the purists but proved a hit with buyers seeking a blend of performance, practicality and that all-important Porsche badge. Subsequent models have evolved into a more aesthetically pleasing examples boasting greater performance without compromising efficiency.
For a company famous for its charismatic petrol engines, Porsche has had considerable success selling diesel powered Cayennes. Unless you have money to burn, diesel variants prove more than adequate performance-wise in the real world when compared even to the hot Turbo models.
And in true Porsche fashion the hot diesel Cayenne makes it harder to justify even the outrageously fast Turbo and Turbo S high performance petrol models. The argument is largely won over torque, with the S Diesel's V8 motor producing 385 horsepower and, more importantly, 626 lb/ft of torque.
Not every Cayenne buyer is a speed freak, which means the S Diesel can appeal to people seeking brisk performance but alongside serious towing ability. The S Diesel's power delivery is more laid back than a Turbo's, which is ideal for towing. Plus, for off-roading duties the peaky nature of a petrol engine is less than ideal.
Then there's the matter of running costs for a car the size of a Cayenne. It's true that most buyers prioritise ability over economy, but even the simple act of not having to refuel as often on long journeys puts the S Diesel ahead of a Turbo. Factor in acceptable economy and emissions and the car makes a lot of sense.
Our verdict on the Porsche Cayenne S Diesel
Forget any preconceptions surrounding dull, noisy diesel SUVs. Porsche's Cayenne S Diesel is a world apart from that particular stereotype. In the real world it easily trumps the hotter petrol Turbo variants in terms of better economy and longer range, while the car's ability to tow and remain stable at speed is a feature that's often overlooked. A genuine all-rounder that also happens to be fast an entertaining, the S Diesel runs rings around the pseudo performance opposition.
Costs
With a car like the Cayenne running costs are a relative concept. The asking price, as you'd expect, high and performance not saving money is often the primary attraction. Opting for the S Diesel variants will likely be a pragmatic one, as real world performance is equally to the Turbo but economy and emissions will be better. You'll need to exercise restraint over the options though, as you'll need a few and the various features quickly add up.
Space and practicality
The Cayenne might be a big car but the five-seat layout might prove disappointing for families seeking a seven-seat SUV. That said, there's ample room for five thanks to its wide dimensions and generous headroom. Oddment space is average for a car in this class, but at least the boot is a generous size and easily accessible - even more so with the rear seats folded.
Controls and display
If you like lots of buttons you'll feel right at home in the Cayenne. Mirroring other Porsche models, the Cayenne's centre console boasts hard buttons for quick and easy direct access to most of the main features. To some this can look intimidating, but in Porsche's defense there's a certain logic to its approach. The car's touchscreen system is, in contrast, easy to master while the main dials are clear and easy to read.
Comfort
Opting for air suspension delivers a more refined and versatile ride than steel springs. Aside from being able to lower and raise the car depending on the terrain, air suspension ensures a high level of comfort, plus it minimizes pitch and roll. Don't expect plush seats though, as the Cayenne's sporty character results in firmer chairs with the option of bolstering to keep you in place cornering hard.
Car security
With an immobiliser, alarm and tracking system fitted as standard, such measures should prove reassuring, as the Cayenne is also a highly desirable car for the wrong reasons. Day-to-day measures include plenty of covered cabin storage spaces and a sturdy rear load cover.
Car safety
There's the usual array of airbags plus passive and active systems present here. What makes the Cayenne special over a regular executive saloon is its intelligent all-wheel drive system. It's primarily a performance feature but this, combined with the various stability systems ensure that the big Cayenne can be driven with increased confidence in unfavourable conditions.
Driver appeal
Torque is king with the Cayenne S Diesel, and this is immediately obvious when crawling through traffic - the combination of slick auto gearbox and laid back power deliver is hard to beat. The same is true at higher speeds, as acceleration is suitably rapid. This makes overtaking safely a breeze and twisty B-roads fun. Big brakes and a sophisticated suspension set-up compliment the engine's abilities, although petrol Turbo variants have the upper hand in the noise department: the S Diesel sounds quite gruff when driven hard.
Family car appeal
While the Cayenne might, on paper, appear to be a smart choice its plush cabin is hardly child-friendly if you value the state of the upholstery. Where the Cayenne will likely shine is with a more mature, teenage family demographic. There's ample space for shopping and activity-related belongings, and the car's off-road capability makes it an ideal companion for any weekend adventures.
First car appeal
Although the Cayenne is an easy car to drive at modest speeds, it remains a large and expensive vehicle and would be an unlikely choice for a novice driver - even if the running costs weren't a barrier to ownership.
Quality and image
Despite the critics the Cayenne has been a popular car from launch. The recent revisions have made it look less aggressive and more sports car like, which has also helped tone down its previously aggressive stance. For all that, for many buyers the combination of SUV looks and sports car performance has proven to be an incredibly tempting proposition.
Accessibility
Being an SUV, there is a noticeable step up into the cabin of the Cayenne. For the fit and agile it won't be a problem, but if it is there's always the air suspension option that can lower the car to a more sensible 'access' height. With its powered tailgate, rear load access is easy, although the deep boot does require you to stretch when reaching the items furthest away from you.
Stereo and ICE (In car entertainment)
While the Cayenne's infotainment and navigation features are accessible through the colour touchscreen, they system is starting to show its age. Plus, some frequently used features are buried in the various menus. That aside, overall performance is good and there are ample audio source options to cater for most users.
Colours and trim
Unsurprisingly, dark colours work best for the Cayenne as they help flatter the car's large dimensions. Overall, the car boasts a number of styling details that will be familiar to all Porsche owners. Inside, there's a wide choice of trim and colour options but it's the dark hues that, again, prove most appealing.
Parking
Despite its size the Cayenne is a surprisingly agile car, making it a straightforward experience when parking. The parking sensors help, as does the good all-round visibility thanks to the lofty driving position. It remains a sizeable vehicle, however, so spaces must still be chosen with care.
Spare wheel
Tyre mobility kit fitted as standard.
Range information
Petrol engine options - 3.0-litre hybrid (416bhp); 3.6-litre (420bhp, 440bhp); 4.8-litre (520bhp, 570bhp). Diesel engine options: 3.0-litre (262bhp); 4.2-litre (385bhp). Transmission options: eight-speed automatic gearbox. Trim levels: Cayenne S, S E-Hybrid, GTS, Turbo, Turbo S, Diesel, S Diesel.
Alternative cars
Mercedes ML-Class Refined ML is good all-rounder but isn't the sporty choice
Range Rover Sport Streamlined looks matched to agility and impressive off-roading skills
BMW X5 Road biased X5 can't be had with seven seats but is the choice of keen drivers
Volvo XC90 Second-gen Volvo is huge leap forward but focus is on refinement, technology and economy. Seven seat cabin is a bonus