April 2012
Porsche Boxster S
The 981's more purposeful styling is best admired from the front
April 2012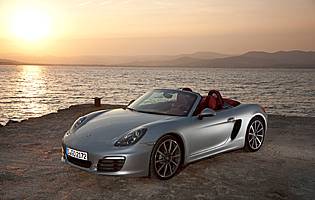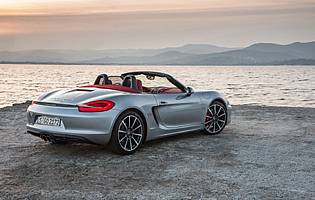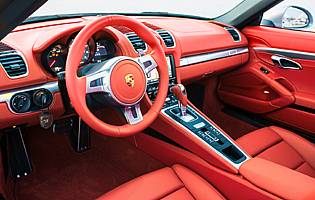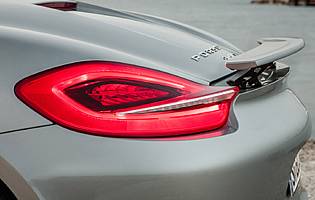 Overall rating

Likes:
Communicative chassis gives huge driving enjoyment
Composed, controlled and comfortable ride even on large wheels
Electric roof folds quickly, even while driving
High-quality interior materials give a premium feel
Gripes:
Many desirable features are expensive optional extras
Shape and outright volume of luggage spaces hinders practicality
Low seating position restricts visibility
Engine could sound a little more characterful
Since its inception the Boxster has stood in the shadow of Porsche's own 911, sharing several body panels but ultimately being the slower, less desirable car. With this generation, coded the 981, Porsche has made the Boxster much more its own car with a clearer identity and a driving experience that improves on the already impressive previous version.
It is Porsche's cheapest car but it's far from cheap. Against its contemporary rivals it's some way out on its own in terms of price, with some being considerably cheaper and some being much more expensive. The 981 generation Boxster replaces the 987, introducing a new entry-level engine, higher-quality interior materials and cutting weight by up to 35kg.
The Boxster S is the more powerful of the two models available, using a slightly revised version of the same 3.4-litre engine that was used by the previous model, now producing a little more power and using less fuel. Rather than just offering an engine upgrade over the now 2.7-litre Boxster, the S also has more standard equipment.
One of the 981 Boxster's new features is a neater folding electric roof that stows behind the two seats without needing a cover, saving weight. The doors are also more sculpted, with lines leading backwards towards more prominent air intakes behind the doors themselves. Both Boxsters also have the option to upgrade to 20-inch wheels - a first for the model.
As ever, though, the options list is substantial, allowing buyers to add the exact combination of extras they want, including Porsche's PDK twin-clutch automatic gearbox, sports leather seats and performance-boosting 'Sport Chrono' packs. It's possible to spend a great deal of money on options for the Boxster S, but Porsche's target buyers will relish the chance for personalisation.
Our verdict on the Porsche Boxster S
The 981 Boxster S is in some ways much the same car as the 987 it replaces, but in other ways, like driving dynamics and interior quality, it is much improved. The application of a well-engineered chassis and the latest sports driver aids is more than welcome here, giving the Boxster a balance and dynamism that is very hard to come by elsewhere, at almost any price.
Costs
This generation of the Boxster has seen many significant changes and improvements over the previous one, and is more expensive to buy. In the way of partial compensation for that it uses less fuel and emits less CO2, which could particularly benefit business users. As an entirely new and even more desirable model it's also likely to hold on to more of its value in future when compared to past models.
Space and practicality
Porsche's engineers deliberately engineered more cabin space into the 981 Boxster versus the outgoing 987. As a result of a series of changes making the 981 more grown up, even tall drivers will be able to stretch out and enjoy the car. Where things are better for the occupants they aren't much improved for luggage. Under the bonnet there is a relatively large space, but the dimensions prevent typical medium-size cases fitting easily. There is some in-cabin storage, but not a great deal.
Controls and display
The extent to which the car prioritises driving enjoyment is shown by the large, central rev counter in the instrument cluster, which is flanked by a speedometer and digital display. The large, central touch-operated screen is bright and sharp, and although the design of the menus isn't particularly attractive the system is exceptionally clear and easy to use while the car is stationary. It's more awkward to use on the move, however.
Comfort
Although the Boxster S comes with 19-inch wheels as standard, Porsche expects that the optional 20-inch upgrades will be popular. Impressively, the Porsche Active Suspension Management provides a composed and comfortable ride even on the larger wheels. The seats are shaped for a sporting fit but they're also relatively broad. They don't squeeze at the sides and long-distance comfort is excellent.
Car security
The Boxster's key has an in-built transponder without which it is almost impossible to start the car. The alarm is sensitive to exterior contact, but not necessarily intrusions through the windows. Customers need to request a radar-based interior surveillance system to enhance the alarm's effectiveness, should they want it. A Porsche-manufactured tracking device can also be fitted retrospectively, since the necessary pre-preparation is present on the car as standard.
Car safety
A great deal of consideration has been given to safety, with dual roll-over protection hoops and a comprehensive array of airbags that account for the severity and angle of impacts when they inflate. Porsche Stability Management helps manage the power and available grip at each wheel, keeping the car as stable as possible. The powerful brake system incorporates Brake Assist, which anticipates an emergency braking situation and applies the necessary braking force for maximum deceleration.
Driver appeal
Porsche has perfected the Boxster's driving appeal with the 981. Not only is the basic chassis incredibly communicative and involving, but the electronic systems work to enhance it rather than holding it back. The torque vectoring system on the rear axle is particularly effective, allowing corner exit grip that wouldn't be possible otherwise. With the roof down and the six-cylinder engine revving hard, the Boxster offers supreme driver enjoyment, but it doesn't need to be driven flat out to feel the benefits.
Family car appeal
As a two-door, two-seat roadster the Boxster is simply not a family car in any sense. On top of the obvious lack of seating, there isn't enough 'boot' space for typical family duties and it's not cheap to own or run. The shortcomings in its suitability as a family car don't stop there either, because the low seating position and potential awkwardness to manoeuvre around tight car parks also count against it here.
First car appeal
As one of the most accessible Porsches the Boxster S undoubtedly has vast appeal to young drivers. But its purchase price is still way beyond the reach of a typical first-time car buyer and insurance would be unobtainable for those without huge financial resources. Aside from that, the sheer power, performance and lack of visibility that the Boxster presents would be unsuitable for an inexperienced driver.
Quality and image
Porsche is heavily linked with the Volkswagen Group, which owns Audi, and yet despite the obvious comparisons with the Ingolstadt-based prestige brand, Porsche still has much the more desirable badge. In the past the Boxster has come in for fair criticism about the quality of materials used, but the 981 generation addresses almost all the past failings convincingly.
Accessibility
The seats are mounted very low, so getting in and out is harder than in some less overtly sporting convertibles. The doors are, by virtue of the sculpted body shape and aerodynamic lines, very deep and need to be opened relatively wide before getting in and out. Some people will find accessing it more of a stretch than they are comfortable with. The luggage compartments are easy to get at, but not ideally shaped.
Stereo and ICE (In car entertainment)
The standard stereo system uses the seven-inch centre console screen as the media interface. The screen is touch-operated and the menus are very clear, with large on-screen 'buttons' that are easy to hit accurately. Some people might think the design of the menu system looks a little dated, however. There is quite a lot of potential audio adjustment via submenus, but navigating through them never poses a problem or gets confusing.
Colours and trim
As the Boxster appeals to a wide range of people for a number of reasons, Porsche has had the foresight to provide an impressive spectrum of colours. Whether a potential buyer is after something extrovert, striking, understated or classy, Porsche has prepared a deep, glossy finish to suit. The interior trim is of a very high quality as well, with expensive leathers and solid plastics almost everywhere. Inside and out it's a great looking car.
Parking
Visibility is restricted by the low seating position and relatively high bodywork, making parking a little trickier than it could be. While the Boxster is not a particularly big car and drivers can be fairly confident about fitting it into most bay spaces, the doors are long and tend to need a large amount of space beside the car to allow for a dignified entrance or exit. Packs including rear or both rear and front parking sensors are available as options.
Spare wheel
Emergency tyre repair kit supplied as standard.
Range information
Petrol engine options - 2.7-litre (261bhp), 3.4-litre (311bhp). Transmission options: six-speed manual gearbox standard, seven-speed PDK twin-clutch automatic optional. Trim levels: Boxster, Boxster S.
Alternative cars
Mercedes-Benz SLK Much softer, less focused and more grown up than the Boxster
BMW Z4 Certain variants are quicker than a standard Boxster S, but less enjoyable to drive
Nissan 370Z Roadster High-revving underdog is a different but excellent alternative
Audi TT RS Roadster Rapid, but four-wheel-drive dampens outright driving fun