December 2008
Porsche 911 Targa 4S
Detailed changes don't detract from purity of design
December 2008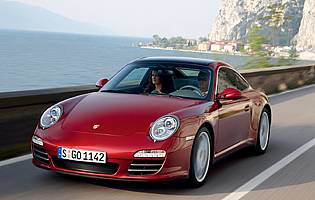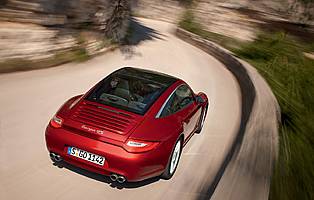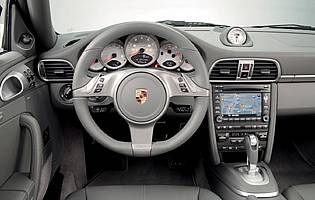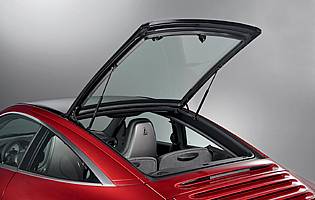 Overall rating

Likes:
Handling and grip world class
Four-wheel drive system is impressive yet unobtrusive
Upgraded engines maintain their class-leading status
Targa roof proves to be surprisingly practical
Gripes:
Heavy clutch of manual variant can be hard work in traffic
Secondary function buttons on fascia are too small
PDK gearbox lever and paddle shifters are counter-intuitive
Too many tempting and costly options available
With every new iteration of the 911 comes a raft of small but important improvements. This refreshed 997 variant is no different, although you'll struggle to see any significant visual clues. The car's shape has gently evolved over time but the real changes are under the skin.
Already an exceptional performance car, this 997 moves the game on further with an increased focus on efficiency. In 3.8-litre form, Porsche's flat-six engines benefits from direct fuel injection - boasting responsiveness, economy and reducing emissions. The end result is slight reduction in the unit's charismatic metallic idle sound, but the overall gains can't be ignored.
In 'S' form when powered by the 3.8-litre engine, the 911 proves to be a seriously rapid performance car. Increases in track and revisions to suspension settings have resulted in an increasingly mature experience. The smaller, cheaper Cayman now fills the gap left by previous generation entry-level 911s.
There's nothing entry-level about the Targa variant, though. Positioned as premium 911, it gains a glass roof with power slide function plus a glass hatch-like rear window. The former boosts the cabin ambience when the weather is good, while the latter adds a welcome extra practical element - the token rear seats also fold forward.
Overall, the experience is a pleasant one, and there's no question that the Targa element adds weight to the 911s newfound status as a rapid grand tourer. It has lost none of its performance magic, however. The 911 is still blisteringly quick and supremely capable - the Targa's all-wheel drive adding value to the experience, along with the eerily quick optional dual-clutch PDK gearbox.
Our verdict on the Porsche 911 Targa 4S
Porsche's incremental improvements in recent years have resulted in a 911 range that's class-leading in many areas. It may not be the outlandish style-wise, but for the keen driver the mechanical changes will be the main focus. In Targa form the refreshed 997 variant pleases both the inner enthusiast and the desire to have a good time when not pushing hard. The glass roof is a great addition, and the opening rear hatch adds a welcome extra dash of practicality.
Costs
Any car of this calibre is going to be expensive to run. This, however, goes with the territory so it would be foolish to complain. If it's any consolation, the latest evolution of the legendary six-cylinder engines has brought small but welcome gains in economy. The optional PDK gearbox takes things a small step forward, also.
Space and practicality
With the rear seats in any 911 merely a token addition, front seat occupants shouldn't have any complaints about the available space in the cabin. Oddment storage - open and covered - is in good supply, and you can flip forward the rear seats to enhance the Targa's rear storage area. This is accessed via the hatchback-like rear window. It's a heavy item that demands care when closing, though.
Controls and display
Consistency is the key to the 911's cabin. The car retains the now familiar five-dial set-up for the main instruments, supplemented by configurable digital display for the trip computer, audio status and supplementary speed display - useful to glance at quickly. Secondary controls at the base of the central fascia are less impressive thanks to their small size. On a positive note, the colour touchscreen display is clear, easy to read and intuitive from the off.
Comfort
It's all relative with a car like the 911, but it does a good job of delivering respectable comfort levels despite riding on large wheels and offing a near-absence of roll when cornering at speed. The sports seats are firm yet supportive - even over long distances. Overall noise levels are quite restrained when on a light throttle opening.
Car security
Aside from then usual remote central locking, immobiliser and alarm features, the existence of a remote tracking device should generate further peace of mind - for you and your insurance company.
Car safety
For a car as potent as the 911 - especially in 3.8 S specification - there's no shortage of safety kit. From stability control to numerous airbags, you're covered for most eventualities. The Targa is only available with four-wheel drive, further enhancing its all-weather capabilities.
Driver appeal
This is where the 911 shines - even the Targa variant. Continual improvements have led to more power for both engine options, and the practical experience bears this out. The 3.8 is particularly impressive, responsive and tuneful at all speeds. The standard fit manual gearbox does a good job but is overshadowed by the excellent DSG-style PDK unit. Changes are super-smooth, seventh gear contributes to above average fuel economy and there's a (slightly counter intuitive) manual override. Factor in well judged stability control and the possibility of adaptive damping and you can't go wrong with a 911.
Family car appeal
It would be foolish of anyone to believe a 911 could hold its own as a family car. However, as a second car the Targa would probably cope better than other models. The combination of the car's rear hatch and flip down rear seats could be seen as a nod to family duties, but don't try squeezing a pushchair in the back.
First car appeal
There isn't a 911 on the planet that could be viewed as ideal for a novice driver. Too powerful, fast expensive to run and insure, there's little point considering one unless you partake in expert tuition and have a sizeable bank balance for the insurance premium.
Quality and image
For some time now it's been a case that Porsche could do no wrong. Although there are plenty of people who dislike the cars, it's largely a badge snob issue. In reality, mechanical integrity is first class and the products are continually evolving for the better.
Accessibility
Once you're aware of the 911's limitations the act of getting in and out is rarely a challenge. With the 911 being low to the ground, so is the seating position. The car's doors are big, but that's only an issue when parked in a tight space next to other vehicles.
Stereo and ICE (In car entertainment)
With such a premium car you can expect a suitably premium sound system as standard. The radio and CD combo is easy to use, sounds good and can be upgraded to include MP3 and iPod connections, Bluetooth phone interface and an excellent touch-screen sat-nav system.
Colours and trim
Although the 911 is available in a wide range of exterior colours, something like the Targa deserves a more subdued hue - it's a more mature 911, after all. Inside, the cabin can be as understated and sombre as you like, but can be lightened by choosing contrasting cabin colours and materials.
Parking
When sitting low down in any 911, parking can be a little tricky at first. It's a wide car, and it wouldn't be good to kerb those nice alloy wheels. Fortunately the car's steering is light and accurate at low speeds and, where fitted, the parking sensors make a big difference - just as well, because the over the shoulder view isn't that good.
Spare wheel
Tyre inflation kit fitted as standard.
Range information
Petrol engine options: 3.6-litre (288bhp), 3.8-litre (385bhp). Targa comes with six-speed manual gearbox a standard. Seven-speed PDK semi-auto gearbox a cost option. Trim levels: base and S, corresponding to 3.6 and 3.8-litre engine respectively.
Alternative cars
BMW M6 Big BMW is rapid but not as agile as the 911
Aston Martin V8 Vantage Uprated V8 lifts the car's performance to new heights
Lamborghini Gallardo Most usable Lamborghini still not as user friendly as the 911
Mercedes-Benz SL-Class Animal-like SL 63 AMG is rapid, loud, competent and boasts a folding metal roof