June 2013
Peugeot RCZ GT THP 156
Mild facelift ensures RCZ retains its dramatic exterior design
June 2013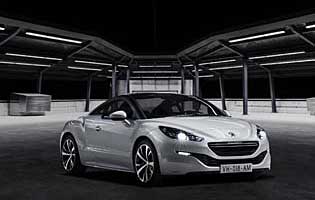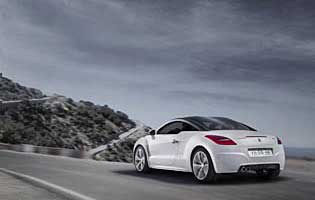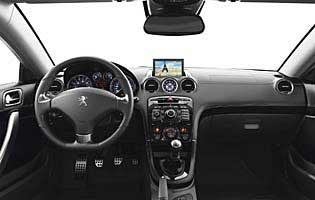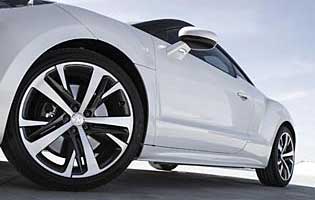 Overall rating

Likes:
Subtle exterior upgrade has been well executed
Cabin is comfortable and spacious for two adults
High level of specification across the range
Good choice of petrol and diesel engines available
Gripes:
Driving experience is fun but some rivals are better
Don't expect startling performance from entry-level models
Rear seats add little to the car's practical nature
Infotainment system could be a lot more intuitive
French car maker Peugeot might be more famous for its range of competent family cars and lively hot hatchbacks, but its recent foray into the sports coupe market showed it could deliver an attractive and competent product in the form of the RCZ. Keen to maintain its appeal, the striking coupe has been given a mild facelift.
As Peugeot's line-up evolves, it's important for all its models to fall in line from a design perspective. As such, this refreshed RCZ boasts a revamped nose in a bid to ape that of the rest of the family. Commendably, Peugeot has maintained a bold approach to the RCZ's appearance, and it remains the case that it's impossible to mistake it for anything else.
All of which makes it slightly disappointing that Peugeot chose not to follow compliment the car's bold exterior with an equally radical interior. That said, the cabin ambience is a pleasing notch above what you'd experience in a regular Peugeot hatch.
If all this proves to be a mild let down, fear not as it's good to know that the RCZ remains more practical than it at first appears. It's still a two-plus-two with limited rear seat space, but it possesses a useful boot that can be expanded further by folding the rear seats. Such practicality is unusual in a sporty coupe such as this.
Mechanically the RCZ remains unchanged and makes good use of existing Peugeot technology. This translates into a modest choice of turbo petrol and diesel four-cylinder engines, which boast reasonable economy credentials and, as you go up the range, more power.
Our verdict on the Peugeot RCZ GT THP 156
In refreshed guise the RCZ still has a lot to offer. There might be more competition but the car's bold looks ensure that if you want to make a visual statement, it's possible to do it with minimal compromise. Some elements of the cabin could have been better executed, such as the multimedia controls, but if you aspire to striking-looking coupe with competent road manners then the RCZ should be on your shopping list.
Costs
The RCZ is unlikely to break the bank, although can improve your chances by opting for a moderately powerful petrol variant or the diesel option. This decision should also enable you to help justify your choice in the context of being a business user due to reduced consumption and CO2 ratings. In every other respect the RCZ should be as straightforward as any other mid-size Peugeot product regarding scheduled servicing costs.
Space and practicality
Despite the RCZ being a two-plus-two coupe, the car offers a good amount of space and practicality. Front seat passengers benefit from ample head and legroom while those in the rear should only consider short journeys. In contrast, boot space is impressive, particularly with the seats down.
Controls and display
There's an overtly sporting theme to the layout of the RCZ's cabin, reinforced by the low-slung driving position. Familiar Peugeot switchgear litters the cabin, boasts clear main dials but an infotainment system with an often less than intuitive touchscreen interface.
Comfort
On the whole, the RCZ boasts a comfortable ride and pleasant cabin ambience, thanks to supportive seats and an adjustable driving position. Opt for petrol power and small wheels if you want to maximize comfort around town and on long motorway journeys.
Car security
All RCZs are fitted with remote locking, deadlocks, and an approved ultrasonic alarm, engine immobiliser and locking wheel bolts - especially important given the attractiveness of said wheels.
Car safety
As you'd expect from a modern Peugeot, the RCZ comes with a comprehensive range of safety kit. Airbags and the obligatory electronic stability and traction controls ensure you can have fun confident that the car is looking out for you.
Driver appeal
Looks can be deceptive, as despite the RCZ's overtly sporting looks it's more of a brisk GT an outright sports car. Entry-level cars deliver a modest turn of pace combined with good levels of refinement and comfort. The high output cars boast a more rapid driving experience but this is a car that is most comfortable when driven briskly, not thrown at the scenery hot hatch-style. The sweet spot appears to be the middle order petrol variant in 156 horsepower trim, as it balances driving thrills with affordable running costs.
Family car appeal
It goes without saying that the RCZ isn't going to excel at family duties. Although fitted with rear seats, it can only carry child seats in the front, which limits its family-carrying abilities. It can however easily swallow a large pushchair - especially if you choose to fold the rear seats down.
First car appeal
In reality the RCZ will likely be a little too costly for novice drivers, especially when you consider insurance premiums. Rear visibility isn't great, which could prove a considerable obstacle for inexperienced drivers to overcome.
Quality and image
The RCZ marks another step forward for Peugeot as it combines innovative design with an impressive mix of materials and improved build quality. The RCZ also provides a shot in the arm for Peugeot in terms of image, and its have done much to attract buyers that would not necessarily choose to buy a Peugeot otherwise. And although the exterior facelift is a low key one, it helps align the car with the rest of Peugeot's products.
Accessibility
Thanks to the car's long doors, getting into the front seats is a breeze, although there is a step down into the seats as this is a low-slung machine. Access to the rear isn't as great, despite the convenient tilt and slide mechanism of the front seats. Given that the rear will be used occasionally this might not be a big issue for most buyers.
Stereo and ICE (In car entertainment)
Standard fit is a good quality audio system offering radio/CD plus MP3 player compatibility. A modest upgrade brings increased power and more speakers, but both systems offer a good standard of sound quality. Access is via the car's less than intuitive touchscreen interface for most of the features, and it does present a steep learning curve when controlling the sat-nav function.
Colours and trim
It's fair to say that the RCZ is a colour-sensitive car, especially as the roof panel can be selected in contrasting shades to the main body colour. Opt for safe, premium hues and you should be fine, though. Inside there are more comprehensive choices of material and colour, allowing a more personalised and brighter finish if required to offset the default somber ambience.
Parking
Despite its unusual shape, the RCZ offers a decent view forward resulting in relatively easy parking. The rear parking sensors are a welcome addition as the view over the shoulder isn't that great thanks to the car's low, wide stance.
Spare wheel
Emergency tyre repair kit as standard.
Range information
Petrol engine options - 1.6-litre (156bhp and 200bhp). Diesel engine options- 2.0-litre (163bhp). Transmission options: Six-speed manual gearbox, six-speed automatic gearbox. Trim levels: Sport, GT, Magnetic.
Alternative cars
Audi TT Class standard has the looks, performance and quality
Hyundai Veloster Left-field choice looks good but falls short in driving dynamics
BMW 4 Series Premium choice is good to drive but experience is a more costly one
Toyota GT86 Aimed directly at keen drivers - interior lacks premium ambience but driving experience is rewarding