December 2009
Peugeot Partner Tepee Outdoor HDi 110
Hides its commercial origins well
December 2009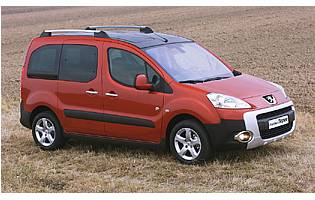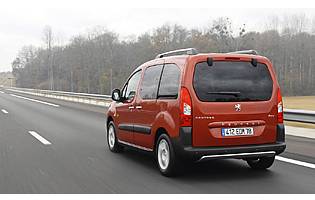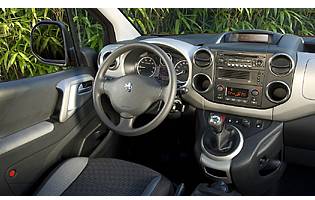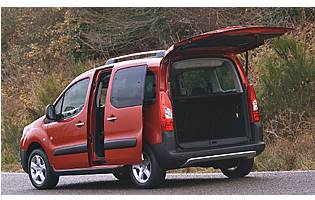 Overall rating

Likes:
Handsome styling, particularly in Outdoor form
Higher driving position makes driving safer and more relaxing
Performance from diesel engines is impressive
Spacious, flexible cabin strikes sound balance between refinement and versatility
Gripes:
When driven empty it can feel noisy and it's easy to pick up the occasional rattle
Despite the space available, you will need to be reasonably agile to get in or out of the third row
The rear seats may slide, but there are no fancy table options or swivelling seats
The Expert's tailgate is big and requires a considerable effort to close
Bringing yet more practicality to the commercial-based MPV market comes the Peugeot Partner Tepee. Based on the van of the same name, the Tepee brings the practicality and usability of a modern commercial vehicle and adds to it the refinement and equipment of a regular car. This Outdoor version brings added style and features, too.
Peugeot has built a reputation for offering practical, versatile and attractive multi-purpose vehicles, with a model to suit almost all budgets. The previous Partner Tepee model was a huge success and this new model builds on this with added driver appeal and functionality.
What's clear from a brief visual inspection is that this Partner Tepee is now a more cohesive design with a slight increase in dimensions all round. With its wider stance and more rounded appearance, it oozes refinement - something the old car never quite managed to achieve. The Outdoor version brings with it an increase in ride height and attractive body mouldings, giving it a pseudo off-roader feel.
This is no prim and proper MPV in the conventional sense. Storage space is generous, the cabin feels light and airy and the car's tailgate is big enough to use as a shelter if it rains. What sets it apart form some similarly priced rivals is the extra two seats - making it a practical seven-seater.
Depending on the intended use, the Partner Tepee can be specified with five or seven seats, but either way it retains the ultimate practicality of its commercial sibling in that it allows all the seats to be removed and the full cabin area to be used for carrying cargo, something which few conventional rivals can do.
Our verdict on the Peugeot Partner Tepee Outdoor HDi 110
Rounded and more refined than previously, this Partner Tepee retains all that was good about the old car and adds some welcome extra polish. Predictably diesel variants shine, although petrol models are highly competent. The Outdoor model is worth considering, bringing useful extra equipment at a reasonable cost.
Costs
For a car this size the Tepee will offer impressive running costs, sipping fuel in diesel form and requiring the minimum of maintenance. Insurance should also be low for a car that can carry seven.
Space and practicality
In seven-seat form the Partner Tepee has an advantage of similarly sized five-seat rivals. A six-footer would find it uncomfortable in the back, but the facility is really meant for shorter adults and mainly children. All five rear seats can be separately folded and removed for more space, while up front oddment storage is good considering the car's practical leanings.
Controls and display
Familiar and easy to use controls are the order of the day. The main dials are clear and easy to read day or night, while the column stalks are intuitive to operate. Gearchange, brakes and steering require little effort.
Comfort
Well known for its soft, supportive seats, with the Partner Tepee Peugeot has succeeded again where many rivals have failed. There's also a refined cabin ambience when on the move, which is good considering the Partner Tepee platform's dual role as a van. Wind noise is noticeable at speed but the car is more upright than a regular family hatch.
Car security
Remote central locking and deadlocks are standard on the Outdoor version, but an alarm system costs extra though the amount of storage on offer makes it easier to keep items out of sight.
Car safety
For a car in this price point there's little if anything to complain about. All the bases are covered here: anti-lock brakes and airbags. Outdoor models gain side and curtain airbags plus a speed limiter, a useful safety boost.
Driver appeal
As tested in HDI 110 form, the Partner Tepee is rarely short of power, even when fully loaded. The brakes inspire confidence, as does the steering. The raised driving position and range of adjustments ensure a comfortable journey. On the soft side, the car's suspension is good at absorbing urban road imperfections, although this does mean some pronounced roll through tight corners.
Family car appeal
It's pretty obvious that the Partner Tepee has been designed with the family in mind. All the basics are present: practicality, flexibility, modest running costs and durable cabin materials. The third row of seats will please larger families and there's a lot to be said for the rear sliding doors - no more crashing into the adjacent parked car in a crowded supermarket car park.
First car appeal
Despite the Partner Tepee's size it is an easy car to drive. Light controls and good visibility should help the novice. The lofty driving position is another plus point, although there are smaller Peugeots which would suit new drivers better.
Quality and image
Affordable, low-cost family motoring is a Peugeot speciality, and plenty of families already know this. Fuss-free interiors and practical seating options are key attractions. The lower-spec models have part-trimmed interiors which more closely mirror the commercial versions, but fully-trimmed versions are more car-like. Build quality has also improved with every new model, and commercial-based products have to be tougher to remain favoured.
Accessibility
With its van-like proportions the Partner Tepee is a little taller than a regular family hatch. This makes entry and exit easy, while the raised driving position another plus point. Sliding rear side doors are a welcome bonus when parking in tight spaces, although the car's oversize tailgate will force you to park nose in when parking in car parks.
Stereo and ICE (In car entertainment)
The standard fit audio unit does a fine job; this is hardly a car that's likely to benefit from a costly, premium entertainment system. The split level head unit and display layout works well, as do the remote controls on the steering column. A basic sat-nav option is available.
Colours and trim
With a modest exterior range to choose from, bright colours do much to flatter the Partner Tepee's size. The car's chrome grille also provides some light relief. Inside there's the option of blues as well as more traditional greys and blacks which do much to help the brightness of the cabin.
Parking
The lofty driving position is a bonus here, as is the car's light but accurate power steering. The van-derived mirrors are a welcome addition along with the oversize rear window. Parking sensors can be had to make life easier still.
Spare wheel
Space saver wheel fitted.
Range information
Petrol engine options - 1.6-litre (90bhp, 110bhp). Diesel engine options - 1.6-litre (75bhp, 90bhp,110bhp). Transmission options: five-speed manual gearbox. Trim levels: Urban, S, Zenith and Outdoor.
Alternative cars
Fiat Doblo  Similar commercial origins but less polish
Kia Carens Practical and good value, car-like to drive though looks like to polarise
Citroen Berlingo Multispace Almost identical model wears the Citroen chevrons
Ford C-Max  Best to drive, quality cabin but five seats only and more expensive