May 2012
Peugeot 508 RXH
Stylish exterior adds a rugged element to the 508 Estate donor car
May 2012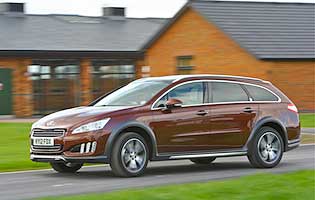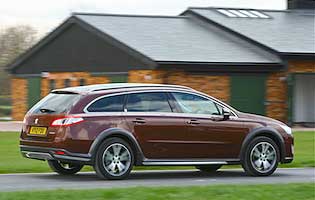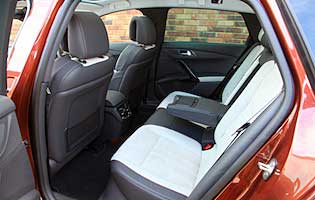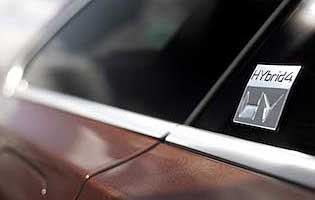 Overall rating

Likes:
Modern, progressive design, particularly in estate form
Cabin is spacious, sensibly laid out and well specified
Diesel-electric system is a bold move by Peugeot
Fine ride with capable handling
Gripes:
Infotainment screen menus could be more intuitive
Promised economy doesn't materialize in the real world
Powertrain refinement could be better
Off-road style hybrid only available in estate bodystyle
French car makers are well know for their fondness for diesel power. Until very recently, the various brands lead the market in economical motoring. With rival firms having caught up, companies like Peugeot have had to become more inventive. And with hybrids becoming popular, combining diesel and electric power seemed natural, hence the 508 RXH.
In contrast to the many petrol-electric cars on the market, diesel-electric hybrids are rare as companies focus on the more lucrative North American and Japanese territories and their enthusiasm for petrol power. To carve out a niche in Europe, Peugeot has chosen the diesel hybrid route.
Peugeot's hybrid technology consists of a modular system, allowing it to power numerous cars. Alongside the 3008, the 508 RXH boasts a diesel engine and electric motor providing assistance and offering electric-only running for short periods.
Curiously Peugeot's powertrain includes an all-wheel drive option, which explains the 508 RXH's rugged exterior. In a bid to tap into the interest that surrounds Audi's rugged allroad sub-brand, the 508 RXH boasts an elevated ride height and bash-proof exterior trim.
This 508 isn't a genuine off-roader though, and is more at home on wet roads and rutted fields than halfway up a mountain. But it does tick the fashionable lifestyle box, and could prove an interesting alternative to a full-on SUV for some.
Our verdict on the Peugeot 508 RXH
Peugeot has taken a gamble with the 508 RXH, as the firm isn't well know for producing premium lifestyle cars, let alone forging ahead with diesel-electric hybrid technology. As such the 508 proves to be a mixed bag; the official economy figures are hard to match, powertrain refinement could be better and its price tag is on the high side.
Costs
The potential savings available from the RXH's hybrid powertrain need to be offset by the car's premium-level asking price as real world performance isn't always impressive. Still, being a flagship model it is well equipped - and better than its many rivals.
Space and practicality
In estate car guise the 508 RXH offers users a good level of space in the back - especially with the rear seats folded. Up front the car easily accommodates adults, although back seat passengers will be looking for a little more legroom.
Controls and display
The dashboard layout of the 508 is straightforward and easy to understand, with the main control for the screen located down by the gearlever and other controls on the fascia. However, the infotainment menu system could be more intuitive.
Comfort
Aside from the occasional engine and electric motor noise intrusion the cabin is a relatively refined environment. Supportive seats and a good level of occupant space help justify the car's price tag.
Car security
All 508 models are fitted with an approved alarm, deadlocks and an immobiliser, while the estate variants also gain a sturdy load cover to keep out prying eyes.
Car safety
It's all standard issue kit here, with the RXH benefiting from numerous airbags and a good level of electronic stability trickery. The hybrid powertrain also boasts an all-wheel drive mode, which could be useful in slippery conditions.
Driver appeal
The 508 RXH is a slightly different beast to a regular 508, as the clutchless manual transmission requires a little finesse to ensure smooth gearshifts. Also the routine switching from diesel to electric power isn't terribly subtle, although performance is good and ride comfort is on par with other Peugeots. Overall the experience could be more polished.
Family car appeal
If an MPV or similar vehicle doesn't appeal, the 508 RXH might prove an interesting alternative. There's no questioning its versatility and available space, although the car's plush interior might not be appropriate for young children
First car appeal
The 508 RXH is unlikely to feature on the wish lists of new drivers, even though it is handsome and good to drive, as it's something of a left-field choice when superminis and family hatchbacks might be kinder on the finances.
Quality and image
After a few years of producing average cars Peugeot has started to become more adventurous. This RXH variant is a product of Peugeot's diesel-electric hybrid project, providing an interesting alternative to the increasing number of petrol-electric rivals. Only time will tell if the gamble will have paid off.
Accessibility
With long doors both front and rear the 508 RXH offers good sized apertures for people getting into the car, although it is worth noting that the sloping roof line does mean rear seat passengers need to duck a little more whilst climbing aboard. Thanks to the slightly elevated ride height, the car's rear load deck is easy to access.
Stereo and ICE (In car entertainment)
RXH specification includes a top spec infotainment system, with the main functions accessed through the central colour screen. Navigation could be more intuitive and some important features are buried in the various menus.
Colours and trim
This 508 looks smart in the more upmarket metallics, which do much to reflect the car's premium price point. The extra exterior body trim also adds a rugged look. It's the same inside, as the 508 hybrid model boasts a plush cabin as befits its status in the 508 range.
Parking
In estate car guise the RXH is reasonably easy to park, thanks to good visibility fore and aft. Parking sensors and plenty of steering assistance help to keep the driver workload to a minimum.
Spare wheel
Tyre mobility system included.
Range information
Diesel engine options - 2.0-litre plus electric motor (163bhp). Transmission options: Six-speed semi- automatic gearbox. Trim levels: one trim level.
Alternative cars
Vauxhall Insignia Sports Tourer Conventional Insignia aims to deliver premium experience
Ford Mondeo Estate Spacious mid-range staple does most things right
Volkswagen Passat Estate Passat is refined, spacious and economical in diesel guise
Volvo V60 Plug-In Hybrid Classy 508 rival is better engineered but more expensive