November 2015
Peugeot 308 GTi 270
The 308 is among the best-looking cars in the class
November 2015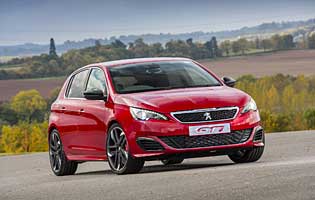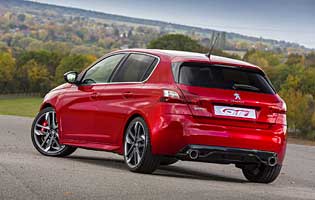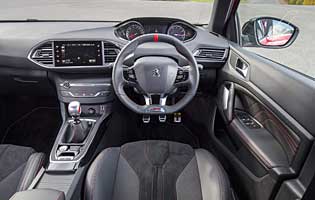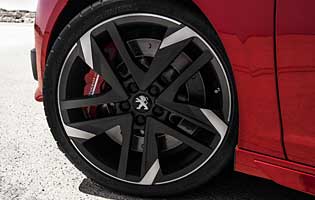 Overall rating

Likes:
Impressive driving dynamics aided by Torsen differential
Decent ride quality given the class and wheel size
Stylish looks are distinct from rivals
Superlatively capable all-round
Gripes:
Large wheels vulnerable to kerb damage
Sport button only makes the car worse overall
Exhaust and induction noises lack character
Air movement and heater controls awkward to adjust on the move
Peugeot has slowly been regaining the form that saw it become a default choice for drivers in the 1980s. The 308 is an excellent car, if unorthodox in its abolition of traditional heater controls in favour of a digitised alternative. The GTi version, then, has a great base from which to create Peugeot's best compact family hot hatch since the 306 GTi-6.
There are two models to choose from, but while the entry-level 250-horsepower version is a fine car and drives very well, its main purpose is to provide a cheaper headline price for the range. The GTi 270 is the car Peugeot really wanted to build and sell. It carries a lot more equipment than the 250, including a Torsen differential that reduces understeer at crucial moments.
The hot hatchback market was considered a dying entity five years ago, with only Renaultsport persevering with truly great driver's cars. That has all changed, and now there are very worthy options from Volkswagen, Seat, Skoda, Ford, Vauxhall, Honda and Kia to consider, even before looking at the 308 GTi. Even Toyota, Subaru and BMW make cars on the fringes of this category.
Peugeot is hoping that features like superb British-built Alcon brakes, the differential, a top-drawer driving experience and uncompromising practicality will help persuade buyers to look this way. Indeed, it's one of the prettier cars in the group of rivals, especially in the unique 'coupe franche' two-tone black and red paint scheme - although this is a costly option.
It seems the French firm may be returning to the days of doing things properly with the 308, and now this GTi range-topper. Even the upgraded wheels on the 270, which are an inch larger than those on the 250, are 2.3kg lighter per corner, showcasing a level of attention to detail and technical prowess that the firm never explored in the 2000s.
Our verdict on the Peugeot 308 GTi 270
The 308 GTi is right up there with the best of the current hot hatchback crowd. It drives sweetly in all its standard settings and doesn't require special modes to be activated in order for it to be fun. It's composed, rides well for the class and turns into corners with bite and precision. That it looks great as well will only help its cause against stiff competition.
Costs
The 308 GTi 270 can't claim to be cheaper than its competition, but it does have the talent to be worthy of being priced where it is. In terms of value for money it isn't bad at all. Fuel economy from the 1.6-litre engine could be better under delicate use than the equivalents from all the 2.0-litre alternatives, and road tax is surprisingly affordable. Overall, it will be no more expensive to keep on the road than any other hot hatch.
Space and practicality
The 308 has a mighty 470 litres of boot space, making it far bigger than rivals'. A Seat Leon, for example, only has 380, and a Focus considerably less than that. This is easily the most practical choice in the class for carrying large amounts of luggage, and to get more space a buyer would need to upgrade to an estate. There's not a great deal of storage space in the cabin, though, particularly for any larger items.
Controls and display
Unusually, the 308 employs a rev counter whose needle rotates anti-clockwise under power; the opposite direction to the speedometer. It takes a little getting used to but its a quirky feature a driver can engage with, much like the small steering wheel. Pushing the Sport button gives red lighting for the instruments and a fake exhaust noise that doesn't really add to the experience. The jury is still out on the fully-digitised control layout, though, because some functions can be awkward to adjust while driving.
Comfort
There is enough personal space inside the cabin to keep four adults happy, and the glass area is also sufficient to let enough light into the rear seat area so that passengers don't feel hemmed in. Clearly the ride is firmer than those of cheaper, softer 308s, but Peugeot has spent enough money on damping to make sure that it rarely crashes or jolts through bumps.
Car security
Peugeot has fitted an alarm and immobiliser, as would be expected for any car in this price range. This could be a car that attracts thieves more than most cars around it on the street, so care must be taken to choose secure parking or highly busy areas wherever possible. Darkened privacy glass helps keep out prying eyes around the rear half of the car.
Car safety
Large, powerful and incredibly feelsome Alcon brakes allow precise control of the immense stopping power on offer. Stability control and the differential, which limits wheelspin when both tyres are on the road, help to make the GTi both agile and controlled in emergency manoeuvres. The car has scored the maximum five stars in the Euro NCAP safety ratings.
Driver appeal
Peugeot is rightly touting the 270 as the one to buy. Its Torsen differential helps pull the car around corners and keeps a tight line on the exit. Quality damping means the wheels are always kept in touch with the road, and the lighter wheels of the higher model allow the suspension to respond quicker. It sets a seriously rapid pace, as well, and needs revs to extract its best. It's a responsive and eager engine above 3,000rpm, but does lose some initial performance at low revs versus larger-displacement rivals.
Family car appeal
With a much larger boot than those of its closest rivals, the 308 GTi scores big points for the family man or woman who still wants a hot hatch. Owners should be able to tuck smaller items into an under-floor compartment in the boot, while easily fitting a buggy or large dog into the boot. Isofix child seat mounting points are standard on the outer rear seats, and the front passenger side is fully prepared for rear-facing child seats. The airbag can be turned off for such events.
First car appeal
For well-off young buyers a 308 GTi might be a very tempting choice, but only if they were old enough to be granted insurance on such a powerful car. It has all the fundamental practicalities of the regular 308, so is easy to drive and not much harder to park. Only the power and torque outputs might offer compelling reasons for a novice not to buy this car if they could afford it.
Quality and image
The 308 makes no pretence of being a premium product to rival the likes of BMW, but it manages to vie for the top spot among the mainstream manufacturers. The interior is simple but well designed, in the main, and the GTi seats are special enough to lift the environment from the ordinary. This is the best sporty car the brand has made for a long time, and could bring back a measure of the 1980s Peugeot GTi kudos.
Accessibility
The 270 rides no lower than an ordinary 308. Its larger wheels offset the 11mm lowering undergone by the Peugeot Sport suspension setup. That means the only thing making access any harder than for an entry-level 308 is the larger seat bolsters at the front, which hug a driver snugly but could invite a faster rate of wear as drivers scrape over them to get into position.
Stereo and ICE (In car entertainment)
All music and entertainment functions are channelled through the main media screen, which responds to touch or the wheel-mounted audio controls for the driver. There is no upgrade available for the already adequate stereo, but there is no standard CD player - an increasingly common reality in new cars. One can be added to the GTi for what seems like a higher-than-reasonable fee. As standard there are Bluetooth, USB and DAB radio inputs.
Colours and trim
Peugeot has gone straight down the lines with its colour options for the GTi, covering black, blue, white, red and grey. All colours have red lower front bumper detailing apart from red, which has chrome-effect replacements. There is also the expensive option of 'coupe franche' two-tone paint, which looks fantastic in the metal but could be difficult to respray. The interior is solid and classy black, with red detailing. The gear knob is a little less comfortable in the hand than rivals'.
Parking
Wide tyres do mean the turning circle is less tight than those of some more ordinary hatchbacks. Otherwise, the GTi feels light at the controls and easy to manoeuvre in car parks. Owners of two-tone models will want to avoid typical parking bays, though, because a scratch or dent in the rear door, down which the 'coupe franche' line runs, could be problematic to repair cleanly. Rear parking sensors are standard.
Spare wheel
Emergency tyre repair kit supplied as standard.
Range information
Petrol engine options - 1.2-litre (81bhp, 108bhp, 128bhp); 1.6-litre (202bhp, 247bhp, 266bhp). Diesel engine options - 1.6-litre (99bhp, 118bhp, 178bhp); 2.0-litre (148bhp, 177bhp). Transmission options: five and six-speed manual gearbox depending on model, plus auto gearbox (higher-powered engines only). Trim levels: Access, Active, Allure, GT Line, GT, GTi 250 by Peugeot Sport, GTi 270 by Peugeot Sport.
Alternative cars
Seat Leon Cupra 280 Supreme along twisty roads thanks to special VAQ differential technology
Ford Focus ST Hooligan road manners at the limit, but good suspension and great looks
Vauxhall Astra VXR Lairy and loud, but more capable everyday than you might think
Honda Civic Type R The most extreme-looking option, with epic performance and impressive usability