Peugeot 308 GTi
Good looks at a competitive price
June 2017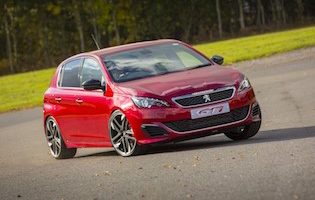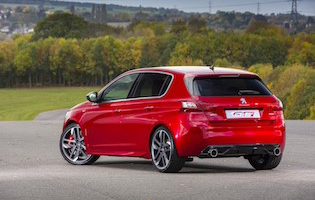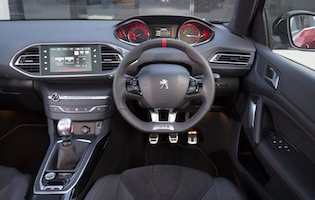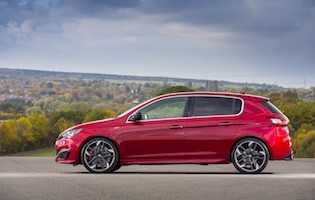 Overall rating

Likes:
Extrovert styling makes it looks like a race car
Uprated parts are all very high-spec and do a fantastic job
Addresses all of the standard car's grip issues
A worthy addition to BMW's lightweight track car legacy
Gripes:
Harsh ride
Interior lacks premium touches
Steering wheel is too small for some
Peugeot has an awful lot of form in making hot hatches. Look back, and you'll see star cars like the 205 GTi, 309 GTi and the later 306 GTi. More recently, the French manufacturer has attempted to capture some of the sparkle from these original cars and transplant it into their current line-up. This brings us to the 308 GTi – Peugeot's latest compact hot hatch.
The new 308 GTi sits within a hugely contested segment. You've got the likes of the Mini John Cooper Works, Renault Clio RS 220 Trophy and the DS 3 Performance for it to compete against, to name but a few. What can it bring to the table? A fair amount of performance, to begin with, thanks to a turbocharged 1.6-litre engine churning out 266bhp.
There are more mechanical changes, too. It receives a mechanical limited-slip differential for better cornering, as well as a lowered ride height – 11mm lower, in fact, than the standard 308. You also get stickier Michelin Pilot Super Sport tyres as standard, furthering the 308 GTi's corner-hugging abilities. Upgraded brakes bring the whole affair to a stop more effectively, too.
The inside of the 308 GTi has also been dealt a lot of sporty elements. You get large, figure-hugging bucket seats as standard, and these provide a good amount of support. The compact steering wheel is likely to divide opinion – some will find it too small, while others will enjoy its go-kart like proportions. The interior is surprisingly free from buttons, however, and this makes it a clutter-free place to be.
This latest-generation 308 GTi has also been given some up-to-date safety features, including automatic emergency braking and blind spot monitoring technology. This makes it an exceptionally safe place to be, while bringing it into line with its rivals. You also get speed limit recognition and adaptive cruise control, giving the 308 GTi the kind of features you'd expect on far more premium rivals.
Our verdict on the Peugeot 308 GTi
The Peugeot 308 GTi is a surprisingly well-rounded hot hatch. It's got plenty of pace, excellent grip and provides all of the involvement that you'd want from a car in this segment. Some elements let it down – the infotainment system, for instance, isn't all that user-friendly while some interior plastics aren't up to scratch. Overall the 308 GTi makes a solid case for itself in the face of some competitive rivals.
---
Costs
Costs for running the 308 GTi will be a little higher than a regular hatch, though this is to be expected given its increased performance. You should expect to pay more for insurance, as well as tax and servicing. New tyres will also command a reasonable premium in contrast to standard hatches, as will new brake discs and pads when it comes to replacing them.
Space and practicality
As a five-door hatch, the 308 GTi is really rather practical. It's able to offer 470 litres of seats-up boot space, and this rises to 1,309 litres with them folded down – compared to 1,270 litres offered in the Volkswagen Golf GTi. If you're after plenty of performance and practicality too, the 308 GTi is a good choice. The downside of this boot space is that it impedes rear legroom – which is worth remembering if you're planning on taking passengers frequently.
Controls and display
The 308 GTI's controls are a bit of a mixed bag. The main dials behind the steering wheel are clear, but can be easily blocked by the steering when adjusted. The large, central infotainment system is operated via touchscreen, but lacks the ease of use that you'd expect from a car in this segment, too. What physical buttons there are – and there really aren't many – operate well, however.
The 308 GTi, being a taught, lowered and stiffer version of the standard car was never going to be the last word in on-road comfort. That said, it does well to iron out the vast majority of lumps and bumps in the road, though can struggle with imperfections in the road at lower speeds. It seems that the quicker you go in the GTi, the better the ride becomes – though this is a trait found in a lot of hot hatches.
Car security
The 308 GTi features remote central locking, an interior motion alarm and immobiliser as standard. Its understated features should mean that it doesn't attract all that much attention to itself, though the 'Coupe Franche' paintwork could do away with this if specified. There really shouldn't be any reason why you'd worry about leaving the 308 GTi parked up on the street at night, which is ideal for inner-city drivers.
Car safety
The 308 GTi features all of the traditional safety features you'd expect from a modern car, such as anti-lock brakes, but builds on this with cutting-edge tech such as autonomous emergency braking and a blind spot monitoring system. It even features speed limit recognition, which informs the drivers as to what the speed limit is on any given road. Adaptive cruise control makes long distance driving a little more relaxing, as well as a little safer, too.
Driver appeal
Any small, nippy French hot hatch is accompanied by a huge amount of driving appeal. The 308 GTi is no different, affording its owner a lot of involvement. The 308 GTi incorporates a turbocharged 1.6-litre petrol engine driven through a six-speed manual gearbox and – importantly – a mechanical limited-slip differential. This gives it a huge amount of cornering ability, and therefore a lot of driving appeal.
Family car appeal
The 308 GTi could actually be a good trade-off between family-friendly practicality and an involving daily driver. As mentioned, there's plenty of boot room on offer while the rear seats, though small, could be ideal for younger passengers. Running costs will be higher than those found with traditional hatches, but in reality these shouldn't be all that bad. Of course, the cost of replacing tyres and brakes will be higher, too.
First car appeal
Though small in size, the 308 GTi isn't best suited to first-time drivers. It's rather powerful, and could prove too much of a handful for those who have just passed their tests. Insurance premiums are likely to be high, while the cost of running the car – as well as replacing elements such as tyres and brakes – will most probably be a little more than new drivers will be willing to absorb.
Quality and image
The 308 GTi lacks some of the image quality that you'd find with cars from more 'premium' rivals. However, this needn't be the case – it's very well built and, though it features some harder plastics in certain places, feels sturdy enough to last. Peugeot also has excellent form in producing some genuinely exciting hot hatches, and it seems to have repeated this with the 308 GTi.
Accessibility
As it's based on the standard 308, the GTi is just as accessible as the regular hatch. As a five-door, there's plenty of room to get in and out, while wide door apertures mean that anyone should have an easy time when entering the car. The only issue could be the heavily bolstered front seats – these require the driver and passenger to enter the cabin at a slightly different angle than you would in a conventional car.
Stereo and ICE (In car entertainment)
The 308 GTi features a really rather pared-back cabin. You get Peugeot's latest 'i-cockpit' infotainment system, which incorporates satellite navigation and media functions. It's not a bad unit, but can be a little slow to respond at times, and lacks the precision you find in rivals' cars. The standard stereo system provides a decent sound, and should be enough to keep even avid audiophiles happy.
Colours and trim
As with any hot hatch, customisation is key with the 308 GTi. There's a good variety of exterior colours to choose from, a notable one of these being the 'Coupe Franche' scheme. This features two separate colours – the front half of the car is finished in Blue, while the rear is painted black. It may sound a little odd – and will certainly divide opinion – but there's no doubting how striking it is.
Parking
Owing to its compact size, the 308 GTi isn't all that difficult to park. You get a reversing camera and parking sensors as standard, and this makes positioning the car that little bit easier. It's also a car with a good degree of visibility, and this is especially helpful when parking in tighter spaces or when negotiating small car parks.
Spare wheel
Emergency tyre repair kit supplied as standard.
Range information
Petrol engine options: 1.6-litre turbocharged petrol (266bhp). Transmission options: Six-speed manual. Trim levels: GTi.
---
Alternative cars