Peugeot 308 GT
Great levels of tech and easy-to-use connectivity
June 2017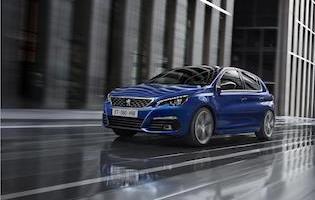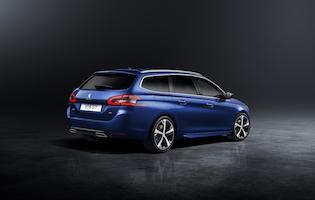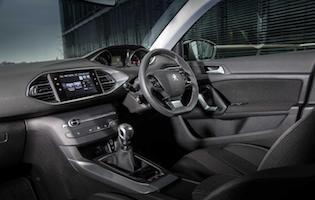 Overall rating

Likes:
Great levels of tech and easy-to-use connectivity
Small steering means a sporty feel and aids driveability
Refined diesel engines, as quiet as petrol alternatives
Fit and finish excellent across the range
Gripes:
i-Cockpit not great for all heights as wheel may obscure the dash
Interior could have benefitted from more modern styling
Touchscreen not easy to use whilst driving
Less spacious inside than some competitors
We're big fans of the 308 hatchback and estate, but all across the UK that doesn't seem the common verdict. It hasn't quite hit the heights over here that it has reached in France, where it sits proudly as the most popular choice in its segment.
In order to make the 308 a much more appealing car, Peugeot has made a number of revisions both inside and outside the car, as well as adding fresh engine choices.
The car's exterior has benefitted from some sharper styling. The front features new elliptical headlights with LED daytime running lights, whereas the rear has three claw shaped lights, giving it a more distinctive look. The GT line also features a glass roof as standard.
Inside, there's Peugeot's latest i-Cockpit, which comes with a 9.7-inch touchscreen, equipped with a 3D satnav and new graphics. The cabin itself hasn't changed a great deal but remains plush and comfortable.
Under the bonnet, there's a new range of engines to choose from. An upgraded three-cylinder 1.2-litre petrol remains in the lineup, mated to a new six-speed manual gearbox.
As for diesel options, the 2.0-litre remains and is joined by an all-new PSA 1.5-litre option, the former being available with an eight-speed automatic.
Our verdict on the Peugeot 308 GT
We like the 308 and it deserves to do well. Speaking to Peugeot representatives at the launch of the car, they seem disappointed that it hasn't quite taken off in the way they hoped. Could it be that Peugeot has something of a historical image problem? Maybe – but if you're after a family car crammed with kit, as safe as houses and looks the business, you won't be disappointed.
---
Costs
Prices for the 308 begin at £18,750, with the GT model we tested coming in at £25,010.
The range-topping 308 GTi begins at £29,405.
Running costs will vary based on your engine choice, although our test car has a claimed 50mpg range, whilst emitting 130g/km of CO2 emissions.
Space and practicality
Practicality is key for family buyers of course and the estate features the largest load space in its class. There's 660 litres with the parcel shelf in place and a whopping 1,775 litres with the rear seats folded and the parcel shelf removed.
Controls and display
The i-Cockpit presents everything a driver could need at their fingertips, thanks to 3D satnav and smartphone connectivity.
However, the screen can be very tricky to use whilst on the move so doesn't provide the most practical experience when changing destinations on the move or finding a new song to play.
Comfort
If you're able to avoid the burden of having an awkward driving position, the 308 is a very comfortable experience. The ride is absorbent and the car is very stable, allowing you to truly relax whilst behind the wheel.
Car security
The 308 has an alarm system fitted, meaning you'll know if someone tries to break in. Although it's not the kind of car you should expect to be a high-target for theft, so there's no real need to worry.
Car safety
The 308 features plenty of safety options, such as blind spot mirror assist, dynamic cruise control, emergency collision alert system and autonomous braking.
Should you manage to crash it, however, the car is rated five stars by EuroNCAP, so there is the peace of mind that you'll be safe in most serious accidents.
Driver appeal
Despite being a family car, the 308 holds a lot of appeal in its driving dynamics.
We tested it along the mountain roads and autobahns of Germany and it coped with everything thrown at it, providing a genuinely enjoyable and absorbing experience.
The gearbox is responsive, letting you feel in control all the time whilst enjoying the drive.
Family car appeal
The 308 is almost the perfect car for an average family. There's plenty of boot space, good fuel economy and the car is well-sized, comfortably fitting two adults up front and three kids at the back.
Oh, and for parents who don't want to miss out on a fun car whilst maintaining practicality, the GTi may be exactly what they need.
First car appeal
As a first car, there are probably better choices in the Peugeot range to go for. Insurance on the 1.2 models would not be too high, but as the car is aimed for the mid-size market, new and younger drivers who don't need quite as much space may be better off opting for the smaller 208, or the tiny 108.
Quality and image
Fit and finish across the whole 308 range is to a very high standard, with interior quality feeling very premium for what the car is.
Despite Peugeot's efforts to create a more dramatic appearance though, it's still a 308. So, if you're not one for attention, you should easily fly under the radar here.
Accessibility
Being primarily a mid-size family car, the 308 is a very accessible car. Door openings are large, making it easy for people of all shapes, sizes and ages to climb in and out of.
As for the driving position, the previously mentioned i-Cockpit issues for people of different heights may make it a little awkward for some to see behind the wheel, leading to a compromised position.
Stereo and ICE (In car entertainment)
The i-Cockpit works very well here, with seamless smartphone connectivity and 3D satnav giving the 308 a very premium experience. The only downside to this is the size, which can make it difficult for drivers of different sizes to use the system properly whilst driving.
Colours and trim
Six colour choices are on offer for the 308 range. Hurricane grey is available with the base price. Nera Black, Cumulus Grey and Magnetic Blue are all available for an extra £525, whilst £675 can get you Pearlescent White or Ultimate Red.
Five trim options are on offer for the 308. It starts with the Active, moving up to the GT (which we tested) and then the range-topping 308 GTi that is powered by a 1.6-litre turbocharged petrol engine, producing 266bhp meaning 0-60mph comes in 5.8 seconds.
Parking
The GT model features rear parking sensors and a reverse camera, making reverse parking a doddle, especially for a mid-size car.
Visibility is all-around fantastic too, which only serves to help the parking experience.
Spare wheel
A spare wheel and emergency tyre repair kit are supplied as standard.
Range information
Petrol engine options: 1.2-litre (110bhp), 1.6-litre (266bhp). Diesel engine options: 1.5-litre (130bhp), 2.0-litre (205bhp). Transmission options: Five-speed manual, six-speed manual, six-speed automatic, eight-speed automatic. Trim levels: Active, Allure, GT Line, GT, GTi.
---
Alternative cars