April 2006
Peugeot 207 1.6 HDi 110 Sport
Styling of 207 is an evolution of the 206
April 2006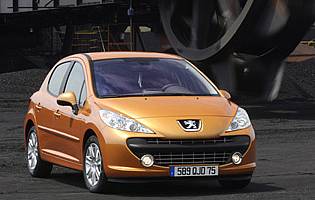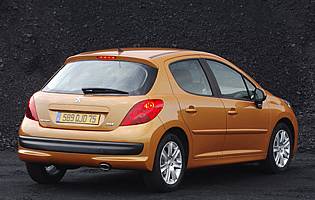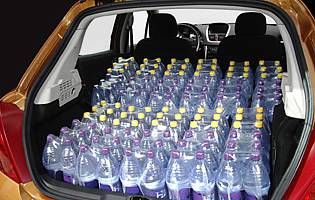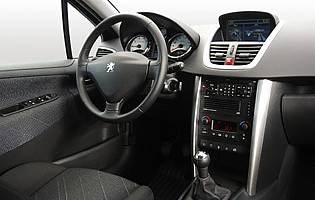 Overall rating

Likes:
Wide stance feels planted and secure
Improvements in materials used are noticeable
Steering assistance is nicely judged
Plenty of space for all passengers
Gripes:
Fragrance diffuser smells like cheap aftershave
Lacks individual character of 205 and 206
Build quality still no better than average
Styling fails to grab the attention
For several years, the 206 was the UK's best-selling retail car. While fleet buyers stocked up on bulk orders of Fiestas and Corsas, people spending their own money preferred the 206. It is vital for Peugeot to repeat the trick with the 207, and the car is good enough to give it a good chance of doing so.
There are few, if any, surprises where the 207 is concerned. It follows the trend already established by big-sellers such as the Clio, Golf and Fiesta by growing in size compared to the 206 so that it feels like a more substantial vehicle. With the smaller 107 now available below it in the Peugeot range, there is less pressure on the 207 to cater for entry-level customers.
The increase in size brings with it a significant improvement in comfort levels. The 206's problematic driving position has been eradicated, and rear seat passengers will no longer anticipate long journeys with a feeling of dread. Interior quality is generally good as well, with hard and brittle plastics giving way to warmer, soft touch materials. Peugeot still lags behind German and Japanese rivals on overall build quality but it is on a par with its French, Italian and Korean counterparts.
On the road the 207's extra size and weight has plusses and minuses. It certainly feels stable, even cornering at high speeds, and the steering is nicely weighted. However, it completely lacks the nimbleness and sporting edge of some antecedents, including the 106, 205 and 206. It could be argued that the tiny 107 is more fun to drive, despite its limited power.
It's a measure of how conservative the 207 is that its most novel feature is a dash-mounted Fragrance Diffuser that fills the cabin with a variety of rather unpleasant odours. If you want refills, you'll have to buy them from a Peugeot dealer. Few will bother. The main difference between Classic and Sport 207s is that the latter have front fog lamps.
Our verdict on the Peugeot 207 1.6 HDi 110 Sport
A sensible all-rounder rather than an inspiring choice, the Peugeot 207 should rack up substantial sales, though it's unlikely to match the showroom performance of the 206. It shows that Peugeot can build a competent car to cater for the general buyer's needs, but fails to inject that extra something to make it memorable.
Costs
Small Peugeots are generally cheap to run and repair. Purchase costs are not particularly attractive compared to rivals such as the Kia Rio, but from then on, owners should be quids in. Diesel models offer obvious cost savings on fuel economy, and few drivers should have a problem tracking down a competitive insurance quote for the 207.
Space and practicality
In keeping with most cars in this class, the 207 can carry a fairly substantial load when the need arises. Rear seats fold almost completely flat and the usual array of drinks and pen holders is spread through the cabin.
Controls and display
Dials and controls are functional, no more. It's a pity, as some of the Jaeger dials of past small Peugeots were works of art in themselves. Sadly, Peugeot's satellite navigation system remains one of the noisiest and most awkward to use, though it is very accurate and detailed. One of the 207's few claims to fame is its novel Fragrance Diffuser - great if you want your car to smell like a bottle of cheap aftershave.
Comfort
Designed to seat four in comfort, not five painfully, it is possible to squeeze five inside on occasional journeys. The amount of road noise varies markedly according to the engine and wheels chosen, with a large engines and small wheels the quietest combination.
Car security
As with much else on the Peugeot 207, the security package is pretty standard. Nothing strikes you as unexpectedly generous. All models get remote central deadlocking and automatic drive away locking plus an engine immobiliser. A category one ultrasonic alarm is provided as standard on GT models but is a cost option on all others.
Car safety
These days no car can compete without good safety ratings, and the 207 is no exception. A comprehensive specification is provided with a convincing series of crumple zones, front side and curtain airbags plus two Isofix mounting points. Active head restraints are notable by their absence. On a purely subjective level, the 207 feels much more solid than the 206 did.
Driver appeal
Compared to the thrill that used to routinely accompany a journey in a Peugeot 206, the 207 seems a trifle dull. But tighter safety regulations and buyer demands for increased space and refinement take precedence these days, and in both these respects the 207 fares well. The smaller-engined variants need to be worked harder and are more rewarding and involving as a result. Steering is great, gearbox rather imprecise, making it too easy to mix up third and fifth.
Family car appeal
Many families are gravitating away from cars like the 207 towards compact MPVs and estate cars. The increased size of the 207 makes it appealing and it's likely to find a place on many driveways as a second car.
First car appeal
The smaller 107 is of more immediate appeal to first-timers. Not only is it cheaper to buy and run, it's more fun to drive. People with an old head on young shoulders might prefer the 207's extra practicality though, particularly in Sport and GT guises.
Quality and image
Quality is up on the 206, though Peugeot's status as a middle-of-the-road mainstream manufacturer remains unchanged. Traditionally Peugeot's smaller vehicles are extremely popular with personal buyers, and the 207 should continue this trend. It would have been nice if the designers had injected a bit more flair, particularly as rivals such as the Grande Punto are great to look at.
Accessibility
Inevitably, five-door variants fare better than those with just three openings. All doors are substantial but easy enough to use. Some effort is required to operate the rear access levers on the front seat in three-door models.
Stereo and ICE (In car entertainment)
Standard issue is a single-slot CD Radio, even on the range-topping GT. It is nothing special, and those who live for their music will probably want to install their own unit - not easy given that the standard unit is well integrated into the dash. Peugeot's RT3 telematics system incorporating satellite navigation is available as an option on GT models only. It's the only way to listen to MP3 files, which could put off young buyers.
Colours and trim
There are thirteen exterior colours to choose from, three of them basic solid non-metallic hues which have always seemed to work well on Peugeots. Range-topping GT models have some good quality leather trim. The velour of some cheaper models is questionable - choose with care.
Parking
Despite its extra weight over the 206, the 207 is simple to park. Rear visibility isn't the best but good-sized side mirrors compensate. Rear parking sensors are available as an extra option only.
Spare wheel
Full size steel spare wheel is located under the boot floor.
Range information
Engine range consists of six engines: 1.4 (75bhp) petrol; 1.4 (90bhp) petrol; 1.6 (110bhp) petrol; 1.4 (70bhp) diesel; 1.6 (90bhp) diesel and 1.6 (110bhp) diesel. Trim designators are entry level Urban followed by S, Sport, SE and GT. S and SE are designated as Classic versions, with Sport and GT as Sport versions. All engines come with five-speed manual transmission as standard.
Alternative cars
Renault Clio Similar template to the 207, also lacks sparkle
Fiat Grande Punto Lovely looks and great diesels
Kia Rio Looks rather like 207 and keenly priced
Citroen C3 Not the prettiest around, but discounts to be had