Nissan Pulsar DIG-T 190
Hugely spacious
January 2017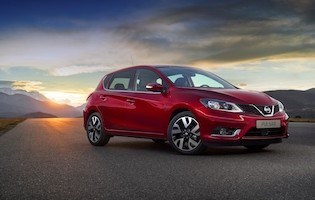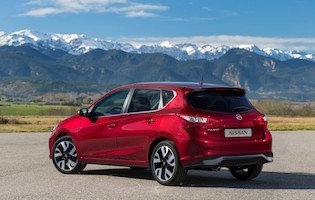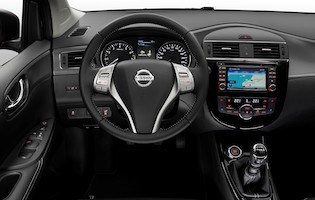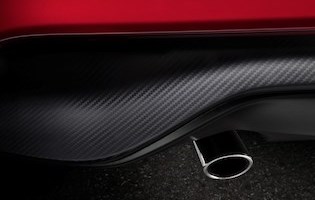 Overall rating

Likes:
Understated looks
Hugely spacious
Well priced
Decent warm-hatch performance figures
Gripes:
Still not that good to drive
Less comfortable than the standard car
Mock carbon-fibre trim a little tacky
Gearbox feels slushy and loose
When the Nissan's Pulsar family hatch first touched down, it was largely seen as competent, comfortable and spacious, but lacking in excitement. A go-faster 'Nismo' version was rumoured, and a concept car even surfaced, but the much-anticipated hot hatchback never really materialised. Instead, Nissan produced this mildly warmed version, which offers some of the sporty thrills without the running costs.
Externally, there's little to suggest that this is anything other than an ordinary Pulsar, but look closely and you'll spot the fake carbon-fibre trim on the rear valance and the wide-bore exhaust pipe, both of which mark it out from the basic 1.2-litre petrol.
Inside, the changes are equally subtle, with just the mock carbon-fibre dashboard trim giving a hint of sportiness. It retains the standard car's practicality, though, with a boot that's larger than you'll find in the back of a VW Golf or a Ford Focus, and rear legroom that's more befitting a luxury saloon than a family hatchback.
Up front, you're treated to a 1.6-litre turbocharged petrol engine that gets you from 0–60mph in around 7.5 seconds and on to a top speed of 135mph. That makes it slightly slower than the likes of the VW Golf GTI, but puts it right in the firing line of warm hatches such as the Kia Cee'd GT.
The power does make its presence felt on the road, with a fairly substantial shove in the back when the revs climb above 2,500 or so, but the end result is not quite as exciting as the performance figures would suggest. There's still substantial body roll, despite the 190's tweaked suspension, and the steering is a little bit too numb.
Our verdict on the Nissan Pulsar DIG-T 190
Though many were crying out for a more entertaining Pulsar, the 190 is not the answer to those prayers. It's cheap and practical, it's still quite a refined cruiser – certainly more so than the 1.5-litre diesel – and it's even relatively economical, considering how fast it is, yet it's less comfortable than before and offers little in the way of driver involvement.
---
Costs
Pulsar 190s start at £17,795 for the basic Acenta model, and that includes goodies such as keyless start, automatic lights and wipers and two-zone climate control. Upgrading to the top-spec Tekna will add satellite navigation, the 360-degree camera and leather upholstery, but pushes the price north of £20,000.
Space and practicality
With 385 litres of boot space, the Pulsar has marginally more room than a Volkswagen Golf and considerably more room than the Ford Focus, but there's more to practicality than luggage volume. There's a massive amount of space in the back seats, and there's an impressive amount of headroom in both the front and the back. Better still, there's a wide range of roomy cubby holes to exploit.
Controls and display
The Pulsar has fairly conventional controls, and it's also blessed with a wide range of digital displays. That, however, is where the problem lies. The displays are functional and simple, but they look outmoded, particularly when compared with the jazzy displays found on some rivals.
Comfort
The standard Pulsar is a comfortable beast, but the 190 has been tweaked with stiffer springs in a bid to reduce the body roll. In top-of-the-range cars, it also gets 18-inch alloy wheels, and these changes have affected the ride somewhat. The 190 feels firm around town and downright jarring over pockmarked rural B-roads, although it does eventually settle down on faster roads such as motorways and dual carriageways.
Car security
Fitted with an alarm and immobiliser as standard, as well as central locking, the Pulsar is as secure as any on the market. It's unlikely to be too much of a target for thieves, too, as the subtle looks mean few will realise the car's true performance. The car's stealthy reputation means light-fingered individuals will be more likely to make a beeline for Golf GTIs and Focus STs than the humble Nissan.
Car safety
The Pulsar 190 hasn't been tested by Euro NCAP, but its 1.2-litre sibling fared well when it was examined, achieving five stars. Adult and child occupant scores of 84 per cent and 81 per cent should be reassuring, and they are backed up by decent pedestrian protection and safety assistance scores. The only real fly in the ointment was a marginal score for whiplash protection.
Driver appeal
The Pulsar 190 is designed to be the most exciting driver's car in the Pulsar range, and its 7.5-second 0–60mph time suggests that to be the case, but it isn't quite as entertaining as you might hope. The steering is light and numb and there's still too much body roll – a problem exacerbated by the lack of support in the seats.
Family car appeal
With bags of interior space and a decent-sized boot, the Pulsar 190 isn't a bad family car for those that want a bit more joie de vivre from their daily driver. There's no estate version, which might put some off, but if you just want a roomy five-door with a bit of poke, the Pulsar fits the bill nicely.
First car appeal
Youngsters would love to run a fast hatchback, but the practicalities may prove a little too expensive for most. Not only will it cost more in fuel than the lowlier models, but the performance figures will make it more expensive to insure. That said, the Pulsar's competitive price tag will make it a more compelling choice than some of its rivals.
Quality and image
Nissan has a pretty good reputation for building solid cars, and though the Pulsar is not its best effort yet, it's still fairly well constructed. There are one or two rough edges, but the materials used are generally good, and there are soft-touch plastics everywhere. Some of the digital displays, however, don't look as classy as those found in rivals such as the Kia Cee'd GT.
Accessibility
Although the Pulsar sits relatively low to the ground, it's also quite a tall car, meaning the door aperture is quite large. It also means the seat is set quite high, which makes it easy to get into and out of. The boot is equally well positioned, although there is a load lip that makes it harder to load and unload heavy items.
Stereo and ICE (In car entertainment)
The Pulsar gets a touchscreen infotainment system on all but the basic model, and though it isn't the prettiest system on the planet, it is at least functional and self-explanatory. Some of the on-screen 'buttons' are a tad small, though, making them a bit tricky to use on the move. Sound quality is decent without being impressive, but the engine's refinement means you won't feel the need to crank up the volume too much.
Colours and trim
The Pulsar's colour palette is not all that inspiring, with the majority of hues being fairly austere blacks, whites and greys. There is, however, an almost candy-effect red on offer, as well as a deep blue that seems to boast a hint of purple. These colours are set off by the trademark V on the grille and the chrome finisher on the wide-bore exhaust tip, as well as the silvery finish on the bootlid badges.
Parking
With surprisingly light steering and relatively compact dimensions, the Pulsar is an easy car to park. Visibility is decent, but it's no great problem for high-spec cars, which come with a 360-degree parking camera. Dubbed the Around View Monitor, this system uses cameras in the bumpers and door mirrors to provide a bird's-eye view of the car and its immediate surroundings.
Spare wheel
Emergency tyre repair kit supplied as standard.
Range information
Petrol engine options: 1.6 DIG-T (187bhp). Diesel engine options: none. Transmission options: six-speed manual. Trim levels: Acenta, N-Connecta, Tekna.
---
Alternative cars
Kia Cee'd GT More expensive, but also more fun.
Mini Cooper S 5dr Stylish, well built and brilliant to drive.
Hyundai i30 Turbo Mildly disappointing, but still the most fun you can have in an i30.
Peugeot 308 GT 205 Petrol 308 GT is a great balance of power and refinement.