December 2004
Nissan Patrol 3.0 Di SVE
The Nissan Patrol is about as big as it gets
December 2004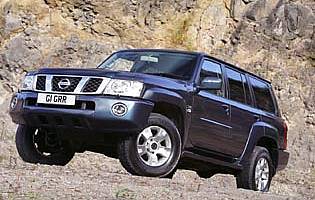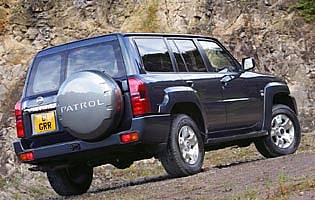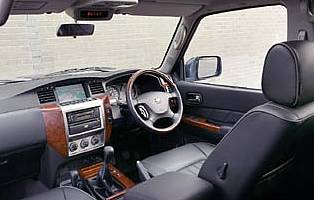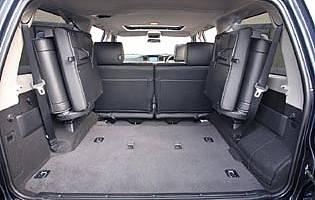 Overall rating

Likes:
Supreme off-road ability means that the Patrol will go anywhere
SVE refinement does a good job of disguising utilitarian underpinnings
Interior is spacious and comfortable enough for longer journeys
Massive presence instils driver confidence
Gripes:
Poor fuel economy will make trips to the pumps a regular occurrence
On the public road it feels slow and wallows around the bends
Climbing into the elevated cabin requires something of a leap
The lack of standard sensors makes parking an arduous task
One of the last true off-roaders, the Nissan Patrol ploughs a lonely furrow in today's world of part time grass 'n' gravellers and SUVs. It is quite simply massive and will go practically anywhere.
Fist seen in 1951, the Nissan Patrol has been crushing rocks and scaling mountains for over half a century. There are no bones about the fact that this is a 4x4 through and through and it makes no concessions to the soft-roader set of recent years. This is a car for people with very hairy chests.
There are a few of these macho machines left, such as the Toyota Land Cruiser, Jeep Grand Cherokee and Mitsubishi Shogun. They are all similarly sized and equally thirsty. The SVE Patrol, however, comes with seven seats, which should appeal to family buyers.
As is the case with nearly all 'proper' off-roaders, the Patrol is far better behaved on the rough stuff than it is on the smooth. Its low-down torque is ideal for scaling the sheer side of a ravine, but on the motorway the 3.0-litre turbo diesel feels lacklustre and struggles to keep up with all non-articulated traffic.
The SVE model features some refinements like leather seats and satellite navigation and these do a good job of masking the car's utilitarian background. However, the faint-hearted need not apply, as this car is simply huge and will take a lot of nerve to manoeuvre around Sainsbury's car park on a Saturday morning.
Our verdict on the Nissan Patrol 3.0 Di SVE
Unbeatable off-road, though not quite as capable on it. The Patrol is really designed as a rugged workhorse and should be used as such. There is plenty of space for the kiddies, but its on-road manners leave a lot to be desired and parking in tight spaces is the stuff of nightmares.
Costs
Not even base S models are cheap, with SVE seven-seaters costing more than the firm's 350Z sportscar. Levels of fuel economy are woeful, particularly in an urban environment. Insurance premiums will also cost a fair bit. The Patrol is about as reliable as they come, but the cost of day-to-day running will be too high for many motorists.
Space and practicality
With the two rearmost seats folded away to the side, the Patrol has a generous stowage cavity of 2,226 litres - more than enough for all of the family's luggage and possessions. With the sixth and seventh perches in place this space is reduced dramatically to 183 litres.
Controls and display
The main instrument binnacle is a straightforward affair with little to confuse or distract. The seven-inch sat nav display is first class for ease of use. Steering wheel-mounted audio controls are always a welcome touch as are ergonomically correct chunky rotational heater controls.
Comfort
While the Patrol is no luxury car, it is still fairly comfortable. Large, accommodating leather seats and plenty of head and legroom are afforded to all seven passengers. Those elephantine wing mirrors and sheer windshield do throw up quite a bit of wind noise at higher speeds, but climate control and heated seats help to keep all occupants at a pleasant temperature.
Car security
An ultrasonic alarm, immobiliser and remote control central locking with anti-hijack feature should keep the Patrol safe enough. It is hardly likely to be a favourite among thieves given its leviathan proportions and auspicious presence.
Car safety
SVE models benefit from dual front and side airbags, ABS, front seatbelt pretensioners and seven three-point fastening belts. S trimmed models only have five seats so obviously miss out on the two rearmost belts. However, front side airbags are also left off the base model's spec list, which is a bit stingy. In general though, this safety kit coupled with the sheer size and strength of the Patrol should fill all passengers with a warm sense of safety.
Driver appeal
To use an old footballing cliche, the Patrol's driving personality is very much a game of two halves. Off-road it reigns supreme, crushing all before it and never emitting so much as a groan from its ladder-frame chassis. Ditches, ravines, gorges, boulders, chasms, you name it and the Patrol will shrug it off as if it were a puddle in a supermarket car park. On-road, however, things are less accomplished. The 3.0-litre diesel engine struggles to keep pace and even the mildest bend causes large amounts of body roll. This is common failing among off-roaders, though, and the Patrol is no worse than its main competitors.
Family car appeal
SVE models have seven seats (S models have just five) and as such are worthy of family buyers' consideration. Its spacious and robust cabin seems more than up to the job of withstanding the attention of several kiddies. Those with precious bundles to transport will also appreciate the sense of safety and security experienced when behind the wheel of something so large.
First car appeal
Even experienced motorists will find reverse parking the Patrol in town or negotiating the local multi-storey difficult, so it is likely to be too much for those just past their test. Fuel and insurance costs are also high making the Patrol just about the opposite of a good first car.
Quality and image
Every part of the Patrol feels well made and robust and Nissan certainly has a reputation for producing quality products. Image, as with most Far Eastern manufacturers, presents more of a problem. It isn't that they are perceived as being dowdy or knaff, but at the same time they can't match manufacturers like Land Rover and Jeep whose products are seen as prestigious and desirable.
Accessibility
Get those stepladders ready - at 185cm tall the Patrol does require something of a leap up. Side steps are provided, but the less limber and more mature will still struggle to scale these dizzy heights. The door openings (if you can reach them) are wide and welcoming and easily negotiable. The floor level of the boot is also quite high and not easily accessible by the vertically challenged.
Stereo and ICE (In car entertainment)
A four-speaker, two-tweeter system fitted to a dash-mounted CD player provides the Patrol's tunes. It sounds good, but at higher speeds there is a lot of wind, road and tyre noise, which it struggles to drown out. Nissan's Birdview DVD sat nav is standard fitment on the SVE and continues to impress in a big way. This is by far and away the most easily understood navigation system currently available on the market.
Colours and trim
The Patrol is a big, solid vehicle and as such suits big, solid colours. Kuro black, Gun Metal grey and Amazon green are particularly fetching. SVE models have colour-coded bumpers and wheel arches rather than the S's black plastic numbers. Black leather for the interior with flecks of wood-effect trim do a commendable job of masking the Patrol's utilitarian underpinnings.
Parking
This is likely to cause many motorists a bit of a headache. Rear parking sensors are available as a fairly costly option, but it would be a good idea to plump for them as reverse parking will be tricky otherwise. The sheer scale of the vehicle and poor rearward visibility (the spare wheel gets in the way a bit) will test all but the most assured driver.
Spare wheel
Full size replacement wheel fitted to boot door.
Range information
Only one engine option offered: 3.0-litre Di turbo diesel. Fitted with either a five-speed manual or four-speed gearbox. Two trim designators from which to choose: S and SVE. SVE is the more luxurious of the two.
Alternative cars
Toyota Land Cruiser More modern competitor also hails from Japan
Land Rover Discovery 3 Disco has more desirable badge and image
Jeep Grand Cherokee Yank Tank is equally large and thirsty
Mitsubishi Shogun Ageing and overpriced but still indestructible