February 2005
Nissan Pathfinder 2.5 dCi SE
Chunky-looking Pathfinder offers high levels of versatility on and off road
February 2005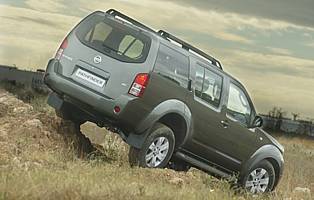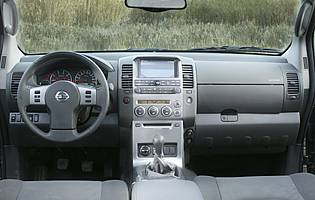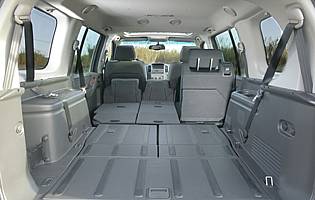 Overall rating

Likes:
Seven-seat option is versatile and easy to change from one layout to the next
Competent on road, impressive off road
Diesel motor is not hugely powerful but is willing and refined
Standard equipment levels are high, making the Pathfinder good value for money
Gripes:
Overall cabin build quality could be better
Automatic gearbox option feels sluggish and blunts the Pathfinder's performance
Spare wheel is slung underneath the car, which makes it vulnerable to damage when off-roading
Third row of seats is realistically only suitable for children
The Pathfinder is Nissan's value for money alternative to the likes of Land Rover's Discovery, Volkswagen's Touareg and Jeep's Grand Cherokee. Being compared to such popular and competent vehicles shows how far the Japanese firm has come in recent years. Although aimed predominately at the family leisure market, the Pathfinder is also an impressive off-roader.
Nissan is no longer the exclusive purveyor of worthy but unexciting cars. Although the Japanese firm has dabbled in more interesting stuff in the past, the recent revolution was kick-started by the critically acclaimed 350Z Coupe. This has been joined by an attractive Roadster variant, and both cars have put Nissan back in the spotlight for all the right reasons.
It's not all about racy little numbers, though. The other string to Nissan's bow is its ability to make tough, reliable off-roaders. In the past these have been biased towards the utility end of the sector, but the recent explosion in popularity of SUVs has caused Nissan to build more family-friendly models. The company's X-Trail is a fine example, but this popular SUV is no match for the Discoverys and Grand Cherokees of this world off road.
Enter the Pathfinder, an altogether more focused vehicle - focused on delivering the 4x4 experience to active families who demand more from their 4x4. It could mean trips to the countryside, doubling up as a rural workhorse or being able to tow caravans or boats.
There are a few rough edges in terms of refinement, but on the whole the Pathfinder largely succeeds in pulling off its multi-skilled role. What's likely to prompt buyers to overlook the car's minor niggles is its price and generous levels of standard equipment. It's clear that Nissan is playing a smart game with the Pathfinder. Acknowledging that it can't beat the competition on reputation and brand values it is targeting buyers' wallets. It might just work.
Our verdict on the Nissan Pathfinder 2.5 dCi SE
For the money, the Pathfinder is difficult to beat. Combining high levels of equipment, a spacious and versatile interior and a full-blown 4x4 system to enable you to off-road with confidence, the chunky-looking Nissan is a great all-rounder. It doesn't feel cumbersome on the road and, with its versatile seating options, makes a great alternative to a conventional MPV. The only disappointment is the sluggish auto gearbox and the only average quality of the cabin materials.
Costs
On paper the Pathfinder isn't cheap by family car standards, but scan the equipment list and check out its off-roading and towing capabilities and it starts to make financial sense. The only real downside will be fuel consumption as Nissans are renowned for their reliability. It may be a diesel but the Pathfinder is a weighty vehicle. Also, off-roading and towing activities tend to put an extra strain on the car's engine.
Space and practicality
There's no doubting that the Pathfinder's biggest attraction to buyers will be its practical attributes. Able to swallow a family and, possibly, a few small friends, it's a useful tool to have around. The cornerstone of the car's abilities is the variable seating arrangement. Seven-seater cars offer the most, and can be configured in many different ways. The folding mechanism is simple to operate and doesn't require any manhandling of the chairs to achieve a flat floor.
Controls and display
In contrast to its glossy and polished exterior, the Pathfinder's interior is less than spectacular. Ergonomically there's little to fault the car's cabin; everything is where you'd expect it and it all functions well. What's not so impressive is the quality of the materials used. Switchgear feels only average and the gearshift of the manual transmission is long and ponderous - not good when you're in a hurry to swap cogs. Also, reverse can be hard to select. On a more positive note, the optional sat-nav is superb, likewise the colour reversing camera.
Comfort
The Pathfinder's cabin is a pleasant place to spend a few hours in, but there's no mistaking that you're in a 4x4 and not a family hatchback. There's no question that you've got plenty of space at your disposal and that the seats are comfortable, but the diesel engine under the bonnet can intrude when it's pushed hard or when it's not yet warmed up. Wind noise is another bugbear, but it's hard to be too critical as the Pathfinder is not exactly a streamlined beast.
Car security
Off-road vehicles are always popular with thieves, so it's good to see that the Pathfinder comes with the usual remote central locking and immobiliser double act. Keeping belongings out of sight is also important, making the car's rear underseat oddment compartment especially welcome. And if you don't want to advertise the fact that you're going to remotely unlock you Pathfinder, select either SVE or T-spec models and use their Intelligent Key - a 'keyless' system allowing you to get in and start the vehicle whilst keeping the implement in your pocket.
Car safety
Out of the box the Pathfinder is well equipped with even the base model getting the same treatment as the flagship variant. Apart from the obvious benefit of four-wheel drive, the list includes twin front, side and curtain airbags, anti-lock brakes plus ESP and traction control. T-spec models also get high-power xenon headlamps, which should prove beneficial on dark, unlit rural roads.
Driver appeal
You don't buy a 4x4 for its ability to fly around corners, so you must be prepared to make allowances when driving. That said, drive sensibly and the Pathfinder performer well. Pitch and roll is contained if you take care on corners, while straight-line running is drama-free unless you encounter especially strong crosswinds. The diesel unit is strong and willing, if a little noisy at high revs. On road only harsh bumps cause the car to falter. Off road the Pathfinder is more than adequate; its low ratio gearbox helps enormously and manoeuvrability is impressive despite its size.
Family car appeal
The Pathfinder's off-roading talents aside, the car scores well as a family vehicle. All but the base model get three rows of seats, of which the two rear rows easily fold to leave various combinations on a flat load bay theme, making it ideal for shopping trips and holidays. With all the seats up access to the rearmost row is tricky and definitely only for children. Elsewhere the family friendly cabin boasts numerous storage areas, including an underseat cubbbyhole, and a tailgate with an independently opening rear screen.
First car appeal
If you like a challenge, the Pathfinder is the car for you. In truth it's probably not the best one to choose as your first steer - a sentiment that is true for most 4x4s. Predictably it's a size issue - the Pathfinder is no Micra - and its girth would test any novice driver's skill to the test around town.
Quality and image
Keen to branch out, the last few years have seen Nissan expand its range of 4x4s and sport utility vehicles. Part of the decision has been fuelled by the firm's growth in the US. The Pathfinder is a by-product of this, although this model differs from its American counterpart. It's also a move to raise the firm's profile and dispel the image of a firm that 'just' makes family cars. Quality-wise the Pathfinder sits between the polished VW Touareg and the slightly dated Mitsubishi Shogun.
Accessibility
By their very nature, 4x4s aren't always the easiest of cars to climb into. The necessary hike in ride height over regular cars can make the trip up to the cabin an ungainly or even impossible one. The Pathfinder is by no means the worst offender, but because it is a 'proper' off-roader it will be a stretch for some people. The same is obviously true for rear seat occupants, but anyone seeking to sit in the back row will have to squeeze past a (folded forward) middle row seat. Legroom is tight and best suited for children. At the rear the load lip is low and pleasingly wide.
Stereo and ICE (In car entertainment)
Standard kit on the entry-level model is a good quality radio/CD unit. Move up a level and you gain a CD changer, steering wheel audio controls and a few extra speakers. It's only when you opt for the flagship model do you get sat-nav, a colour screen and a Bluetooth module that allows you to use your own phone handsfree. You also get voice control for the entertainment unit's various functions.
Colours and trim
Dark colours suit the Pathfinder well. They have a knack of disguising the car's size which, although isn't huge, is better flattered by more modest hues. Inside the theme is largely a grey one as Nissan appears to have gone for the upmarket utility look, which is basically fine as the car likely to be occupied by unforgiving children, pets and activity paraphernalia. It's just when you start looking at the high-spec variants that you might wonder if a better finish could have been used.
Parking
The Pathfinder isn't a small car but never feels cumbersome. Light steering and good visibility helps to make the parking experience as painless as possible. And whilst the car's big door mirrors help enormously, the colour reversing camera - similar to that on the Primera - is a great way to minimise the chance of body damage. Flagship T-spec cars come as standard with the device.
Spare wheel
Full size wheel located outside under the car's load bay.
Range information
One engine option - 2.5-litre dCi (174bhp) turbo diesel. Power is transmitted by a six-speed manual gearbox complete with low range option. Five-speed auto gearbox is available at extra cost. Trim levels: S, SE, SVE, T-spec. All bar S come with seven seats.
Alternative cars
Land Rover Discovery 3 Benchmark 4x4 is impressive but can be costly; base model lacks the firm's numerous electronic gizmos
Jeep Grand Cherokee American off-roader is well made, plush and good off-road. On road manners could be better
Mitsubishi Shogun Elderly Shogun is great off road but is now outclassed on road and starting to feel dated
Volkswagen Touareg Low-spec VW Touareg comparable to Pathfinder and not too shabby off road, either