January 2005
Nissan Murano 3.5 V6
Murano has undoubted road presence
January 2005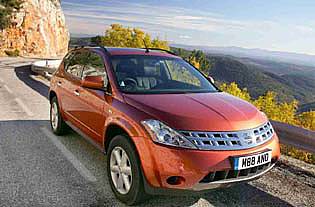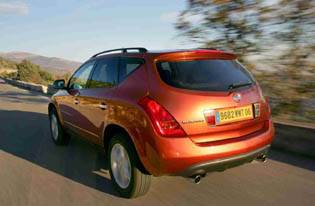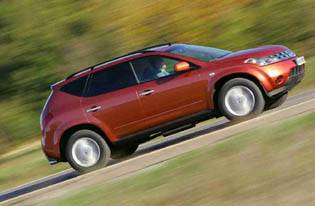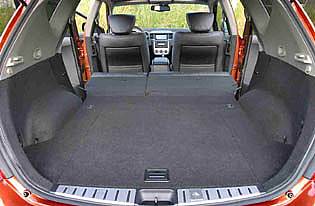 Overall rating

Likes:
Futuristic design sets it apart
Unbeatable kit list full of luxuries
Nissan reputation for reliability
If ever a car had presence, this does
Gripes:
Chrome grille a carbuncle
Hard to judge exact road placement
Fuel tank evacuates very quickly
Nissan badge lacks kudos of rivals
Not originally slated for a UK release, Nissan's Murano proved such a hit Stateside that the orders went out to launch it in the UK, too. As an imposing, well-equipped lifestyle 4x4 able to credibly rival the BMW X5 and Volvo XC90 it should suit British tastes, and sales will only be limited by the lack of a diesel powerplant.
The Murano takes the 3.5-litre V6 engine from the 350Z, combines it with the X-Trail's electronic four-wheel drive system, and wraps both up in a highly-styled exterior that is large even by the standards of full-sized 4x4 vehicles. Instead of defaulting to chunky bumpers, plastic cladding and tough looks, the Murano's design is resolutely modern inside and out. It could almost be described as elegant were it not rendered on such a Titanic scale. Only an oversized, over-chromed grille spoils the Murano's looks. It's flash but gaudy and will not age well, like a trendy tattoo on a muscular male model.
Inside, the Murano maintains its modernistic design approach to good effect. The iPod generation will appreciate its clean lines, smooth arcs and sharp edges even if the uniformly black colouring can make it seem a little like a yuppie's bedroom from the 1980s. The curving roofline affords good headroom and the Murano is so wide there's plenty of room for everyone.
While that girth is great for comfort, it does create problems on the road. Put simply, the Murano is just too wide for many British roads. Owners will spend a good deal of their time waiting behind parked cars while they let traffic come in the opposite direction. Accurate lane placement isn't helped by the plunging bonnet and relatively small glazed areas, either. Oversized wing mirrors offer some assistance though.
If you do find a stretch of open road, the Murano cruises along more nimbly and quietly than its size would suggest. The CVT gearbox can get whiny in automatic mode if driven with a clumsy right foot, and switching into sequential manual mode offers more control. But around town, the CVT system is extremely welcome and far quieter. Off-road ability is strictly limited to gravel tracks and wet grass.
Buyers will quickly discover that the Murano possesses one great strength and one great weakness. The single trim level is staggeringly comprehensive, including numerous items usually reserved for the luxury section of the options list such as satellite navigation, good quality leather upholstery and a high-grade stereo system. It out-specifies the opposition while simultaneously undercutting them. But it lacks a diesel-engined variant, so that big engine and CVT transmission can conjure up some stinging fuel costs.
Our verdict on the Nissan Murano 3.5 V6
You can tell that the Nissan Murano was built for America. By any rational assessment it is too big and too thirsty to be practical on British roads. But because practicality has only a minor role in the British public's buying decisions, Nissan should have little trouble shifting the limited numbers imported to the UK. You get an awful lot of bang for your buck - or should that be push for your pound?
Costs
Running any full-scale luxury SUV is not for the timid of heart and light of wallet. That is particularly true of the Murano. Despite the commendable purchase price which undercuts all key rivals by a significant margin, running costs will be high as the Murano drinks petrol with a relish. Oh, for a diesel engine. Nissans are usually reliable but if anything goes wrong with the CVT transmission, repair bills could be punitive.
Space and practicality
With rear seats in place the boot is big though perhaps not as big as one would imagine, as the seats are set quite a long way back to maximize passenger space. Fold them down and there's enough room to park a Micra inside. Well, almost. The central storage console is capacious but difficult to open and the storage pockets in the doors are fairly narrow.
Controls and display
Nissan's current interior treatments seem to owe something to parent company Renault. The emphasis is strongly biased towards a modern, architectural look rather than the retro-racer stylings of some rivals. The Murano exhibits just this treatment with basic but elegant white on black dials, precise fit and finish and good quality materials used throughout. A legacy of the Murano's US origins is a foot-operated parking brake which UK drivers will discover takes some getting used to.
Comfort
Designed to accommodate the generously proportioned backsides of Americans, there's room to spare inside the Murano. Were it not for the elevated seating positions and lack of a chauffeur, you could easily imagine you were in a luxury saloon car. Seats are commendably firm. Even rear-seat passengers can do more than wiggle their toes and whoever is sitting next to the driver could conceivably have a game of keepy-uppy without kicking the ball into the glovebox.
Car security
One glaring omission from the specification is an alarm for which Nissan deserves being put over someone's knee and spanked. There is an immobiliser, thank goodness. In the unlikely event that someone does steal your Murano, at least it should be distinctive enough to spot and recover quickly.
Car safety
A good safety package is included, though it's not quite up to the standard of the Volvo XC90. Six airbags are aboard including side curtains. A vehicle as big and heavy as this is able to generate about as much momentum as one of Jupiter's moons, so it's good that both ABS (anti-lock braking) and ESP (electronic stability programme) are provided.
Driver appeal
Steering is little too light, but in a car this huge at least that's preferable to it being too heavy. The CVT gearbox needs gentle throttle inputs to elicit a smooth response. Accelerate quickly and the engine note quickly turns into a whine. On steep hills it can also fluctuate annoyingly, but in all conditions switching into manual mode is the answer, providing nicely stepped changes that are quick to engage. Off-road ability is more theoretical than actual. Most of the time the Murano is effectively front-wheel drive only. The onboard brain gives some power to the rear wheels when required.
Family car appeal
Style-conscious suburban families will be the core buyers of the Murano. Too big for the city centre, you need a family to justify a purchase and it's fine on motorways and A-roads and will look suitably impressive parked on the driveway. The interior may be a bit dark but is roomy and feels like it won't crumble under a sustained rear-seat assault. There are plenty of storage areas, but not all are easy to use.
First car appeal
In the words of Frankie Howard: 'Nay, nay and thrice nay!' A large, powerful, thirsty 4x4 with a CVT gearbox is the antithesis of the ideal first car. Environmentally concerned motorists may also see the Murano as the embodiment of urban SUV evil.
Quality and image
Some will perceive the Nissan badge as being less prestigious than BMW or Volvo, though the relatively small number of Muranos being imported to the UK should set it apart slightly from the mass-market Almeras, Primeras and Micras. And with more 4x4 vehicles on offer than any other manufacturer, Nissan has particular off-road credibility. Anyone not blinded by desire for a prestige badge will find their money goes a lot further with Nissan.
Accessibility
Despite its size, the Murano doesn't ride as high as some of its rivals, so a less pronounced step up is required to get inside. The rear boot aperture is fairly narrow because of the way the taillights slope inwards. It's also quite high, so lifting heavy loads into the back could risk a pulled muscle or two. A Labrador should be able to hop aboard in a single bound, but a Jack Russell will need a stepladder.
Stereo and ICE (In car entertainment)
Making a clear play for buyers who like their music loud, the thumping Bose seven-speaker audio system is powerful enough to rearrange the internal organs of your passengers. Also standard-fit is Nissan's DVD sat-nav system. With its 'bird's eye view' display, it's one of the easiest to use and most accurate guidance systems offered by a major manufacturer.
Colours and trim
Seats aren't just leather, they are very good quality leather. The interior can be a bit tenebrous, but there can be no complaints about a kit list that can only be described as extraordinary. Where else can you get 18-inch wheels, xenon lights, a rear parking camera, darkened 'celebrity' style windows and an automatic gearbox all for free?
Parking
Nissan does its best to help with a camera at the back to relay colour images to a dash-mounted screen and large wing mirrors. But the Murano remains difficult to park. Rearward visibility without the camera is very poor, the relatively small proportion of glass to metal in the bodywork further restricts the view (check out those solid rear pillars) and one unalterable problem remains - this vehicle is simply too big to fit into many single parking bays.
Spare wheel
Standard fit is a space saver wheel and tyre - proving that this 'off-roader' is not designed to go off the beaten track.
Range information
Buyers won't need to spend any time poring over options lists and specification tables as there is just one variant with a 3.5-litre (234bhp) V6 petrol engine (a detuned version of the unit in the 350Z) and CVT gearbox.
Alternative cars
BMW X5 Still the must-have choice for badge snobs
Lexus RX300 Bit more expensive, bit more luxurious
Volvo XC90 Superior family conveyance and trendy
Volkswagen Touareg Huge, heavy and happy off-road