January 2013
Nissan Juke Nismo 2WD Manual
New styling details bring out the best in the Juke's shape
January 2013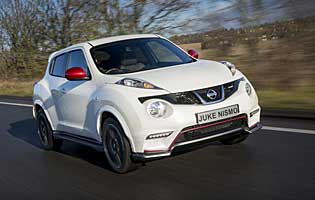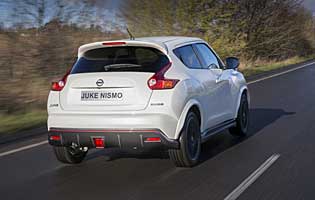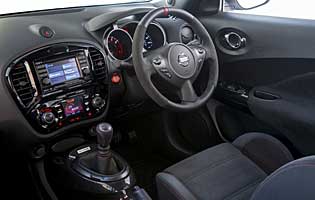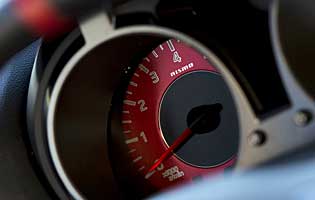 Overall rating

Likes:
Extensive styling details inside and out make the most of the Juke's bold shape
Near-perfect seats offer comfort and comprehensive lateral support
Engine tuning map encourages hard revving for more driving fun
Suspension excels at everything from fast cornering to urban speed bumps
Gripes:
Relatively small boot doesn't make best use of the space available
Large, high-mounted door mirrors can block line of sight for some corners
Small rear windscreen hinders reversing visibility
Engine note is a little too bland for a car of this type
The Juke Nismo is the first mass-market Nissan to use the badge of the company's performance and racing arm. It's not a stripped-out, pared-down racer for the road, though, with the balance left firmly in accessible regions in terms of both driveability and price. Nismo is now about bringing a better drive derived from racing experience to real-world drivers.
The Juke platform has, in a way, been a flagship for Nissan as it strives to show that it does things differently to other makers. It's a beacon of Nissan's unique approach to car design, and when you factor in the GT-R-based Juke-R it starts to become clear that Nissan favours the Juke for its new and unusual ventures.
It's also an affordable car, and with the Juke Nismo the sub-brand starts on its mission to extract higher driving enjoyment from existing models without breaking the bank. The Juke Nismo has a slight power increase from an engine already found in the range, but its main upgrades come from chassis and suspension tweaks.
In many ways it's as easy and practical to use as any Juke, with genuine day-to-day usability key to its fight with cars like the Mini Cooper S. Five doors and ample rear legroom offer important advantages that the competition lacks. Its styling details are unique to the model, too, and finally make the most of the Juke's outlandish shape.
For a modest outlay the Juke feels better engineered in some ways than cars costing half as much again. The suspension is supple and well measured if left to its own devices, helping to give the Nismo model real appeal at the top of the showroom-ready Juke range. Factor in its slightly raised driving position and its charms continue.
Our verdict on the Nissan Juke Nismo 2WD Manual
Fans of the Nismo name could be forgiven for expecting more performance, but the Juke Nismo isn't about going fast in a straight line. It's a car that flows along winding roads well, while offering a rev-hungry turbocharged engine and the ability to take on the boring daily drive with equal aplomb. It has much more character than many do-it-all hot hatchbacks, too, which is the ace up its sleeve.
Costs
While the Juke Nismo's purchase price represents good value for the product it offers, running costs were not the highest priority on the list. Although driven gently the engine will achieve much higher fuel economy than similar engines of years gone by, it's not built for high miles per gallon. As a derivative of the hot hatch its emissions are competitive but its residuals are far from guaranteed and depend on how successful the model becomes.
Space and practicality
This is one area where the Juke's potential is not maximised. On Nismo models the boot is flat right to the tailgate lid which helps for lifting and sliding heavy items, but there is a lot of space underneath the boot floor that could and arguably should be used to enlarge the available luggage space. The front of the cabin has limited practicality too, with small door pockets and a pair of cupholders.
Controls and display
Heavy red detailing separates the Nismo's dials from those of lesser Jukes, giving the experience behind the wheel a sportier and more aggressive edge. The two main dials are clear enough to read at a glance, too. There are two central colour screens; one for the climate control readout and a larger one for the satellite navigation and media interface. The layout of buttons is predictable and key functions fall easily to hand.
Comfort
Nissan has spent more development money on the chassis and suspension than most companies would, which means not just that body roll is contained through fast corners but that low-speed hits like speed bumps and potholes are managed remarkably well too. The ride is firm but compliant, and with front seats that hug you closely comfort is impressive for the type of car. Buyers shouldn't expect limo-like refinement, though.
Car security
Nissan does not go into detail about the security systems it uses so it's difficult to judge its effectiveness. There is an advanced immobiliser and locking wheel nuts to prevent alloy wheel theft. However, security experts Thatcham gave the Juke the maximum five stars for preventing theft of the car. Only three were awarded for preventing theft from the car though, which is one less than some of its rivals.
Car safety
Six airbags are standard across the Juke range, covering the front, front side and full-length curtain airbags. The Nismo also benefits from brakes fortified with ABS, Electronic Brakeforce Distribution and Brake Assist for emergency stops. Electronic Stability Program is the resident stability control and aims to correct any perceived loss of grip through corners. The juke scored highly for safety in its latest outing with Euro NCAP.
Driver appeal
Many turbocharged 1.6-litre engines are designed to be very linear and lack real excitement as a result, but the Nissan engineers have tuned the DGT turbo to give a little bit more at the top of its rev range, rewarding drivers who search out peak performance. But with close gear ratios this Juke is equally happy cruising gently around town making little noise with a relaxed demeanour. The ability to switch between the two extremes is impressive.
Family car appeal
Young adults are the target for the funky, fashionable Juke, and not necessarily those with families. But there are several common features that the Juke Nismo maintains, like two sets of Isofix child seat mounts on the outer rear seats. The seats are not well suited to children though, with expensive and potentially delicate materials. Having rear doors is a natural advantage for family duties, even if the relatively small boot is restrictive for child-carrying paraphernalia.
First car appeal
The Juke Nismo looks great and for that reason, as well as the way it drives, it's likely to appeal to young men everywhere. The purchase price represents excellent value for all the car's ability and standard equipment, but it's still beyond the reach of a typical new driver. Insurance is also likely to be an insurmountable hurdle, but if money was no issue the easy-going Juke could make a good first car, but its potential for speed is a risk factor.
Quality and image
Nissan's Japanese build quality and image is a blessing and a curse in the current market. Nissan saw the shift coming where the mid-level accessible brands would be squeezed, and has adapted with wildly different car designs that give it an entirely separate image to those manufacturers around it. The Juke itself divides opinion with its looks but most of the Nismo's fittings are very high quality and give a sense of performance prestige.
Accessibility
With five doors as standard the Juke has practicality advantages over its main rivals, and its rear legroom is greater than the competition too. Shorter front doors mean that they can open wider, and the step forward into position is easier. The raised seating position also makes it simpler to hop in and out of the car, although the large side bolsters on the front seat backs do affect matters a little.
Stereo and ICE (In car entertainment)
Six speakers are enough to give a good spread of sound, and there are several ways of inputting music. Bluetooth allows wireless music playback, while a USB port also gives full integration of the media player into the car's system. A basic 'plug and play' auxiliary port is also present for simpler music playback. Audio controls are installed on the steering wheel for ease of use without taking your eyes off the road.
Colours and trim
While the wider Juke range has a good range of colours, the Nismo is only available in standard white or, for an extra fee, black. The reason for this is to allow the Nismo-specific red trim details to stand out. Along with lines on the front and rear bumpers, the mirror caps are red and the interior is littered with red stitching. Alcantara on the steering wheel and seats gives better grip and offers a statement of intent for its driving performance.
Parking
The Juke's exterior design might be striking but it's not helpful for rearward visibility, and reversing the car entirely manually requires good spatial awareness. Fortunately the Nismo model comes with a colour reversing camera as standard, which makes parking much easier. Larger, stiffer steering components have not reduced the steering lock, so parallel parking is comfortable. The slightly raised vantage point helps to give the driver a better view for manoeuvres.
Spare wheel
Emergency tyre repair kit fitted as standard.
Range information
Petrol engine options - 1.6-litre (93bhp, 115bhp); 1.6-litre DGT turbo (187bhp, 197bhp). Diesel engine options - 1.5-litre (108bhp). Transmission options: five and six-speed manual gearbox depending on model, plus CVT auto gearbox (optional on 1.6-litre 115bhp, 187bhp and 197bhp petrols). Trim levels: Visia, Acenta, Acenta Sport, Acenta Premium, Tekna, Nismo.
Alternative cars
Mini Cooper S Drives well with a charismatic drivetrain, but offers little space or practicality
Vauxhall Corsa VXR Aggressively styled and among the quickest B-segment hot hatchbacks
Skoda Fabia vRS Automatic-only drivetrain slightly dampens the undoubted driving fun on offer
Seat Ibiza Cupra Modern, angular styling and the latest engine technology