August 2015
Nissan 370Z Nismo
Striking features turn heads wherever the car goes
August 2015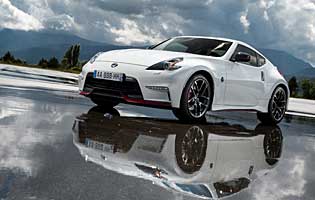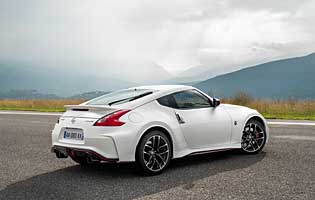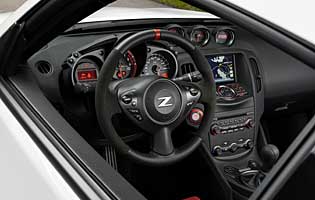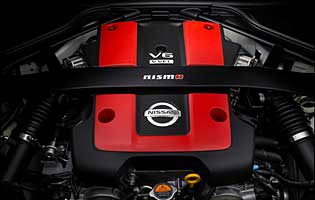 Overall rating

Likes:
Characterful engine gives old-school thrills
Superb seats give lots of driving confidence
Head-turning styling still looks remarkably good
Very affordable compared to German rivals
Gripes:
Firm ride cannot be softened with adjustable damping
Poor turning circle can make some low-speed manoeuvres taxing
Obstructions hamper lines of sight in key directions
Some interior plastics fall behind rival cars' quality
Nissan's preferred methods involve building cars that it really wants to, as opposed to cars that will generate the most income. The 370Z Nismo is a perfect example of this ethos; a car built in a bygone mould that has huge appeal to enthusiastic drivers both on paper and behind the wheel, but that ultimately sells in very low volumes.
This is an updated version of the original flagship 370Z, and shares the same name. Its styling revisions have been made mainly for aesthetic improvement rather than performance gain, although new designs for the front bumper and rear spoiler are claimed to produce significantly more downforce than before, and that force is spread more evenly from front to back.
The Nismo version has more power than the standard 370Z. It also features new racing-inspired sports seats that deliver impeccable lateral support, which in turn inspires confidence through aggressive cornering. The seats are based on Recaro Sportster units but have been adapted by Nissan for use in this car.
Nissan's 3.7-litre V6 engine is unchanged from the previous iteration producing 339bhp. An automatic gearbox option is new, alongside a six-speed manual; a choice that stays true to Nissan's rich sports car heritage from decades past. It is comfortably faster in a straight line than German rival cars, as Nissan's marketing output is keen to stress.
The 370Z is a very different type of sports car to its rivals and adopts an almost unique position in the market. Driving in some ways more like a muscle car than a scalpel-sharp sports machine, it provides good old-fashioned fun in a package that is focused entirely on giving the driver the most enjoyable experience, every time.
Our verdict on the Nissan 370Z Nismo
Not only does the 370Z Nismo work as a childhood poster car, channelling a largely bygone but still inspiring age of performance-modified street cars, but it also works as an unorthodox modern-day sports car. It offers a thoroughly enjoyable driving and ownership experience, putting a smile on a driver's face at least as often as any other car that could be bought for the same price.
Costs
In many ways this car harks back to a previous age of motoring, and unfortunately that does apply to running costs. Depreciation is notoriously steep, while fuel and road tax costs are high. Insurance should be higher on this model than on other 370Zs because it is more desirable and therefore more tempting to thieves. It is a lot cheaper than comparable cars from the likes of Porsche, though.
Space and practicality
No two-seat sports car needs to make much dispensation towards practicality for obvious reasons, but the 370Z is particularly light on practical provisions. The boot is small, owing to the bulky mechanicals between the driven rear wheels, and there is precious little space behind the seats. Placing coats or bags on the shelf there blocks what little rearward visibility there is.
Controls and display
There is a racing car feel to the car's displays, with a rev counter the central feature. It is flanked by a clear white-on-black speedometer and two digital sub-displays with trip computer, fuel level, engine temperature and information readouts. These LCD screens are part of the car's retro charm, but technically they fall behind the times. On the dashboard are three further dials attractively angled towards the driver. The sat-nav controls are a full arm's stretch away and are difficult to use on the move.
Comfort
Nissan uses passive suspension that is set up for sporty driving rather than comfort. It is particularly firm on the Nismo model because the car rides on wheels that are an inch larger than standard, at 19 inches. They are special lightweight wheels for this car, so suspension response is improved, but over rougher terrain and lower speeds the car's lack of comfort can be a little tiresome.
Car security
All 370Z drivers can keep their car key safely in their pockets thanks to keyless entry and start. Remote central locking is, of course, standard, but above all other variants the Nismo model is an attention magnet. When parked in plain sight it could attract the wrong sort of people as well as the many admiring glances it is guaranteed. It is best kept in a garage when not in use.
Car safety
As with all genuine performance cars, the 370Z Nismo has been fitted with wider, grippier tyres and stronger brakes than normal road cars. That means that it grips and slows with precision and composure, helping to avoid accidents. It has a cruise control system with a speed limiter, while stability control will activate if any loss of traction or lateral movement is detected.
Driver appeal
With such a powerful engine and suspension biased towards fast road driving, it's no surprise that the 370Z Nismo offers thrills from the moment it's started up. Modestly heavy controls echo the feeling of past sports cars, while a remarkably stiff gear lever moves through the six ratios with an action reminiscent of a rifle bolt. Driving this car quickly requires effort and concentration, but while other cars will be faster and easier to master point-to-point, the Nissan offers a unique and exhilarating driving experience.
Family car appeal
There are no features worthy of a mention when it comes to catering for families. Owners will not find any child seat mounting points, and the vast majority of modern child seats will not fit anyway because of the bulky seat bolsters. The boot is ill-equipped to deal with baby- and toddler-related items like pushchairs, and in general the car is inappropriate for the demands of family life.
First car appeal
This is an ideal poster car for a teenage aspiring driver, with perfect proportions and just the right mix of the affordable, the fast and the exotic. It's one that young drivers can realistically aspire to own at some point, and for that it holds an undeniable allure. However, a 339bhp rear-wheel drive car is always an unsuitable choice for an inexperienced driver, and insurance would be almost impossible to obtain for that reason.
Quality and image
The 370Z Nismo's development budget has been spent almost entirely on driver-focused elements like the engine and suspension, leaving too little to cater for the interior quality. The plastics are not up to the standard set elsewhere, and on the still-young test car there were already niggling rattles among the trim. As far as image goes, though, the 370Z looks fantastic and turns heads wherever it goes, even when in the company of more expensive or rarer cars.
Accessibility
As a coupe the Nismo's stance is low. Its seats are mounted as low to the ground as the engineers could justify, and that does necessitate a degree of effort in getting in and out. The roof becomes a helpful gripping point but it is still a less dignified process to get in or out than it would be in a taller car. Older people and those with joint problems should avoid this model.
Stereo and ICE (In car entertainment)
Nismo models use a six-CD auto-changer with eight speakers instead of the basic 370Z's single-CD unit and quartet of speakers. There is an AUX-in socket for basic media player connectivity, but it lacks the sort of functionality seen in most rival cars - or even most up-to-date city cars. On the plus side it does feature Bluetooth, which can couple to a single mobile device to make calls and play music.
Colours and trim
Various Nismo signature decorations have been added, including numerous logos and model-specific lightweight alloy wheels. The rear spoiler is branded in the same way, and there's even a numbered metal Nismo plate as part of the interior. The seats look fantastic, setting the ambiance for performance driving. Black cloth with red trim inserts is the only upholstery option, while the choice of black, two greys and a white paint shade is disappointing.
Parking
Outward visibility is not a 370Z strong point, and the shapely exterior can make it hard to judge exactly where the corners and wheels are. The model-specific 19-inch Nismo wheels are extremely vulnerable to kerbs when parking at the roadside. It's also quite wide, the steering is relatively heavy and its turning circle is poor, so overall it makes a somewhat less than ideal town car.
Spare wheel
Emergency tyre repair kit supplied as standard.
Range information
Petrol engine options - 3.7-litre (324bhp; 339bhp). Transmission options: six-speed manual gearbox or automatic (324bhp engine only). Trim levels: Base, GT, Nismo.
Alternative cars
Ford Mustang Powerful engines and enviable heritage in a very affordable package
Porsche Cayman The sharpest drive in the class, but comparatively expensive
Lotus Evora Powerful, dynamically superb and British, but exceptionally expensive
BMW M4 New-school turbocharged sports coupe with more space and practicality