August 2007
Nissan 350Z Coupe GT Pack
The Z-car heritage is clear in the 350Z styling
August 2007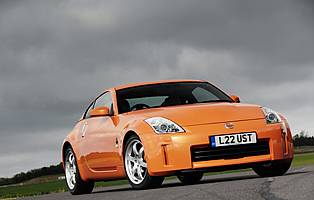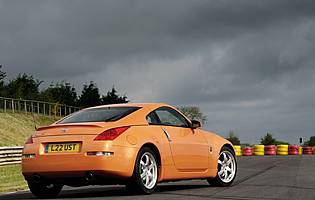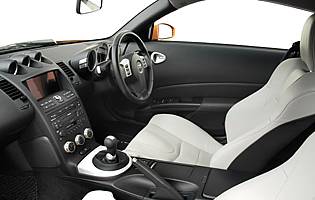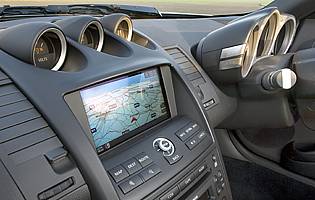 Overall rating

Likes:
Brutally beautiful styling
Switchable traction control for ultimate track day fun
Fantastic exhaust note
Light controls make it easily manoeuvrable
Gripes:
Grabby clutch can be annoying around town
Noisy interior
Low ride height can catch speed bumps
Glovebox is awkwardly located behind the passenger seat
Originally introduced in limited numbers and in less powerful form, the 350Z quickly won over fans of the two-seater sports coupe layout with its unashamed enthusiasm and intuitive handling. Having had a tune-up under the bonnet that has also necessitated some exterior changes the model continues to impress anyone who enjoys driving for driving's sake.
Nissan, and Datsun before it, have a fantastic heritage of building to-the-point coupes that are big on power and rear wheel drive fun. The original Datsun 240Z and 260Z were good-looking, quick and filled with character. The later 280ZX Nissan 300ZX were good, but failed to set the world alight. So when Nissan announced it was going back to the 240Z's roots for its new, more powerful model, there was quite a buzz - especially when it was first launched in the UK in 2003 in limited numbers.
The buzz certainly didn't die down once customers had a chance to drive the 350Z. Stunning looks were combined with potent performance and race tuned handling to produce a mesmerising package. Nissan increased the numbers for the UK market and introduced a roadster soft-top version with the same 3.5-litre V6 in 2005. The engine, exterior and interior was revised in 2006, with the quality inside and power under the bonnet enhanced, and new lights on the outside.
This version of the 350Z has seen further revisions under the bonnet and new colour and trim options added inside and out. 80 per cent of the 3498cc V6 has been overhauled to raise the power output to 308bhp and the rev limit to 7,500rpm. Changes to the block, pistons, air and coolant flow and improved vibration damping have increased both power and refinement.
Meanwhile, the taller engine has also impacted on the bonnet, necessitating a power bulge reminiscent of the original 240Z. Three new colours have been added to the paint options and a pale grey leather option is available with the GT Pack upgrade. Although very similar in appearance, this version of the 350Z is much improved over the launch model.
Our verdict on the Nissan 350Z Coupe GT Pack
Nissan deserves a pat on the back for having the nerve to sacrifice excessively isolating refinement in favour of a raw and engaging driving experience. The 350Z is ""always on"", but its revvy engine, boorish exhaust note and tendency to strain at the leash never become tiresome as the car is so responsive and easy to control. Like the Z-cars before it, the 350Z is an instant classic.
Costs
The 350Z is a real bang for bucks bargain with zero to 60mph in five seconds and a top speed of 155mph. As a performance car running cost are relatively high. Combined fuel consumption is a wallet-bothering 24.1mpg and emissions of 280g/km place it in a tax band. Insurance is also likely to be high, but shouldn't cross the line into astronomical.
Space and practicality
The load bay in the rear of the 350Z is hardly spacious, but can accommodate a decent haul of groceries or a couple of small suitcases. More importantly it has been designed with a set of golf clubs in mind, and even comes with instructions on how best to squeeze them in. Driver and passenger will find the cabin comfortably spacious but, centre console and cup-holders aside, storage is behind the seats and can be hard to access. Clearly, only Tarmac and tightly packed gravel are options with this car and larger speed bumps need to be negotiated with care.
Controls and display
Nissan has put as much care into getting the cockpit experience right as it has perfecting the drive. Separate volt metres and oil pressure gauges sit alongside an additional multifunction pod display on top of the centre console and directed towards the driver. The main dials are big and well lit, with the central position of the rev counter speaking volumes. The controls are surprisingly light with a firm and precise gear-change and chunky, well-positioned switchgear.
Comfort
Nissan hasn't compromised with the ride, so it can be a little harsh on poorly maintained road surfaces. Regardless, the plush and comfortable sports seats do a good job of absorbing the bumps before they reach your spine and the light controls make the 350Z easy to manoeuvre, although the clutch can be a little grabby in traffic. Road noise is a constant, although it's mostly drowned out by the exhaust and engine note, and water and gravel can be heard pinging around the rear arches. That's all a part of the back to basics experience though and is actually refreshingly.
Car security
A Thatcham category one alarm and immobiliser is standard, as is remote keyless entry across the range. The fact that the internal storage is located behind the seats can be hindrance to the owner, but will also deter opportunist thieves. There's also concealed storage under boot floor, but any belongings carelessly thrown into the boot could be on show thanks to the lack of an internal partition.
Car safety
ABS with Nissan Brake Assist and electronic brake force distribution are ever present, but the car's ESP and occasionally intrusive traction control can be over-ridden at the flick of a switch. Front, side and curtain airbags protect the driver and passenger and Nissan also points out that the car's one-piece carbon fibre prop-shaft does not require a centre bearing and so is less likely to penetrate the cabin in the event of a crash.
Driver appeal
For anyone who enjoys driving in the purest sense of the word, the 350Z is an absolute delight. Nissan's engineers have tweaked and tuned the chassis, suspension, steering, transmission and engine performance to give an uncompromising driving experience. The weight distribution is quoted at 53 per cent to the front but even getting the 350Z to understeer is difficult thanks to masses of grip and Nissan's ""flat ride"" roadholding. The back end can be provoked with a blip of throttle but at all times remains effortlessly controllable. Meanwhile, the engine and exhaust note are superb and a constant bad influence on enticing A and B roads.
Family car appeal
The 350Z doesn't rate highly as a family vehicle. Two seats, limited boot space and too loud for a child to fall asleep in, it's best to look elsewhere in the Nissan range for a family car.
First car appeal
Massively appealing, but largely impractical in terms of cost of ownership for most younger buyers. That said, should finance and insurance pose no problem, the 350Z is ideally suited to the younger driver who isn't restricted by the need for five seats. Its styling and performance certainly strike a cord with young petrol-heads.
Quality and image
As a head turner, only rare and raucous super-cars can steel the 350Z's thunder. It's one of those much admired vehicles that you can park almost anywhere without it attracting the wrong sort of attention. When first launched, Nissan came under fire for the rather lacklustre interior - something that has since been addressed for the good. The refresh means the current interior is as carefully crafted as the rest of the vehicle.
Accessibility
The 350Z is a low car with a low seating position; so dodgy hips might prove a hindrance when entering and exiting the car. As you'd expect from a two-seater coupe the doors are long so offer plenty of access unless in a particularly tight space, in which case they might be a little restrictive. The rear hatch has a particularly high load bay, but as it's unlikely to have a washing machine lifted into that's unlikely to cause a problem.
Stereo and ICE (In car entertainment)
Opting for the GT Pack ensures you get a premium 240w Bose sound system complete with seven speakers including a 10-inch sub-woofer, a six-disc changer and Audiopilot noise compensation. It's easily operated and offers excellent sound quality. Although a cost option, Nissan's Birdview satellite navigation is also extremely user-friendly and very competent.
Colours and trim
The 350Z is hardly a discreet car, but Nissan has been sure to include some understated colours in the available palette. Twilight Grey and Silver are among the more run of the mill with the vivid Temper orange, Chilli Pepper and Night Blue at the other end of the scale. The GT Pack includes heated Charcoal leather seats as standard with the option of Frost pale grey leather at no cost. For the extrovert, Electric Alezan Orange leather upholstery is also available at cost with the GT Pack.
Parking
The 350Z is a visceral driving experience, and that includes parking. Rear visibility is extremely limited and reversing sensors are not an option from the factory - so you're on your own. It's a deceptively wide car, too, with a marginally broader track at the rear. It takes a small amount of time to become comfortable with where the angular coupe starts and stops.
Spare wheel
Space saver located beneath boot floor as standard.
Range information
Petrol engine options - 3.5-litre (308bhp). Transmission options: six-speed manual gearbox. Trim levels: Coupe, Coupe GT Pack.
Alternative cars
Alfa Romeo Brera A pleasure to look at and also available with four-wheel drive
Mazda RX-8 Stylish and with extra seats but less powerful
Mercedes-Benz SLK Added benefit of folding hard top but more expensive for equivalent power
BMW Z4 Coupe Excellent quality and performance for similar money