April 2014
Mitsubishi Outlander PHEV GX4hs
Streamlined exterior is not the usual rugged SUV approach to design
April 2014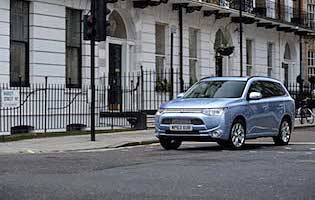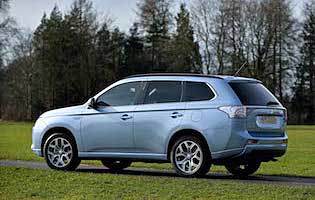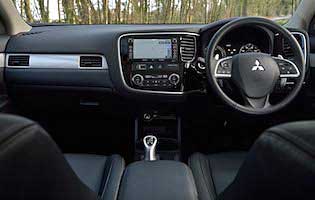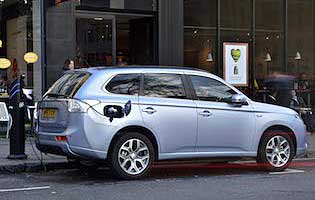 Overall rating

Likes:
Well-designed cabin is practical and easy to live with
Spacious boot and rear passenger areas are very useful
Hybrid powertrain works well
Plug-in hybrid makes a lot of financial sense for the right type of buyer
Gripes:
You'll need the top-spec variant to benefit from all the clever safety and convenience kit
Large dimensions can make tight car parks more difficult
You need to do your research, as the PHEV won't be for everyone
Interior storage solutions could be improved
Although boasting a longstanding presence in the 4x4 market, it's only in recent years that Mitsubishi has fully focused its attention on the increasing lifestyle end of the market. This latest generation Outlander is more polished than its predecessor and, crucially, can also be had in petrol-electric plug-in hybrid guise.
While diesel power has become the default choice for many in the SUV market, there's a small but growing desire for the popular hybrid layout to be adopted by the 4x4 community. Sadly this can come at a cost - the technology isn't cheap and performance can be underwhelming.
Mitsubishi appears to have bucked this trend with its Outlander PHEV. As a plug-in electric hybrid model, this Outlander promises triple digit fuel economy figures and a sub 50g/km CO2 rating. Crucially, the car offers performance and off-roading agility comparable to that of a regular diesel variant.
The key to this Outlander's performance is the twin electric motor set-up - one for each axle. This has meant ditching the conventional 4x4 propshaft, as the electric motors can run independently to deliver a town-friendly front-wheel drive experience or combined to allow for off-roading and a safer towing experience.
While power comes from a conventional 2.0-litre petrol motor, it rarely sees action at modest speeds while there's sufficient battery charge. With an approximate 30-mile range on electric power alone, there's a genuine ability to charge the car daily and not use petrol if your commute is short enough. Crucially, this experience is has been priced the same as for a diesel Outlander - at a stroke removing the premium stigma attached to hybrid motoring.
Our verdict on the Mitsubishi Outlander PHEV GX4hs
With the prospect of greatly reduced running costs and tax outlay if you're a business user, this hybrid Outlander offers real world gains without any obvious compromises. You'll still need to do the maths as it's not a car for drivers who rack up serious miles, but for modest duties it combines the best attributes of a family-friendly SUV with the low costs associated with running a smaller hybrid vehicle.
Costs
This is where the hybrid variant deviates from the regular models, as you can travel 20-odd miles on electric power alone even if you have a heavy right foot. Stretching that further, plus the ability to recharge back to near full capacity in a few hours means you could go for days without using any petrol on a regular daily commute. Factor in its congestion charge exempt status plus favourable tax incentives for business users and the car's asking price is not only comparable with Mitsubishi's diesel variants but potentially enough to convince any fence-sitters out there.
Space and practicality
The Outlander is a spacious and versatile SUV, and in hybrid guise the same is broadly true. Alongside the car's good size cabin and ample oddment storage, there's ample room in the boot too. The only major difference buyers of the hybrid model will notice is the absence of the car's third row of seats, which have been sacrificed to accommodate the hybrid hardware. That aside, this Outlander is a perfectly useable five-seat 4x4.
Controls and display
The layout inside the Outlander is refreshingly simple, with two large instruments behind the steering wheel supplemented by an information display between them. Also the Outlander avoids having a mass of buttons scattered across the cabin, with all the main controls being very easy to understand and operate. The central touchscreen offers drivers a wealth of information, not least access to a various data streams corresponding to the hybrid system's performance.
Comfort
The Outlander might not rank as one of the premium grade European alternatives, but the car's suspension is biased towards comfort to give an impressively smooth ride, dealing with poor road surfaces with comparative ease. The noise levels from the powertrain and the tyres are also well managed, although there is a little more wind noise noticeable as the rest of the car is so quiet.
Car security
All Outlander models have an alarm, immobiliser and remote central locking as standard, while the load cover will keep the contents of the boot away from prying eyes, although this obviously won't be the case should you have all the seats folded.
Car safety
There's an impressive haul of safety kit, including active stability and traction control, a driver's knee airbag as well as front and curtain airbags. Higher specification models add radar cruise control and lane-keep assist.
Driver appeal
In normal use the hybrid Outlander behaves largely like any other Outlander. However, with the car's power system biased towards electric running, you normally move off under battery power. The torquey nature of the electric system ensures progress is brisk - especially from a standing start. It's only when the battery's charge is exhausted, or you need extra performance will the petrol engine join in. The result is a seamless transition and a welcome extra slug of power. Overall, this Outlander drives much like the regular car, but with the added bonus of a more flexible powertrain and the tell-tale characteristic of energy regeneration, meaning you don't always have to use the brakes to modulate your speed.
Family car appeal
The Outlander is very well suited to family life, with the ability to carry five occupants in relative comfort being the main reason. There's no seven seat hybrid option sadly as space is needed for the extra hardware, but you do gain a good size boot that retains its ability to fold the second row for added versatility.
First car appeal
Few new drivers will need this much space or have this much money to spend, although should they decide to plump for the Outlander they will find it comparatively easy to drive.
Quality and image
The overall quality levels inside the Outlander are respectable and competitive with most cars in the class. Much of the cabin feels well constructed and sturdy, although the materials themselves are not the best in the class. The Outlander's image benefits from the reputation of sturdy working vehicles like the Shogun, even though the Outlander is more of an on-road vehicle. Mitsubishi doesn't have much of a track record in terms of alternative power cars, meaning some might unwittingly overlook this hybrid Outlander.
Accessibility
The Outlander's high ride height puts the seats and the floor at a convenient height for climbing in, while the all the doors have big handles that are easy to use and a large aperture for easy access. The same goes for the boot, and it also boasts a sensible level load lip.
Stereo and ICE (In car entertainment)
All Outlander models have USB and MP3 connectivity. Basic steering wheel controls are also fitted, while the top specification model brings with it an upgraded stereo and satellite navigation system accessed via an easy to use touchscreen system.
Colours and trim
The Outlander is relatively discreet compared to many SUVs of this size and so it tends to look better in more sober shades such as silver and black. That said one of the feature colours is a metallic orange gives it a substantial lift. On the inside there is the common blend of dark greys and blacks, which despite the large glazed area can leave the cabin feeling a little dark.
Parking
A car of this size can present issues when parking but the Outlander is blessed with a large glass area and a high driving position, which makes life considerably easier. The power steering is very light at low speeds, while rear parking sensors and a reversing camera are available on higher specification models make life a lot easier in tight urban parking spaces.
Spare wheel
Emergency tyre repair kit supplied as standard.
Range information
Petrol engine options - 2.0-litre plus dual electric motor hybrid system (200bhp combined). Diesel engine options - 2.2-litre (147bhp). Transmission options: Six-speed manual or six-speed automatic gearbox. Single speed for the PHEV variant. Trim levels: GX2, GX3, GX4, GX5. PHEV: GX3H, GX4H, GX4Hs.
Alternative cars
Peugeot 3008 More of a crossover alternative, the 3008 is highly practical but best on-road. Hybrid option is lacklustre
Volvo XC60 Typical Volvo attributes of sensible design and refined quality. No hybrid option though
Honda CR-V Diesel variants are efficient, quiet and capable
Volkswagen Touareg Hybrid option is more expensive but is a polished, classy alternative