April 2004
Mitsubishi Outlander 2.4 Sport SE
Mitsubishi aims to bridge the gap between estate and full-blown SUV with its Outlander
April 2004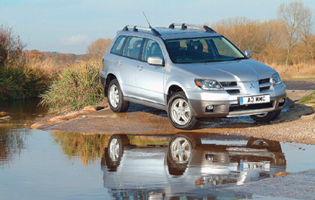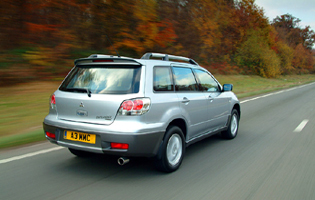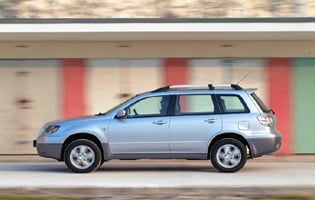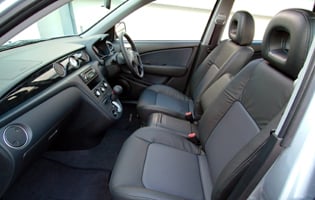 Overall rating

Likes:
Cheaper to buy than most rivals
Clear and simple controls and dials
Good on-road driving characteristics
Huge kit list comes as standard
Gripes:
Lack of diesel severely restricts appeal
Four-speed automatic gearbox can be annoying
Boot size small for a large vehicle
Lacks prestige of rival makers' badges
The Outlander marks Mitsubishi's entry into the burgeoning sports estate sector, combining aggressive but sophisticated styling with the benefits of all-wheel drive and a fairly large load area. Mitsubishi's association with 'proper' 4x4s is longstanding and famous, but the Outlander needs to be a style accessory for urbanites at least as much as a workhorse for rural dwellers - and probably more.
Given the pre-eminence of the Shogun and the credibility it has given the marque, it is perhaps surprising that Mitsubishi is a fairly late arrival on the sports estate scene. Volvo's XC70 and the Audi Allroad are among the most coveted cars on our roads (and tracks) today, while less expensive models from Subaru, Nissan and Honda amongst others have racked up large sales.
Not wishing to miss the boat, Mitsubishi's Outlander also boasts the requisite qualities of a modern 'lifestyle estate': eye-catching styling, all wheel drive and road manners tuned primarily for performance on urban asphalt.
It is a perfectly competent package, but one that is unlikely to engender particularly strong responses. Exterior styling is striking at first, but it soon becomes clear that the front grille is the only really innovative element. The Outlander looks smart but will not turn heads and almost seems to try too hard - for instance the wheel arches try to give an impression of high ground clearance that only ends up making the wheels look small.
However, the severest limiting factor of the Outlander's appeal is the lack of any diesel engine. Diesel is fashionable as well as practical in this market sector, yet the Outlander offers a single 2.4-litre petrol unit that is capable but uninvolving and thirsty. Less of a handicap but still a bar to some is the automatic-only gearbox.
In other respects the Outlander fares better. Interior quality is excellent - particularly compared to Mitsubishis of the past - and the car is very simple to drive. It's cheap to buy and comes with an impressive standard specification. Ultimately though, the most telling fact is that the Outlander seems happiest when cruising along a motorway or dual carriageway, not fording a stream or climbing a slope.
Our verdict on the Mitsubishi Outlander 2.4 Sport SE
Despite its aggressive stance and name, this is not a car to go exploring in. For occasional trips to beach and paddock it is fine. Realistically the Outlander is for buyers who crave a lifestyle estate but can't afford a more prestigious badge - and don't trust diesel.
Costs
Offsetting what are likely to be hefty fuel costs (combined fuel economy is 28mpg, and with any sort of load on board it will be significantly worse than that) is the Outlander's reasonable purchase price and the high level of standard specification. The provision of solid security is likely to keep insurance quotes competitive and Mitsubishi has a good reputation for reliability. However, be aware that the complexities of all wheel drive mean that if any garage work is required, it will tend to be more expensive than with a conventional estate. Emissions levels of 240g/km make it a non-starter as a company car.
Space and practicality
Somehow, the Outlander seems bigger on the outside than the inside. It's not exactly cramped, but sitting in the seats, one definitely feels as if one is in a car, not an off-roader. Therefore a cargo capacity of just 1,049 litres with the rear seats down is disappointing (the similarly sized Subaru Forester offers half as much again at 1,509 litres). The Outlander remains pretty practical though, and its all wheel drive system will provide drivers with extra assurance throughout the year.
Controls and display
Mitsubishi gains top marks for providing a pleasantly uncluttered dashboard. It may be too austere for some, but enables all controls to be operated easily, while the unfussy dials and lights provide clear, easy-to-read information to the driver. All controls work precisely and crisply - a welcome new experience in a Mitsubishi.
Comfort
Thoughtfully designed seats manage to offer plenty of support without resorting to unwieldy bolsters or side restraints. Even entry-level cloth seats are fine, while leather trim has that 'tautness' that usually indicates a high-class job. Wind and road noise are minimal so that the only intrusion comes from the engine, which becomes noticeable too often thanks to the automatic gearbox's frequent changes. A sizeable electric sunroof is worth the extra outlay, lightening an otherwise clean but austere cabin space.
Car security
Again, the Outlander offers a good deal of equipment for the money. As well as expected features such as keyless entry and an engine immobiliser, it comes with a category one alarm, locking wheel nuts and a retractable luggage cover to keep prying eyes at bay. Trackstar satellite tracking is an optional extra.
Car safety
Good levels of active safety equipment include front and side airbags, anti-lock brakes (with EBD) and, of course, the added grip afforded by all-wheel drive. Passive safety features are also worth a mention. The Outlander's design features a sophisticated 13-point impact absorbing system, side impact bars, a collapsible steering column and four ISOFIX seat fixtures. Also noteworthy is a crash detection system fitted to the central door locking which unlocks all doors (and boot) in the event of an accident.
Driver appeal
Though theoretically quite large at 2.4-litres, the Outlander needs to be revved fairly hard to garner anything other than a sluggish response. This is undoubtedly at least partly due to the four-speed automatic gearbox. In full manual mode it is ponderous. By operating it manually, performance is markedly improved, but this quickly becomes annoying when most modern cars in this sector have five or even six speed autos on offer. By way of compensation, steering and braking both feel sharp and safe. Sitting on the same chassis as the Evo VIII performance car, it is not surprising that the Outlander stays commendably flat through corners and generally handles more like a saloon than a 4x4.
Family car appeal
Families looking to join the 'sportswagon bandwagon' will find the Outlander an attractive option. It's stylish enough to feel more exciting than a conventional estate but is equally affordable and is perfectly at home on suburban roads. A cheap asking price means that it won't seem like an irresponsible automotive indulgence and there's a decent amount of room in the back.
First car appeal
Apart from an ability to boast that you have the same chassis as an Evo model, there's little to draw in first time drivers. Too large to qualify as a runabout and too thirsty to suit the pockets of young hopefuls, the Outlander is aimed at two key audiences: active young families, and middle aged couples with previous good experiences of Mitsubishi.
Quality and image
Image counts for a great deal in the lifestyle estate sector and many of the key players are not names one would traditionally associate with 4x4s, such as Jaguar and Audi, so Mitsubishi's mud-plugging heritage has limited relevance. The company has made significant advances in build quality - the interior has a generally high-class feel - but the Outlander will still be seen as a budget buy, not a premium one. That said, it still ranks as more fashionable than any number of more conventional estate cars and has bags more street-cred than any similarly-priced MPV you care to name.
Accessibility
Wide opening doors and a high driving position allow very easy access to cockpit and rear seats alike. In fact, driver and passenger access is one of the Outlander's key strengths. Standing taller than a regular estate but lower than a full-scale 4x4, stooping down and climbing up are equally unnecessary. Elderly passengers will relish climbing aboard. Round the back things aren't so good - the boot is rather narrow and loads need to be lifted up a fair way to place them inside.
Stereo and ICE (In car entertainment)
Standard on the entry-level Equippe is a perfectly adequate four-speaker single-slot CD/radio that is upgraded to a six-speaker system in other trim levels. Some Mitsubishi sound systems of the past have been fiddly affairs, but this one is simple, even adopting the classic 'knob on each side' layout. Audiophiles can further upgrade to a CD autochanger as a cost option.
Colours and trim
Standard equipment on all models includes ABS with EBD, driver and passenger front and side airbags, climate control, four speaker radio/CD sound system, central locking, alarm, keyless entry, electric front and rear windows, electric heated and folding wing mirrors, 16-inch alloy wheels and an integrated roof rail. Sport models gain an upgraded stereo and an electric sunroof (amongst other items), while the Sport SE adds leather seats. All in all an impressive roster that would add many thousands on a conventional options list. Buyers have a choice of 5 metallic colours. Lighter hues such as silver stop the Outlander looking too 'heavy'.
Parking
Easier to park than you might imagine, the Outlander is helped by good all-round visibility and steering that offers plenty of assistance without becoming imprecise. Nevertheless, this is a fairly sizeable car, so reversing sensors may be one of the more tempting items on the options list.
Spare wheel
A full-size steel wheel is mounted underfloor
Range information
One engine: a 2.4-litre petrol unit (158bhp), mated to a 4-speed automatic gearbox. No manual version is available. An official LPG conversion is offered in lieu of a diesel engine, but is unlikely to appeal to many buyers. Three specification levels: Equippe, Sport and Sport SE.
Alternative cars
Subaru Forester hard-working farmers' favourite
Nissan X-Trail much loved by those with active lifestyles
Honda CR-V looks like a 'proper' 4x4 and is easy to sell on
Mazda 6 Estate AWD extremely spacious but has bizarre auto 'box