July 2004
Mitsubishi Grandis 2.4 MIVEC Equippe Manual
Stylish Grandis easier on the eye than many of its MPV rivals
July 2004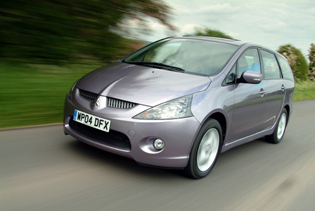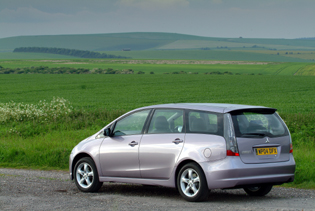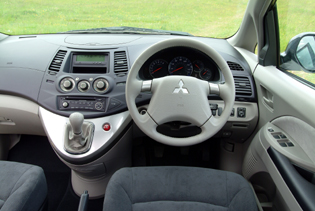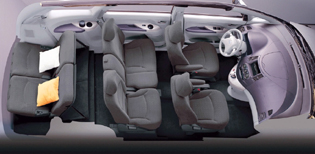 Overall rating

Likes:
Stylish to look at and much better than some of its closest rivals
Attractively priced and thoughtfully equipped
Spacious cabin plays host to a novel - and useful - seating arrangement
Surprisingly entertaining to drive and more agile than some traditional MPVs
Gripes:
Despite cabin innovations and clever pricing, Mitsubishi's lack of image could hurt Grandis' popularity
Although cabin and fascia are stylish and well thought out, more could have been made of the centre console in terms of storage space
No diesel engine at launch could deter buyers more interested in economy than performance
Auto gearbox option blunts performance and fuel economy
In the recent past Mitsubishi could easily have been described as little more than a two-model car maker, its supercar Lancer Evo series and rugged off-roaders taking all the limelight. The firm also did - and still does - a modest line in people carriers, but with its other products captivating audiences, they never got a look in. While it didn't help that they weren't as curvaceous as the competition, Mitsubishi's prospects have taken a turn for the better with the attractive Grandis.
For a company with close links with off-roading and, more recently, high performance enthusiasts, Mitsubishi's decision to tackle the competitive people carrier market from the sharp end is one that should be applauded. Students of Mitsubishi history will no doubt claim that the Grandis is far from the company's first effort, but what should be remembered is that previous cars barely registered on the radar of buyers looking at the likes of Ford's Galaxy or Renault's Scenic.
It's significant that comparisons should be drawn with these two vehicles, as on first acquaintance the Grandis appears to straddle these two market sectors. It's not as tall or as bulky-looking as the Galaxy but is noticeably larger than the popular Scenic. In reality, the Grandis is as practical as the former thanks in part to a clever folding seat arrangement and more stylish than the Renault.
Two things make the Grandis more of a credible rival to long-time residents of the MPV popularity chart than previous Mitsubishi efforts; the car's ability to deliver a surprisingly enjoyable drive and the simple fact that the Grandis doesn't look like a van with windows. With style and appearance increasingly important buying factors when so many cars offer similar features, Mitsubishi's Grandis not only delivers on practical grounds but also possesses the looks to put it head and shoulders above the competition.
Only time will tell whether Mitsubishi can succeed in the long term with the Grandis. If the car's seven seat capacity can be seen as something offering real benefit to the ownership experience, there's every chance in the years to come that the company will be seen as more than just a purveyor of off-roaders and rally replicas.
Our verdict on the Mitsubishi Grandis 2.4 MIVEC Equippe Manual
Mitsubishi's decision to go for a streamlined MPV and not a traditional boxy people carrier with the Grandis was a welcome one. Looking more car-like and behaving less like its rivals when on the road should make the Grandis a serious contender for anyone seeking a capacious, versatile family wagon.
Costs
For what you get, the Grandis' screen price starts to look something of a bargain. If there is a gripe, it's that the petrol engine is never going to deliver the cost savings of a traditional diesel unit - as a company purchase, it's unlikely to prove an economically viable when better cars from rivals exist. That said, as a private purchase the Grandis is good value for money, is well equipped out of the box and Mitsubishi's reliability record should mean that unplanned trips to the dealership are infrequent.
Space and practicality
Two issues are often raised when dealing with seven-seat MPVs; are the rearmost seats actually useable, and what do you do with them when they're not in use? Thankfully the Grandis' rearmost seats are of a useful size, and can even accommodate adults - albeit for journeys of modest durations. When not in use they can be folded flat into the floor, transforming the Grandis into a versatile cross between an MPV and estate car. Fold down the middle row and you've got the makings of a posh, removals van. Elsewhere in the cabin there's the usual spread of drinks holders and cubbyholes plus a storage compartment under the third row of seats.
Controls and display
As has become the trend in MPV interior design, the Grandis' major controls are grouped high up on the car's centre console. From the car's large central display to the intuitive ventilation controls and easy to use stereo, it's clear that a lot of thought has gone into how to remove the distraction factor from the Grandis' various controls. The same is true of the car's gearshift, which is a fascia-mounted design - whether you opt for the manual or auto transmission. With all these clever examples of ergonomic design, it's odd that the handbrake is still a conventional floor-mounted item.
Comfort
Boasting a supple ride and supportive seats, the Grandis is a car that will please anyone looking for a practical, easy to life with people carrier. The front seats are multi-adjustable, as is the driving position, and there's plenty off headroom in the forward part of the cabin. The same is true for the middle row of seats, but occupants of the rearmost pair will notice a subtle drop in headroom as the roof slopes down to meet the tailgate - making the back row more suitable for children. On the move, road and engine noise is rarely intrusive.
Car security
The Grandis comes fitted with an alarm and immobiliser as standard, which is always good to have when there's a chance that valuable items will be left in the car during holidays and daytrips. The Grandis, despite its lack of perceived street cred, is a distinctive vehicle and just as likely to receive the attentions of the criminal fraternity as any other car, making the need to stow any items left in the cabin out of sight. Just as well the number of storage possibilities are numerous.
Car safety
Just as with computers, the newer the car the better its safety features - such is the level of progress these days. The Grandis is no different from the latest whiz-bang computers, as it is bang up to date in the safety department. Boasting eight airbags (twin front and side plus four curtain airbags for the front and middle rows of seats) anyone concerned about protecting passengers should be impressed by Mitsubishi's efforts. Active measures include anti-lock brakes, electronic brakeforce distribution and Isofix child seat mounting points. Buyers seeking traction and stability systems will have to discount the entry-level Classic, though.
Driver appeal
For a multi purpose people carrier, the Grandis is a surprisingly agile and entertaining vehicle. Its lower, estate car-like stance, supple ride and direct steering make it a car that can be driven enthusiastically without fear of getting into trouble at limits that would have other MPVs feeling out of their depth. While no fireball, the Grandis' petrol engine is a willing participant, while the fascia-mounted manual gearshift is smooth and precise. The big Mitsubishi's low centre of gravity takes the drama out of quick direction changes - ensuring roll is kept to a minimum.
Family car appeal
No surprises for guessing that playing host to a demanding and growing family is what the Grandis does well. With six usable seats plus the driver's, there's plenty of room in the versatile cabin. There are also plenty of storage areas and cubbyholes. The Grandis' clever third row of seats can face forward, rearward or be folded into the floor. Unlike some other cars, there's no need to remove them and find somewhere safe to store them just because you want to use the space for more shopping or flatpack furniture.
First car appeal
Despite its ease of use, the Grandis is unlikely to be at the top of the list of a first time buyer. The main issue will be size - Mitsubishi's MPV is hardly in the supermini league. That said, visibility from the lofty driving is good, making parking a less arduous task than a novice might imagine. Even if you're newly qualified and confident behind the wheel, the Grandis will be more expensive to own and run than a typical first car.
Quality and image
With more in common with products from Mazda than many of its European rivals when it comes to fit and finish, Mitsubishi's Grandis feels well screwed together. It may lack the panache of an Espace but, when transporting boisterous children, durability will count for more over the car's life. The Grandis' appearance is likely to do wonders for Mitsubishi's image - the car's bold looks challenge the convention that MPVs must be glorified vans with windows. If enough people are attracted, the Grandis could be the car to shift buyer perception of the brand away from its current 'rally replica and off-roader' status to one that is more inclusive.
Accessibility
One popular criticism of conventional MPVs is that their lofty seating positions can be difficult to access if you're anything but super-agile. The good thing about the Grandis is that, although it retains a taller than average stance, few people should find it difficult to enter and egress from the car's cabin. Despite the big Mitsubishi's obvious plus points, one aspect could potentially become annoying; the absence of practical sliding rear doors. In crowded car parks these can be a real bonus - especially when you're loading or unloading children ignorant of the need to prevent a clash of doors with neighbouring vehicles
Stereo and ICE (In car entertainment)
Above the gearstick on the Grandis' centre console is the car's stereo, with a separate display further up the fascia and, crucially, better placed in the driver's sightline. This combination makes the task of changing radio station or CD track much easier than having to squint at a smaller display. The Grandis Classic gets a perfectly acceptable four-speaker unit complete with single CD player, the other variants also gain a separate six-disc CD changer and two extra speakers. The sound quality from both units is more than acceptable, but there is no provision for steering wheel-mounted controls.
Colours and trim
Dark colours do the Grandis few favours as they hide the car's tasteful curves and make it look 'flabby'. Better to go with lighter metallic colours, which not only look good but should help to add a few pounds to the car's screen price when the time comes to sell on. The Grandis' cabin is a pleasing mix of light and dark trim and dark, hardwearing fabrics - the latter will no doubt help disguise the inevitable knocks accumulated when carrying small children and belongings. The materials used in the cabin are of a noticeably higher quality than you'd usually expect in a Mitsubishi, signalling the firm's gradual shift upmarket. While not in the same league as Ford's Galaxy, the materials are more pleasing to the eye than efforts from the likes of Toyota and Nissan.
Parking
It may not feel as compact as the likes of Vauxhall's Zafira but parking a Grandis is no different from manoeuvring a large family estate. Forward visibility is good, the car's steering is light and its turning circle is usefully compact. While it's no family hatch, the penalty you'll pay for opting for the Grandis over a Ford Focus is a small one. Reversing takes a bit more skill, but once acclimatised to the Grandis' length it soon becomes easy to place the car in tight parking spaces.
Spare wheel
Space saver fitted as standard.
Range information
At launch one petrol engine available; 2.4-litre (162bhp). Standard transmission is a five-speed manual gearbox, with a four-speed auto offered as a cost option. Three trim levels (Classic, Equippe and Elegance) make up the Grandis range.
Alternative cars
Vauxhall Zafira Showing its age but more compact than Grandis. Latter attribute makes third row of seats suitable only for small children
Renault Grand Scenic Stylish seven-seat MPV from Renault isn't terribly exciting to drive but is practical and can be had with some excellent diesel engines
Toyota Corolla Verso Compact, like the Zafira, but better quality and available with more family-friendly gadgets
Volkswagen Touran Seven seat Grandis rival is spacious but neither stylish nor fun to drive, and it can be pricey