January 2005
Mitsubishi Colt CZT 1.5 Turbo
The tall stance allows the cabin to be very accommodating
January 2005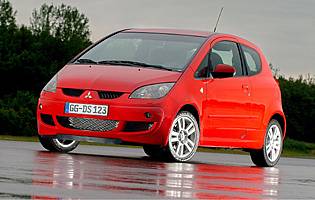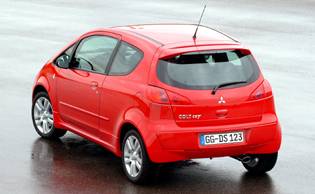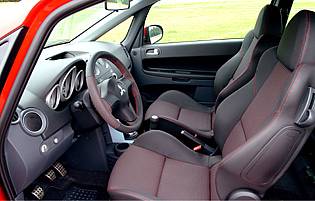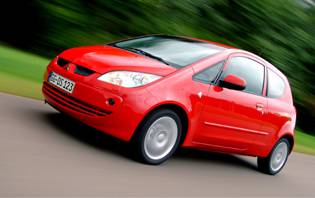 Overall rating

Likes:
Three door profile suits the Colt - it's better than plain-looking five-door
Subtle sporty CZT body kit looks good but doesn't attract the wrong sort of attention
Turbo petrol motor is impressive; flexible, refined yet willing to rev hard when asked
Despite three-door form, cabin is roomy enough for two adults up front
Gripes:
Cabin build quality is good but choice of plastics could have been better
Thick windscreen pillars obscure vision at crucial moments - such as pulling out of junctions
Male buyers might baulk at the car's pastel-coloured gearlever surround
Front seats on regular (non CZT) models could do with more back support
For a company more famous for making chunky off-roaders and rally replica saloons, Mitsubishi's Colt supermini marks an important departure. Although it shares much with Smart's ForFour - even the production line - its personality and looks are its own. And while the five-door variant is a competent car, it's the three-door that's tasked with attracting a younger buyer to the Mitsubishi brand.
The concept of a conventional supermini will be alien to most traditional Mitsubishi buyers. For so long the brand has been famous for the Shogun off-roader, and more recently the rally replica Lancer Evolution, but a conventional small hatch has been lacking from the firm's European line-up.
Granted a three-door Colt has existed, however this car was more sports fastback than hatchback - only lacking a sporting edge. This time the three-door Colt is directly related to a conventional five-door town car - and Smart's ForFour. It may share much in terms of engineering and components but that's where the similarity ends.
Style-wise the Colt might not be as bold or extrovert as the Forfour but it, and not the Smart, is available as a three-door hatchback as well as a more conventional five-door. As such, this adds a welcome new dimension to the little Mitsubishi; it looks like a fun car and has been designed to behave like one.
While the UK-spec range might lack the depth of choice of the five-door - and the Smart - the three-door Colt line-up offers a less daunting combination of engine options, a high level of standard equipment and a sensible pricing structure.
And where Smart has its Brabus performance brand, Mitsubishi has its CZT 'warm' hatch complete with 1.5-litre turbo petrol motor. It may not be a baby Evo, but it's more than capable of being driven hard. And if that's too much, there's an eager 1.1 petrol, more powerful 1.3 and frugal diesel to choose from.
Our verdict on the Mitsubishi Colt CZT 1.5 Turbo
Save for its sliding rear bench, Mitsubishi's Colt brings little that is new to the supermini party in terms of technical revelations. But what the car does boast is a friendly and accessible character, traditional Mitsubishi durability values, a comfortable ride and, in the case of the CZT, a surprisingly rapid pace. Although not the most powerful mini-GTI hatchback, the CZT is fun to drive. If you prefer something more sensible, the diesel option is pretty impressive, too.
Costs
When powered by one of the more modest petrol engines or the frugal diesel, the three-door Colt should prove affordable to run, fuel and insure. Certainly, the car is well equipped in standard trim, which should also ensure that your initial outlay remains modest. Predictably, the CZT will cost more - be it fuel or insurance. This is to be expected from a 'warm' hatchback, but at least the sums involved won't break the bank.
Space and practicality
Accommodation in the front of the Colt is no problem - two adults can sit in comfort. The rear is, unsurprisingly, a little less spacious. However, it's to be expected in a three-door supermini and while the Colt is a bit of a squeeze in the back on long trips, children won't have a problem getting comfortable. The car's sliding rear bench should prove more useful in the long term, allowing the liberation of more boot space - at the expense of rear legroom, though. Elsewhere in the cabin there are a sufficient number of cubbyholes and oddment trays - including one under the front passenger seat. The front door pockets could be bigger, however.
Controls and display
There's little in the way of strange or quirky controls in the Colt, despite the car's fun and jaunty exterior styling. The main instruments are clear and easy to read and the steering, gearshift and brakes require little effort to operate. The most obvious departure from the norm is the Colt's centre console. Small, silver-coloured buttons and rotary controls make up the bulk of the switchgear, but they can prove fiddly to use when you're in a hurry.
Comfort
Even with its lowered and stiffened suspension, the Colt CZT delivers a measured ride and insulates occupants from even the harshest of urban undulations. The turbo engine is not that intrusive, either. Yes it can be heard when worked hard, but in normal driving it is a refined unit. Predictably the diesel is more vocal, as is the entry-level 1.1 petrol unit. As for the seats, they should please most people, although the standard offerings could do with more lumbar support.
Car security
All the basics are covered in the Colt, which means you get remote central locking and an immobiliser as standard. Given the car's slightly higher profile, it's good to see that an alarm is added to the CZT's list of kit.
Car safety
Despite the Colt's diminutive size, it has all the trappings of big car safety kit. Front seat occupants are protected by airbags, and the car is equipped with anti-lock brakes complete with electronic brakeforce distribution. Isofix child seat mounting points are present on the rear outer seats. Given the car's higher profile, it's not surprising that the CZT variant also gains ESP plus traction control and side and curtain airbags.
Driver appeal
If you're considering a regular three-door Colt, you won't be disappointed by the way it drives. The Colt has few vices, exhibits a pleasant ride and is fun to hustle along twisty roads. The CZT builds on this performance with its lowered and firmer suspension. Granted it won't worry the likes of Renault's Clio 182, but the Colt's turbo motor gives the car a useful extra slug of torque at low speeds and plenty of pace when at motorway speeds. Overall, the CZT is an eminently chuckable and willing driving companion.
Family car appeal
The three-door Colt was never designed to be a family car - more a vehicle for singletons, young couples or mature couples minus the children. As such it lacks the versatility of the five door Colt, and is not a patch on a traditional compact people carrier. Nevertheless, as a second car for a growing family the three-door Colt starts to make sense.
First car appeal
In principal the three-door Colt makes an ideal first car: it's compact, easy to drive and easy to park. Discounting the racy CZT for a moment, all the other variants make sense if you're a novice driver. Of particular interest to the first timer should be the entry-level 1.1-litre petrol model. Affordable to run and insure, it's quick enough to even be considered for regular motorway journeys.
Quality and image
Mitsubishi is, in some circles, still thought of as the maker of the Shogun and the Lancer Evolution series of cars. Few people realise that it has produced a number of other vehicles in recent years, perhaps because the Shogun and Lancer have stolen most of the limelight. A small car from Mitsubishi isn't new, although one that competes head-on with European offerings is. As such, buyers will need a certain amount of convincing. What's not in doubt is the maker's quality and reliability reputation, which is second to none.
Accessibility
As far as three-door hatchbacks go the Colt is an easy car to access - if you're focused on the front seats. Two adults can happily sit in comfort, and the doors open nice and wide. This could prove a problem in tight car parks, though. Predictably, access to the back seats is less straightforward. Despite the front seats' ability to tip well forward, you'll need to be of a nimble persuasion to access the rear of the cabin. While a criticism, it's the same for nearly all three-door cars in this sector. At least the boot poses few problems, and the rear bench can slide fore and aft to increase or decrease the amount of space available.
Stereo and ICE (In car entertainment)
Unlike in certain low cost superminis, the Colt gets a radio-CD player as standard - not a cassette player. This sensible approach to audio equipment by Mitsubishi includes four speakers, a set-up which is boosted by two more speakers on the Equippe grade and steering wheel remote controls on Mirage and above models. The audio units work well, but sometimes the identical silver buttons are difficult to operate in a hurry, although the separate eye-level display makes checking the radio station or CD track easier and safer.
Colours and trim
If you're considering the CZT variant there is only one colour worth choosing: red. This racy shade does wonders for the little Colt's image, and helps give it the sporty edge it deserves. Most other exterior hues work well with the remaining cars - they don't share the CZT's more aggressive front bumper. The Colt's cabin is more sombre, although the centre console's pastel coloured design and silver switchgear provide a welcome light relief. Overall, the materials used look durable but lack the quality feeling of something from a comparable Volkswagen.
Parking
An activity that should be a breeze in such a small car, parking is no chore in the Colt. The car's power steering is light yet responsive at low speed, while in manual transmission form the clutch is easy to modulate and jerk-free. In general visibility is good, but the over-large windscreen pillars can obstruct your view and make judging the car's forward extremities tricky. The view rearward is far less troublesome and it's easy to place the car when reverse parking.
Spare wheel
Space saver fitted as standard.
Range information
Four engine options - 1.1-litre (75bhp) petrol; 1.3-litre (95bhp) petrol: 1.5-litre (147bhp) turbo petrol; 1.5-litre (95bhp) diesel. All petrol cars come with a five-speed manual gearbox. The 1.3 petrol can also be had with a six-speed auto gearbox. The 1.5 diesel comes with a six-speed manual gearbox. Trim levels are Red (entry-level), Attivo, Mirage, Equippe and the performance CZT moniker.
Alternative cars
Mini Cooper Less practical cabin but gives the impression of better interior build quality
Ford Fiesta ST Quick Fiesta is fun to drive but needs to be worked hard to achieve such performance
Peugeot 206 GTI Low-power 136bhp 206 GTI getting on a bit but remains a fun car to drive
Seat Ibiza FR Turbo petrol FR is easy to drive briskly, but possesses a harsh ride and offers little feedback