Mini Convertible JCW Review
Great to drive with head-turning looks
May 2016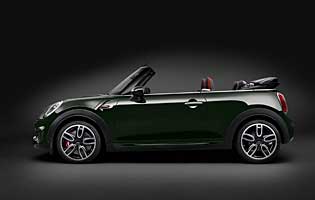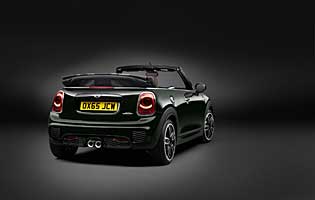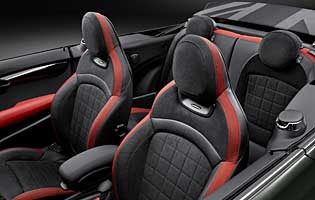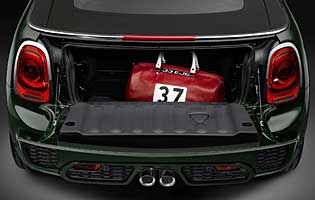 Overall rating

Likes:
Great to drive
Head-turning looks, noise and image
Open-top fun is hard to beat
Premium feel inside and out
Gripes:
Quite expensive compared to Hatch
Not the most sophisticated vehicle
Engine note attracts a lot of attention
Basically a two-seater
JCW - three letters that represent the top of Mini's game in terms of performance. The badge, which stands for John Cooper Works, is applied to only the 'hottest' cars from this premium compact car manufacturer. And the latest Mini JCW Convertible is exactly what it sounds like: a performance Mini with a fabric roof.

No convertible Mini is a subtle car. By design they grab attention using pseudo-retro design language, exaggerated proportions, characterful faces and the kind of road presence that could only be matched by a bumper car. They aren't as charismatic as the original Mini, but they're probably the most recognised car on the road.

JCW goes a step further by providing passers by with one more sensory indication that this is no Hyundai i20, Volkswagen Polo or Mazda2. And that's noise - the engine note is fantastically addictive, and a special valve in the exhaust yields fun little popping noises, reminiscent of the Minis that won races and rallies throughout the 20th Century.

And the driving experience is exceptional for a modern car. Compromises have to be made now - safety equipment and the demands of today's motorists result in a rather bloated version of the original 'classic' Mini. But Mini prides itself on ""go-kart feel"" which, though ambitious, goes a long way to make the Mini JCW an excellent car to drive.

It being a convertible does have a negative effect in some areas, though. The loss of a roof means that rigidity has to be created elsewhere, which adds a fairly substantial amount of weight. And that roof has to go somewhere when it's folded, so the boot loses significant volume compared to the standard car.


Our verdict on the Mini Convertible JCW
But nobody buys a Mini Convertible for practicality. In fact, it's almost a statement in the opposite direction. The JCW Convertible has no real rivals - there aren't many open-top compact cars that can hit 150mph on the autobahn.