April 2014
Mini Hatchback Cooper S
Busy frontal styling looks distinctive and muscular
April 2014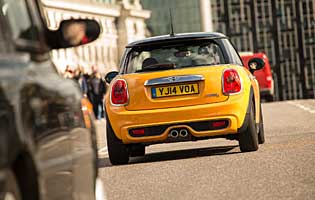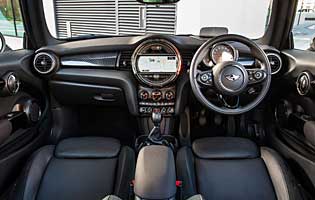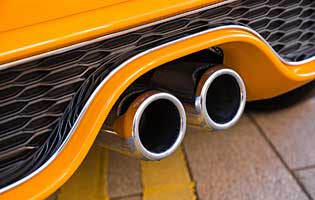 Overall rating

Likes:
Comfortable ride quality is well beyond previous versions
Impressive array of technology with characterful Mini deployment
Gutsy engine pulls strongly through the gears
New colours will appeal to extrovert buyers
Gripes:
Traction and stability controls are too intrusive even when half-disabled
Chassis dynamics are inert and dull compared to previous model
Engine could make a more interesting noise when revved hard
There is still next-to-no useful interior space for passengers
The original 'new' Mini was the first car, just after the turn of the millennium, to be billed as a niche car but built in full knowledge that it was going to go mainstream. Even so, they couldn't build them fast enough. This time, though, the appeal is nearly 13 years old and there are very strong rivals out there.
The Mini still more than holds its own in a market segment it created singlehandedly, but 2013 was the first time it was outsold in the UK by one of its rivals. It needs to come back strong with a package that brings new appeal and brings new life to the Mini's quarter. At first glance, though, little has changed.
Place it next to the outgoing hatchback and you see how much higher the bonnet level is, which in turn has raised the overall shoulder line and shrunk the size of the windows. The roof height has stayed the same, after all. There's a bit more width and a bit more length, but not so much that you'd notice.
The Cooper S has some funky new colours to choose from, which is a good thing in this market segment, and the second-most obvious change is the extremely busy new front end styling. Some will find it muscular and aggressive while others will think it spoils the Mini's classic charm, but either way it's certainly immediately recognisable.
Its customisation potential is now matched or bettered by the likes of the Fiat 500, Citroen DS3 and Vauxhall Adam, but the Cooper S has remained a uniquely successful performance-biased stylish supermini. Customers have asked for more space and more refinement, and that's exactly where the new car makes gains.
Our verdict on the Mini Hatchback Cooper S
If the S after the Cooper name originally stood for Supercharged, or latterly Sport, it could now be better applied to Stable, Sensible and Solid. The 2014 model feels more mature than before, like it's appealing to older but still style-conscious buyers. The interior is higher quality, the breadth of optional technology is amazing and the refinement is amazing. It's less raucous and entertaining, but it's more comfortable.
Costs
If driven extremely sensibly, the Cooper S has the potential to record impressively high fuel economy for a car of its type and performance. Put the pedal to the metal and it will plummet, but perhaps not as far as some people might fear. Its engine size and performance mean that it's not cheap to insure, and servicing on the new engine may also become expensive. Mini still offers a pre-paid servicing pack to fix the cost of servicing over a number of years.
Space and practicality
The boot has grown by a nominal amount, but the truth is that there's not a lot of space in there for hard or semi-soft cases, which need to be tipped on their sides if they're to fit in at all. Soft baggage is the best bet, allowing owners to really maximise what space there is. The Mini is aimed at buyers with no need for practicality, though, so not too many buyers should find that they struggle with it.
Controls and display
The Mini's controls are, as on previous models, uniquely appealing. The aircraft-style layout still looks brilliant, even if the controls layout in this particular car is a bit crowded. The main instrument cluster is stylish but goes about its business in a pleasant and practical way, and the optional centre console screen for the navigation readout is clear, bright and displays bright, engaging colours. It all helps the Mini to feel young and vibrant.
Comfort
There can be few complaints with the front seats, if perhaps their side supports are a bit widely spaced. Slim figures might want for better support through corners. There's nowhere comfortable for the driver to rest his or her left foot, either, but other than that the driving position has lots of adjustment to allow a natural-feeling seat-gearstick-steering wheel triangle. Rear passengers will really struggle, though, with an average height adult finding their knees pressed firmly into an equally typical driver's back.
Car security
If owners will have to park their cars in public spaces overnight, they might want to steer clear of the shockingly obvious Volcanic Orange paintwork. It turns heads everywhere it goes, and some of those could be the wrong sort of heads. There is an in-built alarm and immobiliser on this model, though, so it won't be easy for thieves to simply drive off with it. Darkened glass around the rear of the car also keeps prying eyes out.
Car safety
Mini has, of course, updated its new hatchback with the latest specifications for passenger safety, but the largest gains in the Euro NCAP tests can be found through additional pedestrian safety and that's where the most noticeable alterations are. The bonnet sits several centimetres higher than before, lifting the bonnet further away from the engine block and allowing more space for it to deform; thus potentially saving an unfortunate pedestrian's life.
Driver appeal
The Cooper S has always been famed for its fantastic driving dynamics that make those Sunday blasts out into the countryside worthwhile. Not so much with the latest incarnation, though. Its sharp edge has been blunted and it falls some way short of its most exciting rivals for driving thrills. Instead, its refinement, cruising stability and outright ride quality have been improved to make the new car a much more pleasant mile-eater.
Family car appeal
The only realistic way that the Mini hatchback should end up in family life is as a second car. Its three-door layout makes getting children into properly secured child seats a real pain, and the boot just isn't big enough for any but the most compact of folding pushchairs. As a small, stylish second car to run slightly older children around, though, the Mini is very adept.
First car appeal
Traditionally one of the Mini's strongest suits, its appeal to young buyers, particularly those looking for their first car, is still exceptionally strong. There are lots of tempting rivals though, so it's not an easy win for the Mini. The Cooper S is not the most likely choice, either. With its powerful new engine and correspondingly higher insurance grouping, it's just not the right choice for a novice. If money is no object, the Cooper S is surprisingly driver-friendly.
Quality and image
As a brand, Mini has had one or two general problems reported but sits somewhere in the middle of the pack in terms of reliability and build quality. Previous Cooper S models have had problems with major engine failures, too, but the third generation car uses a completely different powerplant. Tangible build quality is also an improvement, and the interior plastic quality is superb in comparison to what has gone before.
Accessibility
As a three-door hatchback the Mini has immediately obvious limitations, and so it proves in practice. Adults will find it very tricky to negotiate a way into the rear seats even with the front chairs moved forward, and, depending on their body shape, adults could find it even harder to get out. The additional room Mini has squeezed into the cabin has made little difference. On the other hand, front-sitters will feel well catered for.
Stereo and ICE (In car entertainment)
Half of the optional new technology could be called in-car entertainment, especially if the dashboard is upgraded with the colour media screen. Driving modes are visualised on a chassis diagram, for example, and it's all rather a lot of fun. The screen itself is fairly high-resolution and offers a good platform for music data to be displayed, and a good range of connectivity options mean that drivers and passengers alike can hook their music up more or less however they want.
Colours and trim
The Mini is available in a few strong colours, including a mighty Volcanic Orange that comes as one of the standard, free options. A red, a blue and a green are the other colours, with the rest of the range filled with monochrome shades. Metallic Moonwalk Grey looks surprisingly grown up and balanced on the new, more bulbous Mini's shape. Inside, the trim is blacker, more solid but overcrowded with different materials, shapes and forms. That's just part of the appeal to Mini fans.
Parking
Compared to many cars that have been designed recently, the Mini actually has quite good rearward visibility. Its flat shoulder line means that it's easy to see where the rear end, in particular, is heading. The higher bonnet line is a bit more of a problem but, just like the additional length and width the new car has, doesn't present an obstacle so large as to ruin the car. The Mini isn't as small as it feels from the inside, though, and it simply won't fit into really tight spaces.
Spare wheel
Emergency tyre repair kit supplied as standard.
Range information
Petrol engine options - 1.2-litre (101bhp); 1.5-litre (134bhp); 2.0-litre (189bhp). Diesel engine options - 1.5-litre (94bhp, 114bhp). Transmission options: six-speed manual gearbox, plus six-speed auto gearbox option on all engines. Trim levels: One, Cooper, Cooper S.
Alternative cars
Fiat 500 Physically smaller and cuter, with a faster Abarth version available
Citroen DS3 Turbocharged engine and good all-round driving dynamics
Vauxhall Adam No performance version for this expensive but ultra-customisable hatch
Ford Fiesta Brilliant, with the turbocharged ST version taking the driving fun crown