April 2004
MG Rover TF 135
TF is a sportier-looking car than its predecessor, the F
April 2004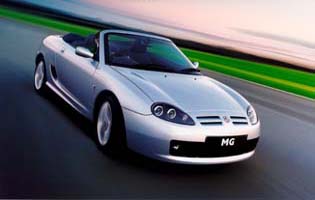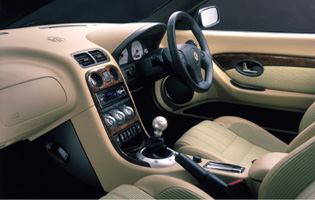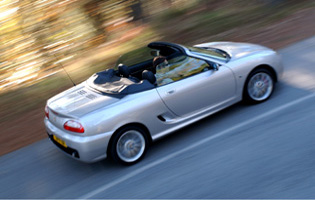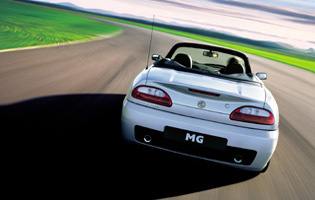 Overall rating

Likes:
Good sized boot considering mid-engined layout
Great on-road handling and balance
Sleek unisex exterior styling
Low running costs prove class needn't be expensive
Gripes:
Interior design feels very dated
Gearchange too imprecise for a car of this sort
Doors and boot close with a clang, not a clunk
Optional extras too expensive to be tempting
Lest we forget the fact, the TF is here to remind us what MG was once all about - nimble, low-cost roadsters with bags of character and almost universal appeal. The company's current range may incorporate everything from hatchbacks to supercars, but the TF proves they can still build great little roadsters.
Building on the considerable success of the MGF, which has been consistently in the upper reaches of the roadster sales charts since 1996, the TF retains essentially the same mechancal underpinnings (bar greatly improved suspension). However, the TF's exterior has a far sleeker look and - just as importantly - improved build quality has resolved most of the reliability niggles associated with the older car.
The interior remains practically identical and its design betrays the car's age, though such blemishes can be hidden behind some of the more luxurious upholstery schemes.
An entry-level 1.6-litre engine kicks the range off, followed by the mid-range 135bhp 1.8 and a 160bhp 1.8. The latter feels very fast thanks to the TF's lightweight status, but for everyday use the more modest 1.8 is perfectly adequate and allows the driver to have plenty of fun.
Without wanting to lapse into stereotypes, there really is something about driving an MG with the roof down through country lanes on a summer's day. There are better handling cars, faster cars and better equipped cars, but for many buyers, that indefinable 'something' will be enough to sway their buying decision. Just don't end up regretting it in the deep midwinter, when the TF becomes much less practical.
Our verdict on the MG Rover TF 135
Characterful British roadster in the best MG traditions.
Costs
List prices are reasonable rather than attractive. When the MGF launched, it was involved in a straight fight with the Mazda MX-5, but today's market place isn't short of alternatives to the TF. Running costs are rather better with decent fuel economy and cheap parts and labour freely available for maintenance.
Space and practicality
Most good-looking, mid-engined roadsters offer little in the way of storage space, but the TF is a notable exception. The boot may still be only a fraction as large as a saloon or hatch, but it's big enough to swallow a couple of overnight bags with space left over for souvenirs. The cabin is cramped, and a large transmission tunnel divides it straight down the middle.
Controls and display
Everything is clear enough, without displaying any particular panache. The crude manner in which warning lights illuminate betrays the TF's ancient underpinings but all you really need is a rev counter and something to tell you when you've left the lights on. Switchgear quality is very poor, contructed from unattractive plastics and with a lightweight, brittle feel.
Comfort
Seats are comfortable, offer a fair range of (manual only) adjustment and are extremely supportive through corners. Former MGF owners will be pleased to discover that it is now possible to adjust the rake of the steering wheel - but not the reach. Noise is an important factor. The booming engine sits just behind the cockpit and while it is exhilarating in small doses, it becomes tiresome on longer journeys.
Car security
Unlike the modern breed of convertibles with folding metal roofs, the TF suffers from the traditional Achilles' heel of roadsters - poor security. A blade will make short work of the fabric roof and allow entry in a matter of seconds. A clip-on hard top is available for the winter months but is expensive and unwieldy. A category 2 immobiliser comes as standard but only the TF 135 model and above have an alarm. Leaving this car unwatched for long periods on the public highway would be unwise.
Car safety
Unfortunately, roadsters will always be less safe than other cars. The TF comes with a driver's airbag, door side intrusion beams, seat belt pretensioners, adjustable head restraints and high tensile steel tubes in the windscreen pillars, but by today's standards, that represents nothing more than the bare minimum. While the steel bodywork may look pretty, it feels lightweight. Owners are advised not to store anything but the spare wheel in the front of the car to improve crashworthiness.
Driver appeal
If your priority is simply getting from A to B, the TF is not likely to be high on your wish-list. But if it is, this could very well be the car for you. The standard car handles wonderfully, and unlike some rivals, it is a genuine mid-engined car which always increases the smile factor. Opt for sports suspension and it's even better, out-handling any other comparable roadster. Beware of the slow 1.6 and the pointless Steptronic gearbox, which blunts the TF's edge completely.
Family car appeal
No roadster is going to have much family appeal, particularly a compact one like the TF. At best it might serve as a weekend car for petrolhead Mums and Dads to escape the weekday MPV. Still, drop a kid off at the school gates in this and they're sure to be the envy if their friends.
First car appeal
The large number of TFs on the road means that buying one as a first car is just about viable, usually as a second-hand purchase. If you've yet to start a family and don't need the practicality of a hatchback or estate, who could blame you for wanting a taste of 'proper' motoring? Be warned though, insurers may take a dim view of a new driver behind the wheel of a sportscar and penalise young owners accordingly. In any case, taking some expert tuition in the differences between front-engined and mid-engined cars is strongly recommended.
Quality and image
MG drop-tops have always been cool, and the TF is no exception. It possesses a genuine sporting edge and sticks to doing the basics well while retaining more charisma than the Japanese competition. The badge also offers some protection against accusations of 'hairdresser's wagon' that are sometimes thrown at cars of this type.
Accessibility
For a roadster, the TF is reasonably easy to access, requiring very little stooping. The flipside of this is a high-ish seating position that reduces the impression of speed and may cause tall drivers to have their hair rearranged rather too forcefully by the wind - or the hood. It's a similar story with restrictive elbow and shoulder-room. Pedals are great for enthusiastic gear changes but can become tiring quite quickly as they require a definite stamping motion.
Stereo and ICE (In car entertainment)
Standard issue is a Kenwood radio cassette unit. As well as the fact that cassettes are virtually redundant these days, it is fiddly to use and unattractive in the cockpit. Few convertibles have good acoustics - and the TF isn't one of them. Even with the underpowered speakers at full blast, they will be overpowered by the sound of the engine located just behind your ears.
Colours and trim
10 external colours are available including metallic and pearlescent finishes. The TF seems smart in any of them, but British Racing Green is still the most attractive. Standard trim in 115 and 135 models is Sebring cloth, while the 120 and 160 get marginally better Daytona cloth. Leather in black, tan or blue and black finishes is available as an option, as is an Alcantara and leather combination. Most extravagant of all is Oxford leather in champagne or ebony.
Parking
Good visibility and the car's compact dimensions mean that parking is rarely a problem despite the steering feeling heavy at very low speeds. The major parking consideration is where you choose to leave it - the fabric hood falls easy victim to a determined thief with a Stanley knife.
Spare wheel
Unusually, MG Rover's policy is to include no spare wheel at all as standard. In fact there's not even a can of repair mousse. Buyers can 'opt in' and buy a 14-inch steel wheel spare for GBP50 on all models except the 160, which instead offers a 16-inch alloy spare because of its hugely powerful brakes.
Range information
The MG TF has three main engine choices: 1.8 (158bhp); 1.8 (134bhp); and 1.6 (114bhp). There is also a 1.8 (118bhp) available with sports auto 'Stepspeed' transmission only.
Alternative cars
Mazda MX-5 the TF's arch-rival offers better reliability and value for money but has a less sophisticated image
Toyota MR2 all-rounder with a reputation for reliability and a tiny boot
Ford StreetKa fun and fashionable but offers little to the enthusiastic driver
Smart Roadster can kartlike handling offset expense and cramped interior?