June 2005
Mercedes-Benz Viano 3.5 Ambiente (Extra Long)
Although a big car, the Viano cuts a surprisingly stylish dash on the road
June 2005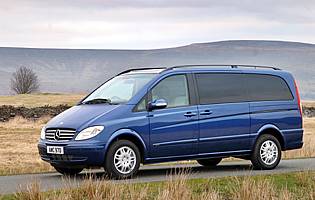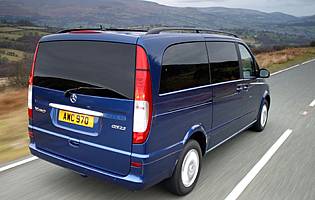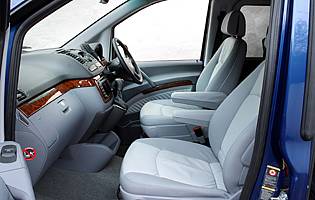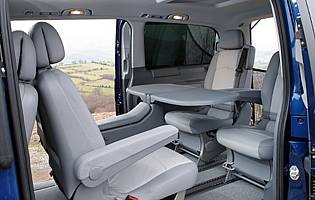 Overall rating

Likes:
Cavernous interior beats conventional MPVs hands down
Familiar Mercedes interior styling touches help lift the cabin ambience
Stable at speed despite its high-sided construction
High level of luxury makes the Viano ideal for corporate duties
Gripes:
Due to the Viano's size, care must be taken when manoeuvring and parking
Petrol option is refined and quick but considerably thirstier than the diesels
Rear privacy glass can hinder vision when reversing and overtaking on motorways
Certain comfort options should be standard on a car of this type and price
The market for larger than average people carriers is, unsurprising, a small one. Long wheelbase versions of familiar models - Chrysler Grand Voyager, Renault Grand Espace - tend to be all most people want or need. In the corporate market things are different, so if you need to transport a lot of clients around in style, cars like the Viano are often the only solution.
You may not see a Viano outside every house, but go to a busy airport and you can't move for the things. As a bulk carrier of busy executive types, there is little to match the Mercedes people carrier with knobs on.
It was the same with its predecessor, the V-Class. The difference is that the Viano hides its light commercial origins better. The vehicle looks sleeker from the outside and feels plusher on the inside. The last thing a business class traveller wants is to be picked up in a glorified van with windows, after all.
As you will appreciate, the big Merc is not going to be a popular car on the school run. In real terms the conventional MPV crowd do a better job if you only have 2.4 children. However, if your clutch is bigger than average or you share child minding duties with other parents, even the likes of Chrysler's Grand Voyager could be a little restrictive.
If you don't mind taking life a bit slower - you can't 'just' pop to the shops in a Viano, it's too big - and can plan your journey - think again about certain multi-storey car parks - it is possible to make the car work for you. And the rewards are high: big car refinement, flexible seating, well appointed cabin and Mercedes brand appeal.
Our verdict on the Mercedes-Benz Viano 3.5 Ambiente (Extra Long)
The Viano is a special car for performing special duties. If you need an XL-size people carrier there are plenty out there that are cheaper and easier to live with around town. However, the Mercedes is more luxurious and boasts a more prestigious image. If you're required to routinely shuttle important people around or just need something extra big that doesn't drive like a van, the Viano is the only choice.
Costs
The Viano is not a cheap car to buy in flagship trim and also costs a few quid to run. The petrol engine is thirsty and the temptation to select more than a few options could be too much for some. You're likely to be charged more on some toll roads and bridges, too. Diesel power is the way to go in a vehicle this size, as is the short wheelbase chassis if you don't need all the flexibility of the extra long variant. As for servicing, it's essentially a big Merc so budget accordingly when you go to the dealer.
Space and practicality
Versatility is the key with the Viano - the different seating permutations will keep you occupied for days. Slide, swivel, fold, tip - there are options to suit all needs. The rear seats are on rails so balancing passenger space with load space is easy. It can be a posh people carrier one minute and a posh van the next, if you so desire. Given its business leanings, the Viano isn't as child-friendly as some other people carriers; so don't expect secret storage compartments or gimmicky flip-down seat-back trays.
Controls and display
The lofty driving position is matched by the fact that the bulk of the Viano's controls are within in easy reach on the fascia. Most are straightforward, although if you opt for Mercedes' COMAND infotainment system you'll need to concentrate, as the button count is higher than it should be. No complaints with the main dials, though. They're large and easy to read. The only other gripe is with the handbrake. The US-style parking brake is not the norm and some will find its action awkward.
Comfort
Once you've stepped up into the Viano's cabin it's difficult not to be impressed. Depending on the car's seating configuration you can stretch out as much or as little as you want. Individual chairs can be selected for all occupants, and with the ability to swivel certain seats you can create a flexible work or leisure space depending on your needs. For a big vehicle, road noise has been kept pleasingly low, too.
Car security
It's difficult not to miss the Viano, but because of its open plan cabin it would be unwise to leave anything on display. The rear privacy glass helps, but leaving bags on show is a big no-no and is one reason why conventional cars have the edge over MPVs in the security stakes. At least you do get one of Mercedes' fancy oversize keys that 'plug in' to the ignition barrel. This safeguard is backed up by an immobiliser, plus an alarm with cabin intrusion sensors.
Car safety
Mercedes treat Viano buyers the same as hose who opt for one of the firm's conventional luxury vehicles, which means the full gamut of safety measures are on board. With the list including twin front and side airbags, ABS and raft of electronic stability gadgets, you're well catered for.
Driver appeal
For such a big beast, the Viano is surprisingly easy to drive - so long as you take care, use the mirrors regularly and pay close attention to car park height restrictions. It's not a car you can throw around, but it does feel stable at motorway speeds and more agile than you might think around town. Ride comfort is good thanks to its long wheelbase. Remember to get the more powerful diesel engine, as this is not only more frugal but more responsive at low speeds.
Family car appeal
In a strange way the Viano lends itself well to family duties: it's big, spacious and can be had with a number of family-friendly options. In real terms, unless you have a seriously large gaggle of kids, a conventional - and smaller - people carrier would be better. Popping to the shops and slotting into a parking space outside school are spontaneous activities the Viano will struggle with. And then there's the prospect of letting your little darling loose inside a posh MPV replete with leather seats.
First car appeal
Put simply, not a chance. It's difficult to think of any car that would be less suitable this side of a Bentley. Confidence and experience is the key to driving something this big, and any novice would be severely lacking in both attributes.
Quality and image
The passenger car department at Mercedes has received its fair share of brickbats in recent years thanks to quality control and reliability niggles. However, 2004 saw a noticeable improvement in both attitude and performance at Mercedes. In the corporate sector the Viano's predecessor was a popular vehicle, and the future looks promising considering the limited options available for buyers seeking extra large MPVs.
Accessibility
Mercedes appears to have got the balance right with the Viano - conventional doors at the front and twin sliding ones at the back. The only downside with a vehicle this big is that there's a pronounced step up into the cabin, something that will no doubt be an obstacle for the less well able. Another thing that's big is the Viano's tailgate. Luggage room isn't huge because the bias is towards seating, but access to the back is by a sizable and hefty tailgate. You'll need to leave plenty of room when parking if you want to open this door.
Stereo and ICE (In car entertainment)
Anyone familiar with Mercedes' audio offerings will immediately recognise the kit in the Viano. It all works well and sounds good. It's too bad that a CD changer is a cost option on a car costing this much. The traditional COMAND option boasting sat-nav, phone and enhanced audio is one you can either justify or not on cost grounds. Although it packs a lot of features, the sizable array of buttons aren't that easy to use when on the move. At least the steering wheel controls are more intuitive and closer to hand.
Colours and trim
Depending on the circumstances, a Viano is likely to be presented in the livery of the company using it or will be pressed into service at some posh corporate event. Either way, lurid colours are a no-no. Subdued hues - dark reds and silver - work well. They also serve to mask the Viano's considerable size. Conservatism rules inside the car's cabin, too. Dark cloth or leather is best, with a minimum of wood trim as it doesn't look terribly convincing.
Parking
Take care, familiarise yourself with the car's dimensions and stay calm. This is all the advice you need when parking the Viano. Luckily the vehicle's mirrors are a generous size, the steering is light and direct and the auto gearbox on the petrol model smooth and responsive. Sadly you'll have to pay extra for the rather good parking sensors, though.
Spare wheel
A standard steel spare wheel is supplied.
Range information
Three engine options - 3.5-litre (213bhp) petrol; 2.0-litre (109bhp) CDI diesel; 2.2-litre (148bhp) CDI diesel. Five-speed auto gearbox standard on 3.5 petrol models. Six-speed manual gearbox on diesel variants, with auto 'box a cost option. Trim levels: Trend and Ambiente. Three wheelbases: SWB, LWB and XLWB. Latter not available with 2.0 CDI.
Alternative cars
Chrysler Grand Voyager Outsize Voyager is spacious and well appointed. Doesn't like corners much, though
Toyota Previa Getting on a bit now but good value. Not as flexible as European rivals
Volkswagen Caravelle Viano's closest rival; good to drive and spacious but not pretty to look at
Renault Grand Espace Stylish XL Espace is refined and swift. Lacks flexibility of the Merc and VW