August 2011
Mercedes-Benz SLS SLS AMG
SLS is powered by AMG's critically acclaimed 6.2-litre V8 engine
August 2011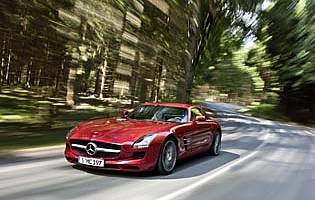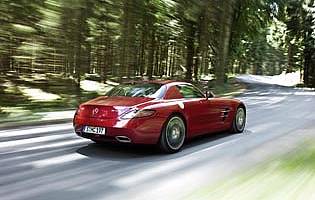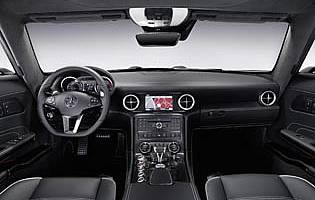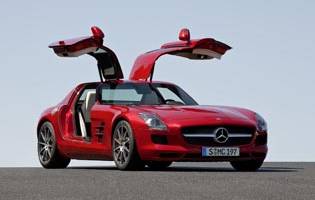 Overall rating

Likes:
Dramatic exterior is guaranteed to get you noticed
Muscular 6.2-litre engine is full of character and not short of power
Snug cabin adds to the SLS'S unique personality
Gullwing doors appear extravagant but are surprisingly practical
Gripes:
This is not a car for shy, retiring types
Performance might be impressive but fuel consumption can be very low
Rear three-quarter vision is poor
Modest amount of cabin storage space
Ask any marketing department and they'll tell you that, to generate the maximum number of column inches, it's important to have a 'halo' car. It might be an expensive item but you can be sure its appeal with be widespread - sometimes money can't buy that. It can buy Mercedes' SLS AMG though, a halo car of dramatic proportions.
German car maker Mercedes is well known for its rich motor racing heritage. The 300SL Gullwing was not only a stylish car but also a quick and successful one. What better way to celebrate 125 years in business than produce a modern day interpretation. This iteration shares the old car's trademark doors and thirst for speed, thanks manly to its AMG-tuned 6.2-litre V8 engine.
An arresting sight even when stationary, the SLS AMG coupe boasts a long nose and small cabin set back with similar proportions to the likes of Caterhams and Lotus Sevens. And under that long bonnet is one of AMG's most impressive engines. It's powered C, E, SL and CL models and attracted considerable critical acclaim. In the SLS power has been boosted slightly and it's noticeably louder - in a good way.
Although the SLS is priced at the top end of the performance car scale and has more in common with high-end Ferraris than your average E-Class, it's a surprisingly easy car to drive and live with. Despite its dramatic looks it's no drama queen on the road. Sure, you will get looked at, but you and the SLS will feel just at home pottering around town as you would thrashing the car on a race track.
From behind the wheel, the car's intimate cabin offers all the space you'd want, while that long bonnet all too quickly ceases to intimidate. Once familiar with the car's dimensions, it's surprising how easy it is to drive briskly. And while the SLS might be a refined machine at low speeds it takes on a TVR-like personality when you push harder. Loud, brash but always controllable, the SLS will rumble, growl and bark its way to your destination.
Our verdict on the Mercedes-Benz SLS SLS AMG
Far more than just a car, the SLS creates a sense of theatre every time you get behind the wheel. Mercedes' low slung and dramatic-looking coupe is without rival when it comes to delivering such an experience. It's also a pretty good car when in the hands of a keen driver. There's a slightly rough edge to its performance, which is in refreshing contrast to its sophisticated looks and the more clinical behaviour of some rivals. Crucially it does all the right things you'd expect of a halo model.
Costs
There's no escaping the fact that the SLS is an expensive car that will cost a significant sum to own. Fuel will likely be top of the list if you drive the car regularly, while insurance and servicing will be close behind. That said, if you seek this level of performance this is often a price worth paying.
Space and practicality
Although a strict two seater, the SLS will easily accommodate tow large adults in comfort. It's quite a sung cabin but you never feel cramped. Headroom is alos good thanks to the presence of the gullwing doors. Storage space inside is modest, with the small glovebox and central armrest box providing most of the available space. The car's boot is reasonable though, and will easily swallow a few soft overnight bags.
Controls and display
Fans of the brand will feel right at home in the SLS. All the car's major displays and controls are familiar items. The fascia is dominated by the Comand display unit and although not a touchscreen, its various menus and features prove reasonably intuitive after some practice.
Comfort
You sit low down in the car and cornering forces are efficiently dealt with by the supportive sports seats. The SLS delivers a firm ride but it's never uncomfortable. Road and, in particular, engine noise are never far away, but being an AMG car the latter is something you can enjoy.
Car security
The standard fit combination of remote locking, immobiliser and alarm is present, which should be enough to deter most thieves. For added peace of mind there's always a satellite tracking device - a feature sometimes recommended by insurers.
Car safety
As with all other Mercedes cars the SLS boasts all the latest kit. There are enough airbags in the cabin to keep you safe, while the car's electronic stability systems have been sensibly tuned to allow a certain amount of slip before cutting in to please keen drivers.
Driver appeal
Much has been said about Mercedes' 6.2-litre AMG V8 engine - all of it positive. In the SLS it's been tuned further to output xxx horsepower, and it's always either rumbling away at idle or providing a Nascar-style soundtrack to your journey. With its direct steering, firm ride and responsive seven-speed auto gearbox, the SLS is a genuine supercar in the way it behaves on the road. In true AMG fashion, the SLS is full of character and can be a little tail happy if provoked. Although less of a precision tool than some rivals, this is part of the car's appeal.
Family car appeal
This is one area where the SLS doesn't shine. With only one spare seat and a modest amount of storage space available, it's going to be relegated to second or third car in the family.
First car appeal
As you can imagine, the SLS is not a good choice for the novice driver. Expensive to buy and own, its dimension are likely to intimidate those new to driving. Of course, there's the not so small matter of the car's performance, too.
Quality and image
Recent years have seen Mercedes go from strength to strength, banishing doubts over past reliability issues and producing a wide range of desirable cars. As the 'halo' car the SLS is both a homage to the famous 300SL of old and a showcase for the firm's high output 6.2-litre AMG-tuned V8 petrol engine. It's a loud and visually distinctive car, which is what being a flagship motor is all about.
Accessibility
Although a strict two seater and boasting a particularly low driving position, the car's trademark gullwing doors make access and egress relatively straightforward. You will need to be reasonably agile though, as the trick to getting in is to slide you bottom over the car's wide door sill first then lower yourself in to position. The reverse is true for exiting the car but you're fighting gravity and it's important not to hit your head on the door on the way out.
Stereo and ICE (In car entertainment)
Dominating the car's central fascia is a wide aspect display screen. From this you can access audio, telephone and sat-nav functions via Mercedes' now familiar rotary controller, although you will find yourself using the minor controls on the fascia too. Overall, sound quality is good and can be boosted with an optional higher quality system, while the sat-nav functions are intuitive.
Colours and trim
Unusually for a supercar the SLS doesn't appear to be particularly colour sensitive. Dark, premium-style hues work just as well as white or red. Of course, the former will help you blend in better with your surroundings. Inside the cabin dark trim and upholstery materials dominate, although lighter trim accents can be specified.
Parking
With its long bonnet and low slung driving position it can be challenge to park the SLS. You'll need to be good at judging its extremities from behind the wheel, but thankfully the parking sensors and reversing camera help matters. Rear three quarter vision isn't great, though, as the car's thick rear pillars will test your reverse parking skills to the full.
Spare wheel
Tyre mobility system fitted as standard.
Range information
Petrol engine options - 6.2-litre V8 (571bhp). Transmission options: seven-speed automatic gearbox. Trim levels: no separate trim levels.
Alternative cars
Audi R8 In flagship V10 guise Audi's R8 is rapid, comfortable and no less visually appealing
Aston Martin Virage Beautifully styled Virage is a rapid and engaging grand tourer
McLaren MP4-12C High-tech supercar to rival the best from Ferrari
Ferrari 458 Italia A thrilling, radically styled and rapid alternative