November 2011
Mercedes-Benz SLS AMG Roadster
Strong styling and large dimensions make the SLS an imposing-looking car
November 2011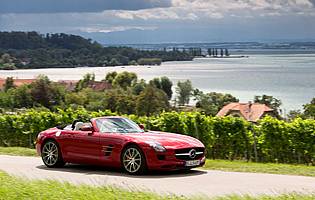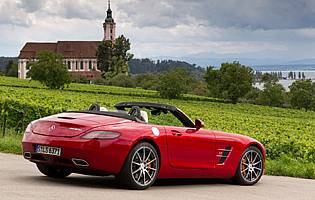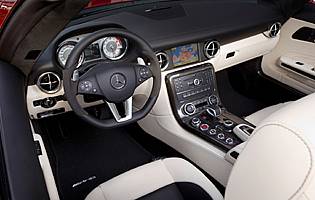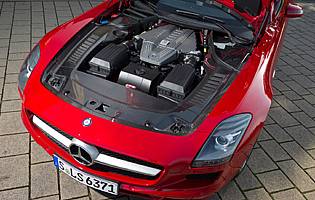 Overall rating

Likes:
Engine performance and noise
Likely low sales volumes will make it exclusive
Reasonable boot space on offer at all times
Strikes a good balance between handling and comfort
Gripes:
Large dimensions can be restrictive in town
Rearward visibility could be better
Lacks the glamour of the coupe's doors
Many features still cost extra despite the car's asking price
With the convertible version of the SLS AMG, Mercedes is hoping to match the glamour of the coupe model's gullwing doors and association with Formula 1, but offering buyers the option of open-air motoring. It's a long, wide, overtly stylish, powerful, loud, expensive and most importantly exclusive car that will appeal to wealthy buyers throughout the world.
At a price only the rich can afford, the SLS AMG Roadster's main perceived value will come with its exclusivity. Therefore there are varied paint colours and finishes including several matt finishes, along with a comprehensive options list to allow buyers to make their own SLS as individual as possible. However, the car's V8 engine will also have considerable appeal to those looking to buy one.
The 6.2-litre engine is shared with the SLS AMG Coupe, and is the same basic unit as the engine in several other AMG models, but with special internal modifications that boost power significantly. As a result the SLS Roadster boasts true supercar performance with engine noise to match. This Mercedes V8 is widely regarded as one of the finest-sounding engines in the world, and the ability to lower the roof at speeds up to 30mph allows the driver and passenger to hear it that much more clearly.
Although the SLS AMG Roadster looks and sounds fantastic, some of the interior fixtures are not all so exclusive. Many of the switches and controls for the on-board electrical systems are also used in much cheaper and much more common Mercedes cars. They are all functional and offer an easy way to navigate the different systems, but more effort could have been made to make the experience feel special.
The roof is made of a complex layered fabric integrating sound-deadening material to keep the car's cruising refinement to a level similar to that of the coupe. It's an effective 'grand touring' car thanks to comfortable seats, plenty of power and a deceptively high capability along winding roads. Only its relative size in urban environments counts against it.
Our verdict on the Mercedes-Benz SLS AMG Roadster
It's likely that those who buy an SLS AMG will make up their minds before they ever even drive it. Its combination of looks, Mercedes and AMG heritage, on-paper performance and exclusivity will lead to cheques being signed with no questions asked. These buyers will own a very special car in many ways, which will provide drivers with all the thrills of a supercar but in greater comfort.
Costs
To any ordinary person the SLS AMG Roadster will cost vast sums of money to buy and own, and is far beyond their reach. However, to its likely buyers its buying and running costs are simply not an issue, and thousands of pounds represent no more to them than individual pounds or even pence do to most other people. The outlook on costs depends on the circumstances of the buyer.
Space and practicality
This is not what the SLS was designed for, and although the boot is big enough for weekend cases and a few extras, it isn't equipped to transport large amounts of luggage. It is, however, as practical as a large, two-door convertible can be, which doesn't say a great deal but makes it passable. Its relative bulk in urban environments is its main restriction in terms of practicality.
Controls and display
In the centre console there is a seven-inch LCD display, which via Mercedes' COMAND system allows the navigation of all the car's systems. It's sharp, clear and effective in its purpose. The instrument cluster and the font used for the numbers on the main dials reflect the style of the car itself, helping the whole thing feel cohesive and driver-focused.
Comfort
Both occupants have plenty of space to stretch out if they should need to. The seats are quite long and well shaped, offering excellent support for legs, backs and heads. The ride is relatively good considering the size of the car's wheels, and its suspension is set up very precisely, so that bumps are usually absorbed without compromising handling. Sharp bumps, however, do send shocks through the chassis.
Car security
The list of security equipment sounds fairly ordinary, comprising an alarm, immobiliser, locking wheel bolts and remote central locking. The truth is that the security features Mercedes installs run much deeper than that, and some of them are not publicly discussed to ensure that potential thieves don't know anything about them.
Car safety
Mercedes prides itself on the safety of its cars, so the SLS receives every item of safety technology that the company can muster. High-performance brakes, a number of airbags and a tyre pressure monitoring system are all included among many other technologies that control power and braking to ensure that the enormous power on offer doesn't overwhelm the levels of grip.
Driver appeal
Thanks to its large-capacity V8, which offers supercar performance and outstanding noise, the SLS AMG is among the elite in terms of driver appeal. The Roadster adds the pleasure of being able to lower the roof and hear the engine more clearly, as well as being able to enjoy the sunshine. While its weight and size count against its handling as it approaches the limit, most buyers won't notice.
Family car appeal
Only having two seats is a major barrier to any car's viability as a family runaround, although Mercedes has installed an automatic child seat sensor, which turns the front passenger airbag off. Still, the SLS is better suited, and indeed designed as a car purely for leisure use, and even then only for the mega-rich.
First car appeal
With only a few option boxes ticked the price of the SLS AMG Roadster can rise above GBP200,000, which makes it completely unfeasible as a first car. In addition, the power and performance on offer would be dangerous for an inexperienced driver to take control of. This would, and should, be among the last realistic options for first-time buyers.
Quality and image
AMG has an enviable image among the world's wealthiest people. Mercedes is seen as making the classiest cars of the big three German prestige car brands, and the products from the AMG division combine class with huge power and performance. As the pinnacle of AMG range, the SLS represents an extremely desirable car, and it has the build quality to live up to the expectations.
Accessibility
The Roadster's conventional doors allow for a more normal experience getting in and out than the coupe offers, but it does mean that opening the doors safely is more difficult in bay parking situations. Also, the fact that the car is so low makes it harder to get in and out of, again especially when there is not much room either side of the car.
Stereo and ICE (In car entertainment)
As standard the SLS comes only with the COMAND system seen on many other Mercedes cars. It's functional rather than special, but there are cost options to upgrade the media system, either to include a high-power Bang and Olufsen stereo or to the AMG Performance Media package, which allows for high-speed internet access. It is, however, something that many people would think should be standard fit.
Colours and trim
As well as a selection of normal paint finishes including the traditional and the currently fashionable, the SLS has at an extra cost matt finishes that mimic matt vinyl body wraps, but look even better. Equally there are a number of interior trim colour options, making the SLS very adaptable to taste. The overall quality of the fit and finish inside and out is exemplary.
Parking
At over 4.6 metres long, more than two metres wide between wing mirror tips and with a high shoulder line that impairs visibility, the SLS can be difficult to park, even if there is a space available large enough to accommodate it. There is a reversing camera built in, and parking sensors front and rear warn of obstructions. However, its size and turning circle are counter-productive in town.
Spare wheel
Temporary tyre repair kit supplied as standard.
Range information
Petrol engine options - 6.2-litre (563bhp). Transmission options: 7-speed sports automatic only. Trim levels: Coupe, Roadster.
Alternative cars
Aston Martin DBS Volante Stunning to look at, nimble to drive and sounds amazing
Ferrari California Cheaper than the SLS AMG and has extra prestige
Lamborghini Gallardo LP-570-4 Spyder Performante Equally fast and exclusive, and the Gallardo is aging well
Maserati GranCabrio Cheap by comparison, but with one of the all-time great engines